Comics
Published October 6, 2020
The History of 'Mosaic' with Writer Geoffrey Thorne
Look into the origins of the scribe and the superstar Super Hero Morris Sackett!
It's October 2016, and in the wake of CIVIL WAR II's conclusion, Marvel plans to use their latest mega event to try and tell new kinds of stories featuring a wide array of characters. In addition to heavy hitters like INVINCIBLE IRON MAN, a fresh volume of AVENGERS, and both BLUE and GOLD variations for X-MEN, the Inhumans continue to be a focus of the so-called Marvel NOW! 2.0 initiative, including the launch of a series called MOSAIC from writer Geoffrey Thorne and artist Khary Randolph.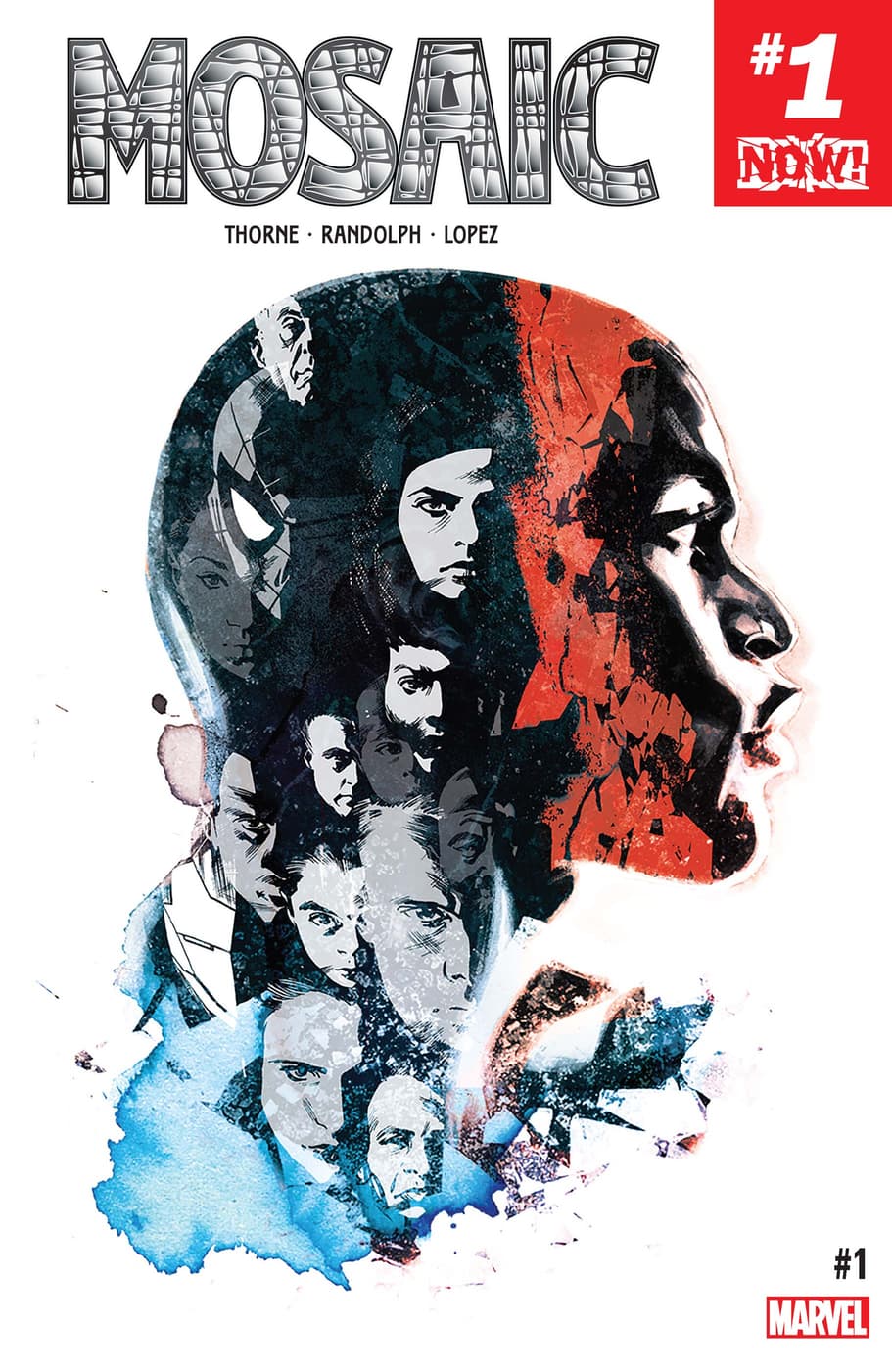 "You've never seen a Marvel comic like this before and it's unlikely you will again," touts Thorne when asked to sum up MOSAIC. "I guarantee it's not what you're expecting." The story centers on Morris Sackett, an African-American professional athlete and, as his creator describes him, "a selfish bastard who thinks the sun rises and sets on him. At first. At his core he's a decent man trying to be good in the world. It's just he's had zero practice at it when we meet him. His journey is what the book's about."
Thorne had been waiting to enter the Marvel Universe since he was a seven-year-old child whose father transitioned him from a love of Greek, Norse, and Inuit mythology to devouring DEFENDERS, DOCTOR STRANGE, FANTASTIC FOUR, THOR, and UNCANNY X-MEN. The writer cites "Jack Kirby's influence on my life and my work cannot be overstated."
That influence initially led Geoffrey to acting, and a noteworthy five-year stint as officer Wilson Sweet in the TV police drama "In the Heat of the Night," but the idea to craft his own stories never strayed far. "I started as a writer, diverged into acting on a whim and got stuck in for nearly 20 years before I realized it was time to get back to what actually mattered to me," he shares. "At that point I just quit acting and devoted myself to building a career as a writer. I wish it was a sexier story than that but I just looked up one day on a set and said, 'Yep. I'm done with this.' Never looked back."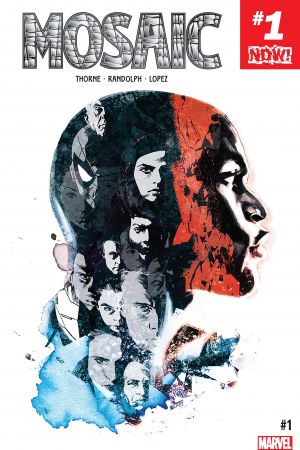 Another comic book luminary led Thorne from live action television to animation as the legendary Dwayne McDuffie brought him aboard Ben 10, and a collaboration with Eugene Son on that series informed the duo's reunion on Marvel's Ultimate Spider-Man years later. "Those guys were doing great work within some fairly rigid constraints and I was happy and lucky to be included."
The storyteller's association with Marvel extended into a role as head writer of Marvel's Avengers: Black Panther's Quest plus the opportunity to pitch the project that became MOSAIC. "The concept was floating around in my head for years in some form or another," Thorne notes. " [Then-editor-in-chief] Axel Alonso brought me and a bunch of other guys in to pitch on the, at the time, upcoming reboot of the BLACK PANTHER book. My pitches obviously didn't win out but Axel liked me so he asked me if there was anything else I might want to do at Marvel.
"X-Men, Avengers, and the Fantastic Four were locked down for bigger names than me so that left pitching him my own character. Axel asked me if I minded him being an Inhuman as part of his origin and I was fine with that. There was a big Inhuman push going on at the time so it seemed an easy means of sliding in right into the middle of action without a lot of fanfare."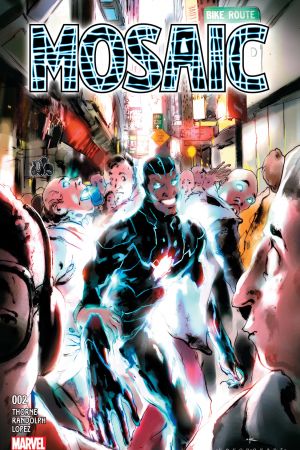 Upon experiencing Terrigenesis, Morris gained the ability to occupy the mind and body of other people, gaining their skills while the host goes unconscious for a period. This power took some getting used to for Sackett, but it provided the documentarians of his adventures a great deal of opportunity. "I love the idea of a character who could move between all the different layers of the Marvel Universe, from cosmic, aliens and gods, right down to the street level problems of the Marvel Knights," unpacks Thorne. "And It was a means of exploring how the regular folks in the Marvel Universe live and cope with all the craziness the super people are always putting them through.
"Marvel envisioned a much lighter book than I had at first. MOSAIC started life as a sort of sci-fi-horror project. Once it was clear I was taking the horror element out, Khary's designs brought everything into focus on how to proceed. Showing the mindscape was a bone of contention at first. I wanted entirely new mental environments every time Morris took over a new host—as if he as beaming down to a new universe every time—but editorial felt it would be too visually confusing so we settled on the honeycomb look. Beyond those two little blips, it was smooth sailing right to the end."
Indeed Randolph's unique visuals, along with the lush colors of Emilio Lopez, gave MOSAIC a distinct look that helped the series stand out. According to Thorne, "Mosaic couldn't have had three better parents."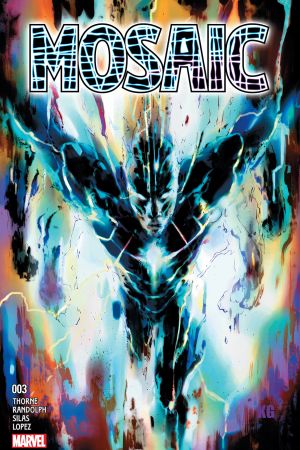 Speaking of parents, Morris' dynamic with his dad, Mason, played a huge role in shaping the narrative of the book. "Morris's relationship with Mason defines the first arc of his story," expands the writer. "Everything Morris is, everything he believes about life comes from his father's example and guidance. And then it all explodes. How Morris picks up the pieces and learns to build himself a new self is the whole journey I mentioned before.
"His relationship with his girlfriend, with everyone from his whole earlier life are also part of that. Nothing and no one in his old life was what he took them to be and each revelation is a body blow he has to overcome."
While intended as an ongoing series, MOSAIC would see its run come to a close at eight issues despite Thorne and company having more stories to tell. "I loved it," he says of the experience. "Every page. Every panel. I would write Morris again at the drop of a hat, provided Khary and Emilio came back too. And [letterer] Joe [Sabino]. And [additional artists] Thony [Silas] and Bruno [Oliveira].
"[Morris'] story was so big and would have gone far and wide; it's a shame he didn't catch. But that's how it crumbles sometimes. As it stands I'm happy I brought something completely new into the Marvel Universe. Not everyone gets to do that and it's something I never thought would be possible when I picked up my first issue of FANTASTIC FOUR, way back when."
Experience the full run of MOSAIC right now on Marvel Unlimited!
The Hype Box
Can't-miss news and updates from across the Marvel Universe!