Comics
Published May 4, 2017
The History of Spider-Man: 1962-1963
The amazing origin and early days of the webbed wonder!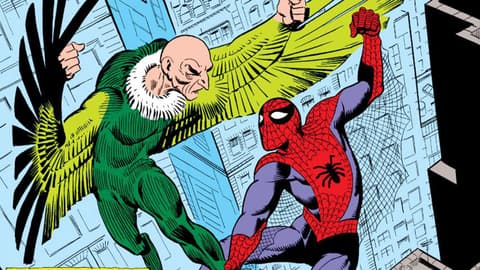 For over 50 years, Spider-Man has been a sensational standout in the Marvel Universe, and this summer, the web-slinger swings onto the silver screen once more in "Spider-Man: Homecoming"! In celebration of this stories history, we present Spidey's spectacular step-by-step story!
After being bitten by an irradiated spider at a science experiment in AMAZING FANTASY #15, high school student Peter Parker failed to stop his beloved Uncle Ben from being murdered by a burglar, thus setting him on a new path to using his powers to become a super hero, Spider-Man.
With no source of income to help his Aunt May with rent and to support his heroic inventions devices, Peter mounted a rescue of astronaut John Jameson in AMAZING SPIDER-MAN #1, only to be smeared by newspaperman J. Jonah Jameson in "The Daily Bugle." Desperate, the youngster approached the Fantastic Four for a job as Spider-Man, but the famous heroes turned him down.
In AMAZING SPIDER-MAN #2, Peter tumbled onto the idea of taking photos of himself as the hero to sell to Jameson for extra cash. His first sale included pics of Spidey battling the high-flying Vulture. Later, the wallcrawler clashed with the terrible Tinkerer and what appeared to be a clutch of outer space aliens.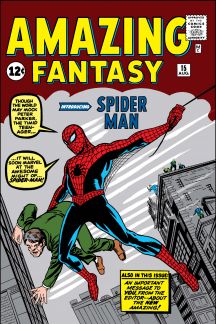 Spider-Man bemoaned the lack of real challenges in the crooks he fought in AMAZING SPIDER-MAN #3, but soon found himself soundly thrashed by new villain Doctor Octopus. Inspired at school by a talk from the teenage Human Torch, Peter developed a new form of webbing that turned the tide in his war with Doc Ock. For his troubles, though, Jameson labeled the crusader a "menace" in AMAZING SPIDER-MAN #4, and Spidey discovered public opinion about his alter-ego to be mixed following a tough scrap with Sandman.
The dreaded Doctor Doom sought an ally to join him versus the Fantastic Four in AMAZING SPIDER-MAN #5, and settled on Spider-Man as a prime candidate. Parker refused the offer, and wound up rescuing a disguised Flash Thompson from Doom in the aftermath. The Human Torch also sought Spider-Man in STRANGE TALES ANNUAL #2, but as a fugitive from the law, not a friend. The two heroes teamed up against a thief called The Fox, who'd framed the web-slinger for a painting he'd stolen himself.
"The Daily Bugle" issued a challenge to the hero to capture a strange creature in the Florida swamps in AMAZING SPIDER-MAN #6. Peter flew to the Sunshine State to mix it up with The Lizard, only to uncover the truth behind it: a scientist who accidentally transformed himself into the scaly beast. Back in New York, Spidey mixed it up again with an escaped Vulture in AMAZING SPIDER-MAN #7, and Peter began a tentative romance with J. Jonah Jameson's secretary, Betty Brant.
In STRANGE TALES #115, the Human Torch posed as Spider-Man to capture the rampaging Sandman, prompting feelings of inadequacy in the real wall-crawler.
The Hype Box
Can't-miss news and updates from across the Marvel Universe!