Comics
Published April 19, 2018
The History of Spider-Man: 2009
Peter Parker faces Norman Osborn's Dark Reign, while his love life gets complicated.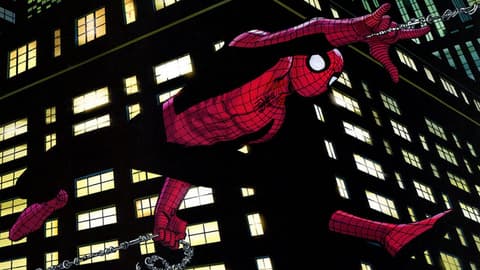 For over 50 years, Spider-Man has been a sensational standout in the Marvel Universe and the web-slinger will swing onto the silver screen once again in Marvel Studios' "Avengers: Infinity War" this May! In celebration of his memorable history, we present Spidey's spectacular step-by-step story…
Earth's heroes, including a certain wallcrawler, defeated the alien Skrulls in SECRET INVASION #8, but also witnessed the rise of evil Norman Osborn to a position of supreme power in the U.S. Later, Spidey got back to personal business by putting the hammer down on Hammerhead's gang recruiting in AMAZING SPIDER-MAN #576, and taking down Moses Magnum with the Punisher in AMAZING SPIDER-MAN #577.
When a commuter subway train got stuck in a flooding tunnel in AMAZING SPIDER-MAN #578, the webslinger discovered it to be a scheme by the Shocker to get rid of jurors in AMAZING SPIDER-MAN #579. Back with the Avengers, Spidey helped look for Luke Cage's baby, who'd been kidnapped by a Skrull, in NEW AVENGERS #48.
After shutting down the Blank in AMAZING SPIDER-MAN #580, our hero moved to protect Harry Osborn from the fiery embrace of the Molten Man in AMAZING SPIDER-MAN #581 and AMAZING SPIDER-MAN #582, as well as muck around with the Man-Thing in SPIDER-MAN: FEAR ITSELF #1. Norman Osborn revealed his new "official" Avengers lineup in NEW AVENGERS #49, including a criminal version of Spider-Man who was in fact the former Scorpion, Mac Gargan. Osborn then sent the Hood and his gang after Spidey's team in NEW AVENGERS #50, and the webslinger let his fellow heroes in on his secret identity in NEW AVENGERS #51.
Betty Brant tried to play matchmaker for Peter Parker in AMAZING SPIDER-MAN #583, and when the Spider-Tracer Killer struck again in AMAZING SPIDER-MAN #584, Spidey wound up being shot by police, and Carlie Cooper tracked the tracers to Peter's cop roommate Vin Gonzales. Menace reappeared in AMAZING SPIDER-MAN #585, to beat Spidey to a pulp, and Harry Osborn discovered his girlfriend Lily Hollister's dark secret when he saw her transforming into Menace in AMAZING SPIDER-MAN #586. Lily explained she'd found one of Harry's father's old Goblin labs and accepted his previous marriage proposal just as Carlie reported the police conspiracy against Spider-Man in AMAZING SPIDER-MAN #587, prompting both his and a recently captured wallcrawler's transfer to Ryker's Island.
Despite Vin's involvement in the conspiracy, he and Spidey worked together in AMAZING SPIDER-MAN #588 to escape prison, and when Menace arrived to battle the wallcrawler, Harry swooped in as the Green Goblin to defeat her. Back in the city, Lily's father won the mayoral election, but because of his daughter's arrest, he declined the position. After recovering from his ordeals, Spidey investigated the Russian mob and fought the Spot in AMAZING SPIDER-MAN #589, teamed with the Fantastic Four to help out in a civil war in another dimension in AMAZING SPIDER-MAN #590, and also entrusted the famous foursome with his secret identity in AMAZING SPIDER-MAN #591.
Doctor Strange asked the Avengers to help him find Earth's new Sorcerer Supreme in NEW AVENGERS #52, but when a battle for the Eye of Agamotto broke out in NEW AVENGERS #53 between the team and the Hood, Spidey and his partners discovered Brother Voodoo held the mystical artifact himself. Later, after defeating the Hood in NEW AVENGERS #54, Voodoo became the Sorcerer Supreme.
Spidey decided to make new mayor J. Jonah Jameson angry by swinging through the city 24/7 in AMAZING SPIDER-MAN #592, and faced both Jameson's new Anti-Spider Squad and the new Vulture in AMAZING SPIDER-MAN #593. Partially blinded by acid vomited up by the winged villain, he nevertheless clipped the Vulture's pinions in AMAZING SPIDER-MAN #594 and met Vin's less-than-nice sister Michele. Norman Osborn wanted Harry to join his Avengers and learned of Lily's pregnancy in AMAZING SPIDER-MAN #595, and Spidey secretly replaced Mac Gargan as "Spider-Man" to keep an eye on Harry at Avengers Tower in and learned of Lily's pregnancy in AMAZING SPIDER-MAN #596.
Osborn showed off designs for Harry's "American Son" armor to his team in AMAZING SPIDER-MAN #597, and when Harry realized the wallcrawler's duplicity he exposed him to his father. In AMAZING SPIDER-MAN #598, Osborn tortured Spidey until the hero made his escape while Harry reeled from the news that Lily's unborn child came from Norman, not from him. American Son and Iron Patriot duked it out in AMAZING SPIDER-MAN #599, and when Harry refused to kill his father after beating him, Norman disowned him completely.
The real Avengers disagreed with Clint Barton's desire to kill Osborn in NEW AVENGERS #55, and lost their powers to Chemistro's chemical assault. Osborn's Avengers also lost their abilities to the villain in NEW AVENGERS #56, forcing both light and dark teams to stand side-by-side against an army of crooks bent on killing them all. Mockingbird rescued the good guys in NEW AVENGERS #57, but a heart attack for Luke Cage made him side with Osborn to cover his friend's departure. Osborn arranged for an emergency operation for Cage in NEW AVENGERS #58, leaving the Avengers to explain the situation to Luke's wife Jessica Jones.
Aunt May married Jameson's father Jay in AMAZING SPIDER-MAN #600, despite the menace of Doctor Octopus' octopus bugs. Peter woke up the next morning in AMAZING SPIDER-MAN #601 to discover a fling he'd committed with Michele Gonzales, and in AMAZING SPIDER-MAN #602 took a job with Mayor Jameson, as well as found himself forcibly replaced by the Chameleon. Peter escaped the acid Chameleon dumped him in AMAZING SPIDER-MAN #603, and after dodging the police Mandroids in AMAZING SPIDER-MAN #604 stopped his doppelganger from blowing up Jameson's secret bunker and becoming the city's hero again.
Mad about Peter's "lame" excuses for the Chameleon's behavior, Michele punched him out in AMAZING SPIDER-MAN #605, and the Black Cat slinked back into the picture to help Spidey battle Diablo in AMAZING SPIDER-MAN #606 and AMAZING SPIDER-MAN #607.
Peter's clone Kaine dealt with his current dire situation in WEB OF SPIDER-MAN #1, and returned to vex the wallcrawler in AMAZING SPIDER-MAN #608, just as Dr. Damon Ryder accused Peter of being his other clone, Ben Reilly. Kaine needed Ryder to save his life, but the doctor instead threatened to kill "Ben's" family in AMAZING SPIDER-MAN #609.
The Hype Box
Can't-miss news and updates from across the Marvel Universe!