Comics
Published February 22, 2018
The History of the Black Panther: 1983-1988
T'Challa goes on a talk show with the Avengers and fights in the Evolutionary War!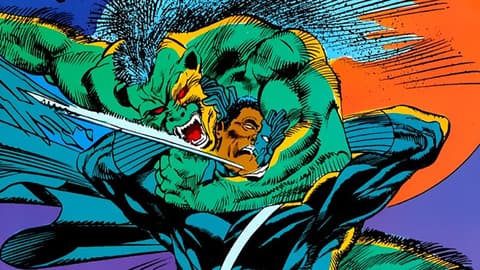 For more than 50 years, the Black Panther has stood at the forefront on the Marvel Universe. With T'Challa appearing on the big screen again this year in both Marvel Studios' "Black Panther" and "Avengers: Infinity War," take a look back at over five decades worth of comic book adventures for the King of Wakanda!
After joining with Earth's champions to welcome a newly intelligent Hulk into their ranks in INCREDIBLE HULK #279, the Black Panther answered Wonder Man's call to join him, the Beast, Hawkeye, and the Black Widow for an appearance on a late-night TV talk show in AVENGERS #239. Unfortunately, the studio came under fire from a nerdy, would-be villain who monopolized the show and the Avengers' time. The Panther then spent some time off the radar, though he did pop up on television screens, alongside the Human Torch, in a battle against the Crimson Dynamo in MARVEL TEAM-UP ANNUAL #7.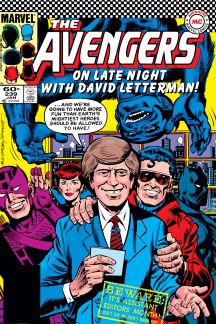 Some time later, T'Challa stood ready to aide his fellow Avengers when long-time member Quicksilver's duplicity became evident in WEST COAST AVENGERS ANNUAL #1, and fought alongside them against the speedster's robotic Zodiac gang. Traveling back to New York, the Panther faced off against the Man Without Fear in DAREDEVIL #245 when a down-on-his-luck Wakandan fell into a life of crime and into the hero's crosshairs.
Back in Wakanda, T'Challa entertained deposed Latverian monarch Doctor Doom in FANTASTIC FOUR #311, and held off an attack by the doctor's political rival Kristoff in FANTASTIC FOUR #312. Afterward, the Black Panther sprang to the aid of Captain America and a small army of allies in CAPTAIN AMERICA #342 versus the wily Viper and her Serpent Society.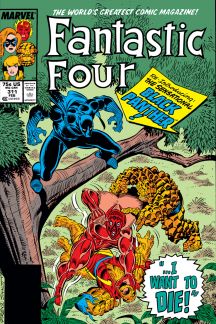 When the Panther spirit that gave T'Challa his abilities learned of rampant apartheid in neighboring Azania, it fled the king in BLACK PANTHER #1 (the kick off of a four-issue limited series) and inhabited an Azanian rebel to create Man-Cat. The blame for Man-Cat's vicious attacks in the small nation fell on the Panther, but he found himself busy fighting the white-power Supremacists in BLACK PANTHER #2, sent by an Azanian general.
T'Challa flew to Azania in BLACK PANTHER #3 to divert a nuclear missile there aimed at Wakanda, then defeated Man-Cat in BLACK PANTHER #4 to clear his name and help Azania begin the process of breaking down their system of apartheid.
During the "Evolutionary War" event, an attempt by the High Evolutionary and his Gatherers to steal Vibranium from Wakanada led to Black Panther teaming with his Avengers allies again in WEST COAST AVENGERS ANNUAL #3.
The Hype Box
Can't-miss news and updates from across the Marvel Universe!