Comics
Published January 18, 2017
The Marvel Life: Dustin Bates
The front man for Starset discusses the band's upcoming album, his love for X-Men, and more!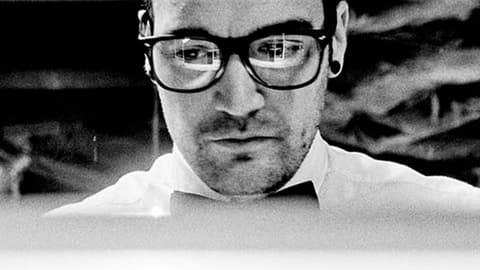 As the founder of Starset—itself an outreach of the Starset Society and their mission to disseminate "the Message," a mysterious transmission from deep space—Dustin Bates dips into cosmic mysteries much like a Marvel Super Hero. The band's latest album, "Vessels," will continue this exploration with its release on January 20.
We clocked some time with Bates to discuss the upcoming graphic novel collaboration between the Starset Society and Marvel, how Wolverine and the X-Men hooked him on comics, plus much more.
Also, listen to an exclusive release of Starset's new track "Satellite" right here!
Marvel.com: What is your origin as a comic book and Marvel fan? Where did you start reading? What did you start reading? What first got you hooked?
Dustin Bates: I think my favorite has always been X-Men. I was sort of a poor kid growing up and every once in a while, I'd save up money and get [a comic] that I thought was going to be some sort of collector's edition at some point and to be honest, I was such a nerd that I didn't even read the ones I actually got that I thought were going to be collector's items. But I was into X-Men. I was never a super fan but I was sort of a passive fan. I was actually more into science as a grown-up and programming computers and then guitar obviously and being in bands. Then as we started working with the Starset Society project, we realized that graphic novels would be an amazing medium to build into it.
Marvel.com: Expand on that for me a little bit…
Dustin Bates: There's an overarching narrative to the Starset Society and it's looking at technology and how it can affect our lives in the near future politically, socially, and economically. The graphic novel allows for a much more creative visual in an amazing way to tell these narratives, unlike any other medium. That's basically it. The music aspect, Starset, is similar to the graphic novel in that it is also an outreach campaign of the Starset Society and it also publicizing these narratives.
Marvel.com: In terms of the graphic novel, how did you get hooked up with Marvel to work hand in hand on this one?

Dustin Bates: It was through the [Razor & Tie label]. [They] helped to bring us together for an initial meeting and me and some other people with the Society and the label got together. We met up and determined that a full graphic novel would be the best way for the Society to begin to explain the infection of the Society. And I honestly hope that it's the beginning of a serialized thing because there is much to tell.
Marvel.com: You mentioned the X-Men before; any favorite characters or stories?
Dustin Bates: I'm into Wolverine and I recently was reading OLD MAN LOGAN. I like the art on that. I love stuff that's a little less flashy and a little more dystopian. I'm really hoping and I think that our graphic novel is going to have a lot of that and I'm really excited for that.
Marvel.com: You also have a new album coming. Can we talk about that a little?
Dustin Bates: Yeah, absolutely. It comes out [on January 20]. [We] worked on it for quite a long time and recorded it in Maine and L.A. I really think it's going to move us forward in a big way. We've always had a cinematic sound that blends electronics and symphonics. It makes us sound like the soundtrack to a sci-fi movie if a rock band were playing it. This one takes it even further. I sort of blended the elements of EDM in a more deeply integrated level and went further with the cinematics to the point of it being orchestrations and Rob Graves the producer really helped pull that out. It was a risk. Ben Gross, the mixer, said we were creating a new genre almost with the blending of the EDM and the rock. We'll see. I think people will like it.
Marvel.com: Any final thoughts you'd want to share with Marvel fans who may be coming to read this and maybe learning about you guys and the band for the first time?
Dustin Bates: Yeah, more information will be at thestarsetsociety.org in the coming days. We're putting up a brand new website that really shows the various tenets of the Society and what aspects of technology we're really looking at an analyzing. It's going to be a fun year with the Society really building upon that and publicizing that.
Check out thestarsetsociety.org for more from Dustin and company, plus be sure to get "Vessels" on January 20!
The Hype Box
Can't-miss news and updates from across the Marvel Universe!