Comics
Published December 8, 2017
The Mind of a Professor: An Astonishing X-Men Sketchbook
Artist Phil Noto introduces a new take on Charles Xavier!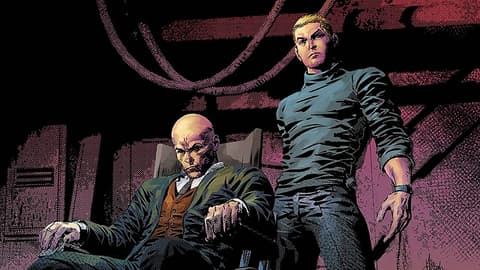 Series writer Charles Soule keeps throwing curveballs at his ASTONISHING X-MEN team. And they might not be ready for the latest twist heading their way.
When Part One of the new storyline "A Man Called X" begins with ASTONISHING X-MEN #7, the merry mutants must reckon with a resurgent—and slightly unfamiliar—Charles Xavier. Written by Soule with art by Phil Noto, this epic tale starts with a bang.
We caught up with Noto to discuss teaming up with his POE DAMERON partner on a different series, getting to know a few mutants better, and developing a new look for Professor X.
Marvel.com: There has been an all-star lineup of artists contributing to this run of ASTONISHING X-MEN so far. What most appealed to you about joining in on the fun?
Phil Noto: I was flattered to be included with those artists in the lineup. It's also been awhile since I've worked on an X-book, so that appealed to me.
Marvel.com: This book contains a pretty eclectic group of X-Men. Did any of them offer a surprising challenge when you started digging into the issue?
Phil Noto: Well, I've drawn most of them in one form or another—except for Bishop. I think this might be my first official Bishop work, which has been fun because I've been a fan of the character since the old X-Men cartoon. Other than a few costume changes with Gambit and Rogue, I felt like I had a pretty good handle on them.
Now, creating a young Xavier definitely felt like a bit of a challenge. He's more cocky and laid back than his future self. He's also walking around. I just tried to make him read as X as much as I could, and I think it worked.
Marvel.com: What's it like shining the spotlight on Professor X this way?
Phil Noto: It was fun to do a Professor-centric issue. I've never really spent much time drawing him. And the way Charles has written this new incarnation of Xavier is very cool!
Marvel.com: What can you tell us about the threat Professor X and his team find themselves up against as "A Man Called X" begins?
Phil Noto: After the defeat of the Shadow King, London remains swarming with psychic zombies, with Bishop being one of them. Suddenly, a young Xavier appears—dressed as Fantomex—and tells the team that it's cool, that he's got it under control. Next thing you know, there's a crazy green sun, which can't be good. Don't want to spoil more than that!
Marvel.com: You've worked with Charles Soule before—how has your collaborative relationship evolved over time?
Phil Noto: Charles and I go way back. We did a THUNDERBOLTS issue together years ago. Working on POE DAMERON with him has been a delight. From planning out the initial story and characters to doing the book together, we definitely have a good rapport. It's nice to have that kind of relationship with a writer. I usually instinctively know what he's going for on the page. If I have any questions about something, I can just text him. I think we make a pretty good team!
Writer Charles Soule and artist Phil Noto's ASTONISHING X-MEN #7 drops on January 3!
The Hype Box
Can't-miss news and updates from across the Marvel Universe!