Comics
Published February 21, 2019
The Next Great Kraven Story is Coming in 'Amazing Spider-Man'
Writer Nick Spencer previews the massive 'Hunted' storyline!
On February 27, the biggest AMAZING SPIDER-MAN story of the year begins with the prologue to HUNTED.
Issue #16 kicks off the Kraven tale, as the Hunter's thread gets woven into Spider-Man's life in a terrifying way that puts the wallcrawler on the road to ruin... Sergei Kravinoff and his minions have been kidnapping animal-themed characters for months, but they need one more to complete the collection—the Spider. But what does Kraven even want with all of them?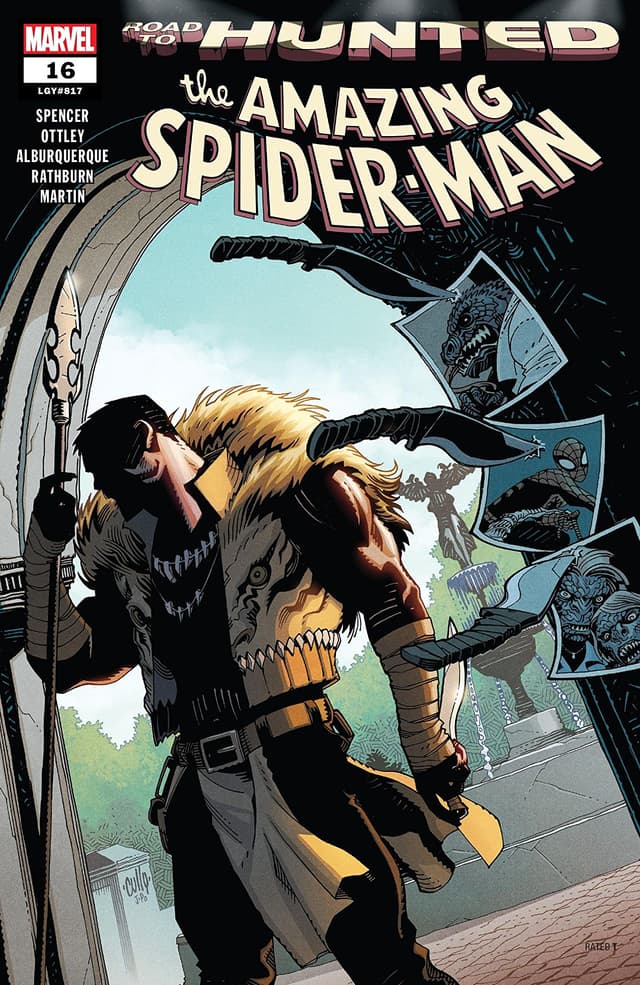 Written by Nick Spencer with art by Ryan Ottley and a host of grand guest artists, HUNTED tells a dramatic tale throughout ASM, and includes special .HU-numbered issues that expand the influence of this massive arc across Spidey's entire life.
Marvel.com sat down with Nick Spencer, the mastermind behind the epic, to hear more about what to expect once the Hunter goes hunting...
Marvel.com: What was your inspiration for HUNTED?
Nick Spencer: It's Kraven's biggest, grandest, most terrifying hunt.
Ever since KRAVEN'S LAST HUNT especially, readers know when Kraven shows up it means that Spidey's gonna be put through the ringer. They know that whatever Kraven does is gonna exact a very heavy price. We wanted to honor the legacy of that story and of GRIM HUNT, and kind of present Kraven at a different point in his life where his goals and desires are something very different than what we've seen before. But that leads to, in typical Kraven fashion, something truly horrific.
Marvel.com: It seems like this is something you've been excited to get into since your AMAZING SPIDER-MAN run began.
Spencer: Yeah, we started setting this up in AMAZING SPIDER-MAN #2 so we've been building it slowly through the issues and there's still a little bit more of that to come. Issues #14 and #15 were kind of like the Road to Hunted, so we had an opportunity to build the story in a very organic way.
The stuff that you've seen with Kraven, the stuff that you've seen with Taskmaster and Black Ant, the stuff that you've seen with Lizard, the stuff that you've seen with Black Cat—all of it is going to feed into this story that is kind of the culmination of our first year.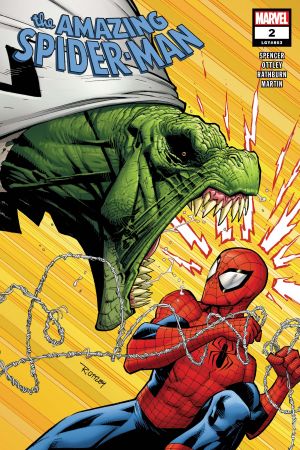 The Amazing Spider-Man (2018) #2
published

added to marvel unlimited

editor

colorist

colorist (cover)

letterer

writer

inker (cover)

penciler

penciler (cover)

inker
What is Marvel Unlimited?
Marvel.com: What was it about KRAVEN'S LAST HUNT that impacted you to such a degree that made you know as soon as you jumped on board ASM that you wanted to start planting these seeds?
Spencer: I'm ancient enough that I was picking up books on the newsstand, and I can remember for the third part, I believe, of KRAVEN'S LAST HUNT, the convenience store that I got all my books from did not have it. I remember that set off, I think, a five-stop tour over the next week that culminated in—think—a Waldenbooks to get it.
I was just so blown away by that story as a kid and it was just so different from anything I'd read. I've reread it a few times since and it still holds up. It's just a masterfully done story. I think it's one of the best things that Marvel has ever produced and it's genuinely terrifying. It's a genuinely insightful look into the mind of several characters. It's not just Spidey, not just Kraven; it's also MJ, Vermin, and there's such a beautiful aesthetic to this story. The constant rains and the dirt and mud—it really was ahead of its time. It's still ahead of its time.
You can't match a story like that, you can't really hope to do that. What you can hope to do is pay tribute to it, pay homage to it, and do your own thing. I love Kraven as a character and as a villain. I think he is one of the most interesting Spidey rogues, so the opportunity to get in his head—especially where he would be now, after his resurrection and after he's had a few years to wander through the desert. He's in a very interesting place now, and that was a lot of fun.
Read AMAZING SPIDER-MAN #16 at your local comic shop next week! And while you're there, pre-order AMAZING SPIDER-MAN #20 and #21, as the thrilling showdown between Spidey and Kraven finally arrives!
The Hype Box
Can't-miss news and updates from across the Marvel Universe!