Comics
Published December 11, 2020
The Past Haunts the Waves in 'King in Black: Namor' #1
As the King in Black rages, Namor's memories of a happier time may hold important intel!
WARNING! THIS ARTICLE CONTAINS SPOILERS FOR KING IN BLACK: namor #1, SO READ ON AT YOUR OWN RISK, TRUE BELIEVERS!
Namor the Sub-Mariner is one of Marvel's first heroes, but he hasn't been on good terms with the Avengers lately. Within the pages of AVENGERS, Namor has seemingly turned his back on the surface world, in anger over its constant pollution that threatens the well-being of Atlantis and its people.
That conflict seems very far away in KING IN BLACK: NAMOR #1. Instead, writer Kurt Busiek and artists Benjamin Dewey and Jonas Scharf catch up to the king of Atlantis as he finds himself alone in familiar waters. Scharf illustrated the modern-day scenes, while Dewey depicted the extended flashback to Namor's youth.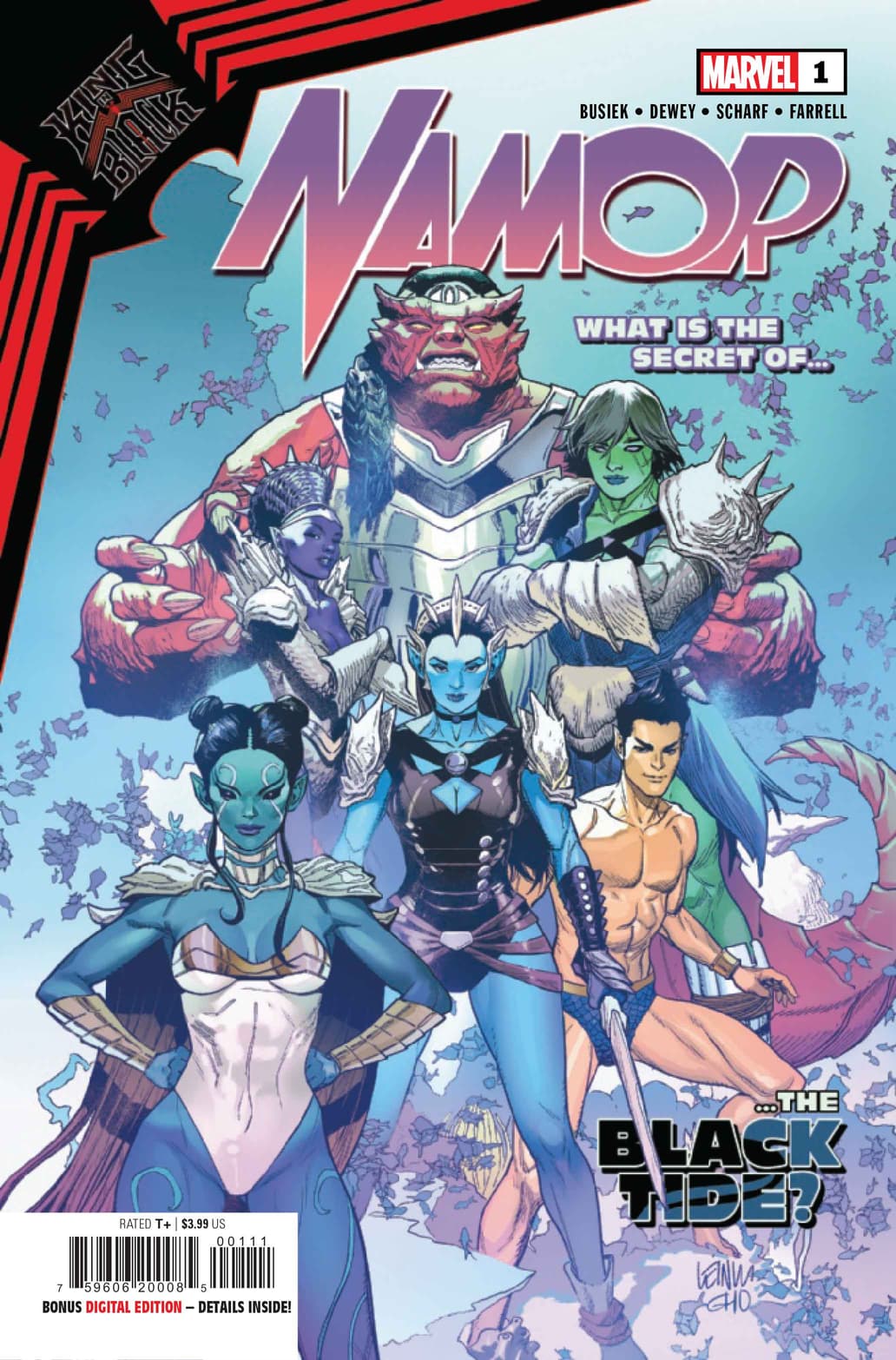 Many years ago, when Namor was merely a teenager, he happened to spy upon Kharsa, the leader of the Swift Tide. The young prince was clearly infatuated with the older woman, which was not lost on Namor's future wife, Dorma. At this point in their lives, Namor and Dorma were merely good friends, while she was accompanied by a large fish named Ambrose. Shortly thereafter, Namor's future rival, Attuma, meets the pair for the first time. Instead of animosity, Attuma warmly welcomes them to his home among the Chasm People.
In this era, the Swift Tide were the heroes to all who lived within the oceans. Even Attuma idolized them. Kharsa's team included the magician Sycorax, Sweet Mercy, Garanna the Breaker, and the Mountain, a female Lemurian with a monstrous appearance. Regardless, the Mountain was embraced by everyone even if she was not originally part of their culture.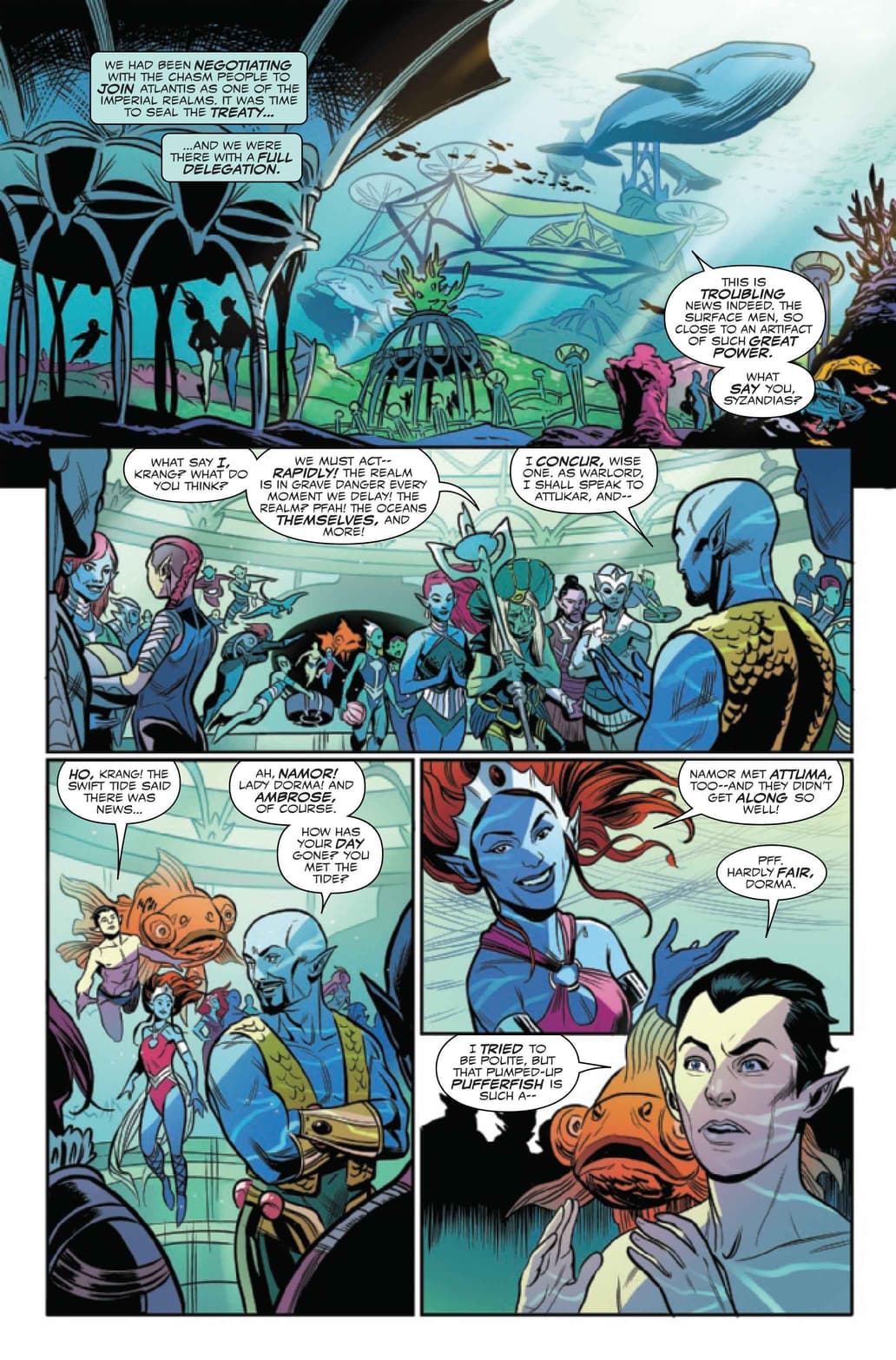 Naturally, Attuma gravitated towards Garanna since she was also from the Chasm folk. Namor's preference for Kharsa led to some early tension between the two. Surprisingly, another future adversary played peacemaker between the young princes. Decades before he became a warlord, Krang acted as Namor's mentor. He also calmly suggested that Namor forge a friendship with Attuma because Atlantis was trying to bring the Chasm people into the fold.
It seems that Attuma had a different kind of alliance in mind when he approached Dorma again. Namor's presence kept Attuma from romantically pursuing Dorma, and he was caught somewhat off guard by Namor's attempt to be civil and friendly. Together, they witnessed the arrival of a Great Sea Dragon, a symbol of the Chasm people's strength and the unity inspired by the Swift Tide.
That unity was short-lived, as a group of renegade Chasm folk attempted to assassinate the Atlantean delegation and the chief of the Chasm people, Attukar, who is also Attuma's father. As the Swift Tide held off the frontal assault, Namor, Dorma, and Attuma fought side-by-side against another group of attackers. Even Ambrose proved to be worthy in battle.
Krang and Attukar noticed the growing bond between their respective princes and hatched a plan to promote a new alliance. In front of the gathered crowds, they explained that the Swift Tide had been summoned to find the Unforgotten Stone, "the last dark relic of a time before even we swam these seas." Although the Unforgotten Stone's link to Knull can only be assumed, Attukar and Krang warned that "it's power is dark and vile, its very existence imperils us all."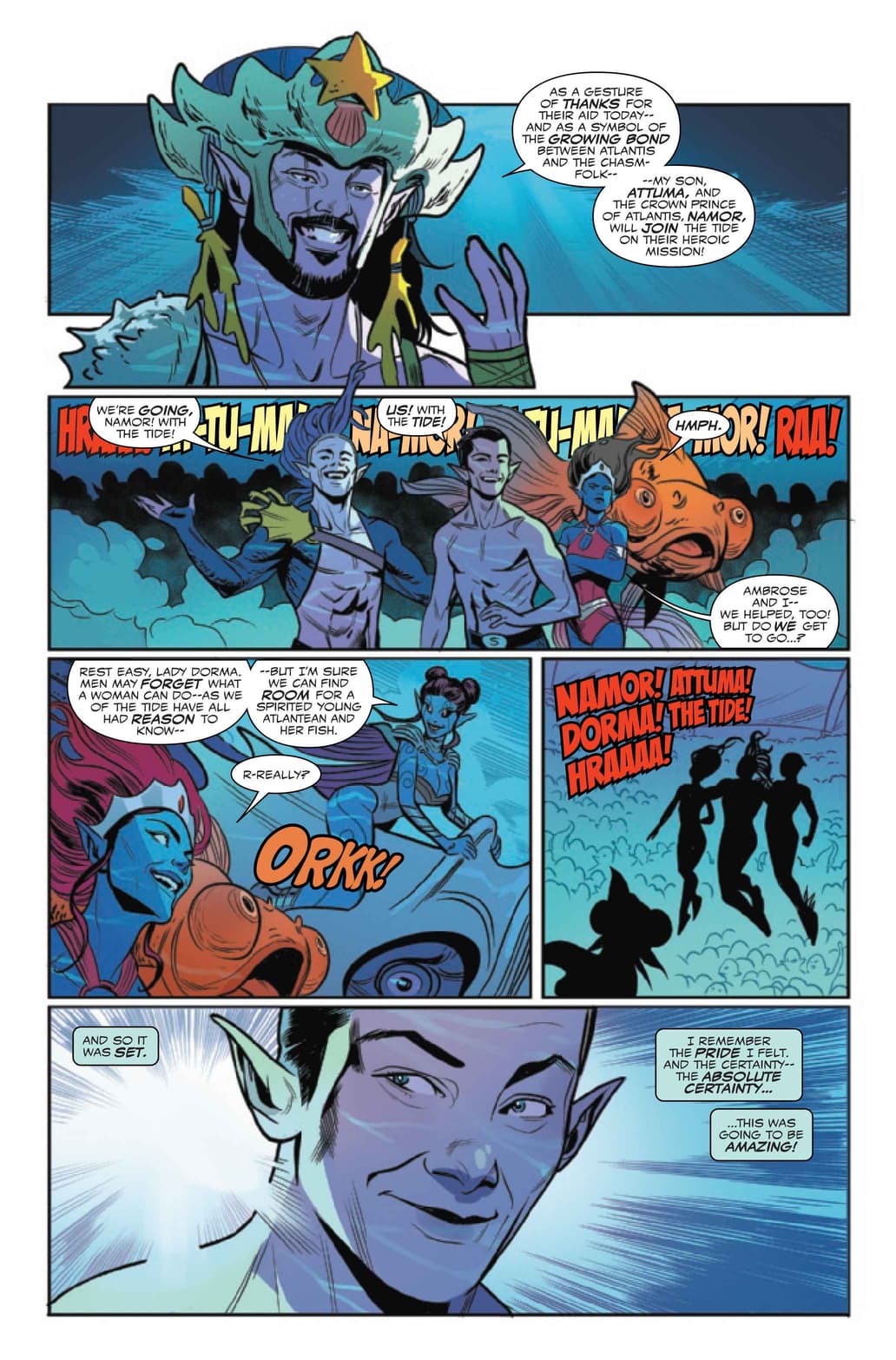 Namor and Attuma rejoiced as they were selected to accompany the Swift Tide on its mission to recover the Unforgotten Stone. However, Sweet Mercy did not let Dorma's heroism go unrewarded. She allowed Dorma and Ambrose to accompany them as well.
In that moment, all things seemed possible for the Chasm people and the Atlanteans. Yet in the present, Namor's memories appear to be more than just a pleasant look back at happier times. Something happened in the past to shatter that unity, and it has some currently unrevealed significance to Knull's return. But we'll have to wait for KING IN BLACK: NAMOR #2 for more clues to this mystery.
Be sure to ask your local comic book shop about their current business policies to observe social distancing or other services they may offer, including holding or creating pull lists, curbside pick-ups, special deliveries and other options to accommodate. Find and support your local comic book shop at http://comicshoplocator.com or by visiting http://marvel.com/lovecomicshops.
For digital comics, all purchases in the Marvel Comics app can be read on iPhone®, iPad® and select Android™ devices! Our smart-paneling feature provides an intuitive reader experience, ideal for all types of mobile device and tablet users!
For Marvel's most up-to-date release schedule for your favorite comics, visit http://marvel.com/newcomics.
The Hype Box
Can't-miss news and updates from across the Marvel Universe!