Comics
Published September 28, 2017
The Punisher: Black Tie Brawl
Writer Becky Cloonan buttons Frank up for a showdown with Face!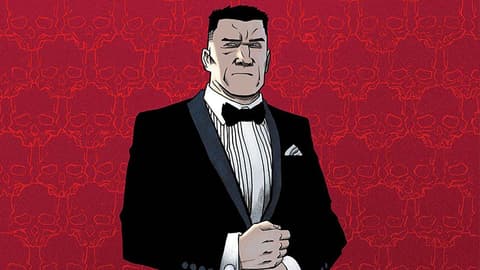 On October 25, the confrontation this series has been building to since issue #1 goes down. THE PUNISHER #17, written by Becky Cloonan with art by Matt Horak, sees Frank Castle in a duel to the death with Face—the demented drug kingpin with nothing to lose. And The Punisher needs to do it all in a tuxedo.
Blending in with high society, Frank must take down Face before the villain unleashes his wrath on all of New York City. We tracked down Cloonan to get her take on Frank, Face, and the Big Apple setting behind the showdown to come.
Marvel.com: What can you tease about issue #17? 
Becky Cloonan: We will see the return of a familiar Face…wink wink!
Marvel.com: Frank looks great in a tux—but what's his method for taking on high society in this story?
Becky Cloonan: Frank handles high society with a handgun and a hail of bullets!
Marvel.com: Did Frank rent that tuxedo? Knowing him, he probably won't be getting the deposit back…
Becky Cloonan: Frank didn't buy the tux, but he didn't rent it either…
Let's just say the guy he took it from won't be getting it back.
Marvel.com: How did it feel to take Frank so far out of his element with this book?
Becky Cloonan: It seemed fun to bring The Punisher into the one place he feels uncomfortable—the spotlight. All eyes are on him—and for a man who prefers to operate behind the scenes and out of sight…it felt great to watch him squirm a little!
Marvel.com: We get such a specifically-New York look and feel in this arc. What inspired that?
Becky Cloonan: I spent fourteen years living in New York City, Queens, and Brooklyn—so it felt so fun to revisit, and really make this arc into a love letter to the city. From the subways to Times Square, The Met to Roosevelt Island.
I wanted Punisher's return to New York—the city of one million stories—to be one punch after another.
Grab THE PUNISHER #17, by Becky Cloonan and artist Matt Horak, on October 25!
The Hype Box
Can't-miss news and updates from across the Marvel Universe!