Comics
Published March 23, 2018
The Punisher vs. the Good Guys
Get an exclusive look at the fight on its way in Punisher #225!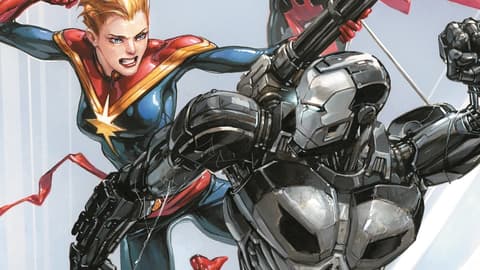 This May, Frank Castle becomes an antihero again. Literally.
Fresh off his noble outing as a freedom fighter in Chernaya, Castle makes his way back to the States to find that his War Machine armor is being tracked—and that Nick Fury is holding the leash. In "Target: Punisher," Frank needs to stay one step ahead of Fury if he wants to keep a handle on his heavy artillery. And for what the Punisher's got planned…he's gonna need it.
Written by Matthew Rosenberg with art by Guiu Vilanova, PUNISHER #225 sees the heroes of the Marvel Universe team up to take on Frank Castle.
"Expect it to get ugly," says Rosenberg. "Since we first announced Frank was taking the War Machine armor people have been asking us when we'd see him go up against some heavy hitters in the Marvel Universe. The answer is right now. Frank going over to Chernaya, decimating an army, and killing a world leader was just his warm up. Now he's bringing the war to New York City and the list of people who don't want that to happen is long. Frank Castle has leveled up and he's going to be fighting in a whole new weight class."
Series editor Jake Thomas portends a rough ride for all involved. "The Punisher stepped up his game with the War Machine armor, taking on an entire army single-handedly," he explains, "But going after bigger enemies also means getting the attention of bigger heroes, and not everyone is thrilled with Frank Castle starting an international incident, particularly not while wearing James Rhodes' old mech. Now Frank has a group of Marvel's biggest heavy hitters coming after him, and he's pulling no armor-enhanced punches. Get ready for one of the biggest knock-down, drag-out Punisher fights ever!"
Steel yourself for Matthew Rosenberg and Guiu Vilanova's PUNISHER #225—out May 30!
The Hype Box
Can't-miss news and updates from across the Marvel Universe!