Comics
Published August 29, 2019
The Remarkable Hero That Draws Characters Into Existence
Catch up with Kid Kaiju as you read this week's 'Marvel Monsters' #1!
Someone's messing with monsters, and Kei Kawade plans to find out who as Cullen Bunn and a cacophonous collection of superstar artists present this week's MARVEL MONSTERS #1!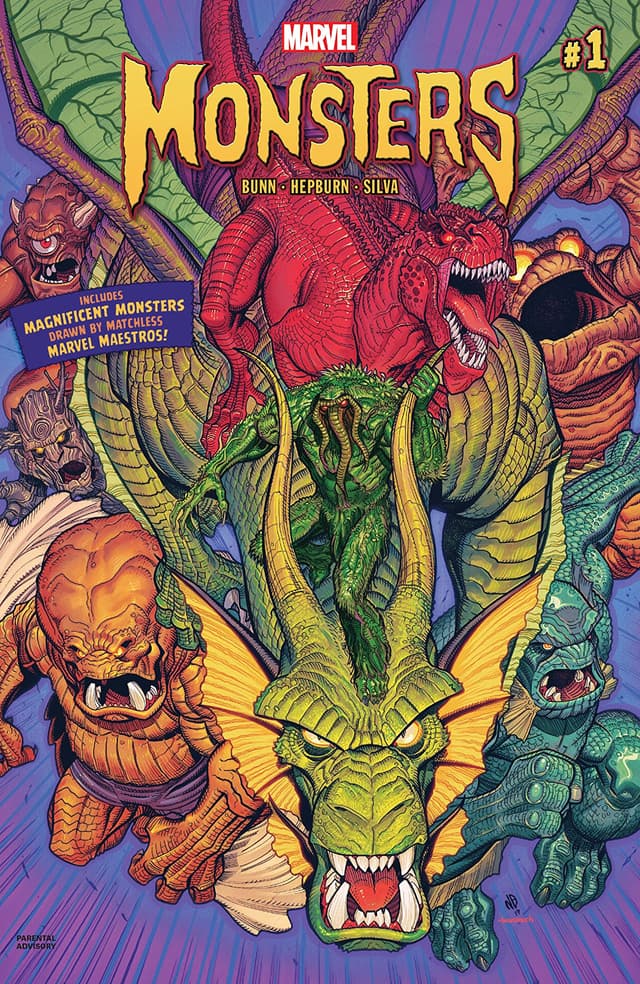 The issue finds the 11-year-old otherwise known as Kid Kaiju trying to find the person behind a rash of monster attacks. But he gets more than he bargained for when he comes across a book that shows the reader how to make everyone from Fin Fang Foom and Man-Thing to Ulvar and Zzutak! (Which is a beautifully convenient way to get all those wonderful artists to compose full page glory shots of the beasts along with Superlog's stunning cross sections!)
Even better, this issue continues the exploits of one the Marvel Universe's youngest and most interesting characters in Kei. Though unnamed at the time, Kawade briefly debuted in the pages of TOTALLY AWESOME HULK (2015) #3 by Greg Pak and Frank Cho. In his two-panel appearance, we see a boy drawing the Hulk in a room while Fin Fang Foom rampages outside his North Shore, Hawaii home.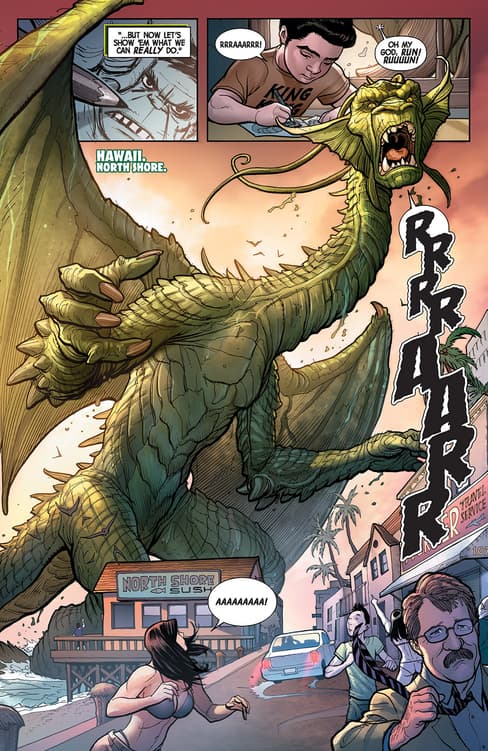 A few pages later Amadeus Cho knocked the green space dragon out as Kawade kept drawing.
It took almost a full year for Kei to make his real presence felt, but he sure did in the 2017 limited series MONSTERS UNLEASHED. Written by Cullen Bunn with art by Steve McNiven, Greg Land, Leinil Francis Yu, Salvador Larroca, and Adam Kubert, that event series found the heroes of the Marvel Universe working together with the classic monsters from the pre-hero era to hold off a race of space beasts.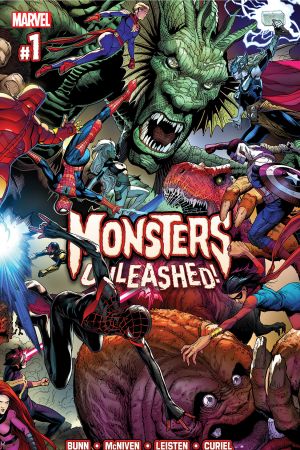 Monsters Unleashed (2017) #1
published

added to marvel unlimited

penciler (cover)

colorist (cover)

inker

inker (cover)

painter (cover)

editor

penciler

writer

letterer

colorist
What is Marvel Unlimited?
Throughout that first issue, we see Kei—now living in Springfield, Missouri—drawing in his room as the beasts attack. At the end, he runs out of his house after hearing about all this on the news only to be stopped by Fin Fang Foom and more of his ilk warning him to stop!
Eventually, Elsa Bloodstone figured out that this boy could summon monsters by drawing them and brought him to the attention of the heroes. At this point, we also learned that his parents had been moving all over the country in an attempt to outrun suspicion that he was somehow connected to attacks he accidentally caused after realizing he was an Inhuman transformed by the Terrigen Mists.
No part of the hero community, Kei—dubbed Kid Kaiju by Spider-Man—got to drawing while hanging out with Lunella Lafayette in an effort to stem the efforts of the Leviathon Mother and her children. To truly stem her rampage, he dug deep and created brand new monsters: Fireclaw, Scragg, Hi-Vo, Slizzik, Mekara, and Aegis. Once they all joined together as Smasher, they finally drove back the source of the infestation.
That still left an 11-year-old boy with uncanny powers and a passel of kaiju at his disposal. Medusa and the Inhumans helped set him and his parents up with a house on a remote island. That lead into the MONSTERS UNLEASHED ongoing series which ran for a dozen issues between 2017 and 2018. With his enormous pals and Elsa Bloodstone watching his back, Kei got an even bigger taste of the hero life!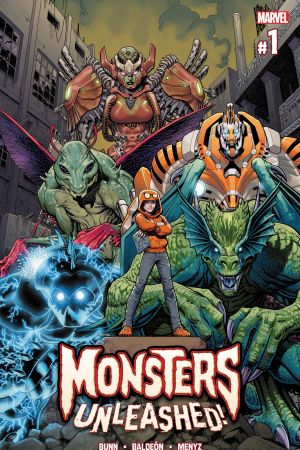 Monsters Unleashed (2017) #1
published

added to marvel unlimited

editor

inker

penciler

writer

inker (cover)

penciler (cover)

letterer

colorist

colorist (cover)
What is Marvel Unlimited?
Most recently, inter-dimensional beings called the Poison used symbiotes to try and overtake the Earth and wanted Kid Kaiju's help to do that. Instead, he brought his own monsters to the fight, but not all of them made it back home after the day was saved...
Now, thanks to Bunn and company, he's back in the spotlight and we can't wait to see where he goes from here!
Read MARVEL MONSTERS #1 at your local comic shop today!
The Hype Box
Can't-miss news and updates from across the Marvel Universe!