Comics
Published November 16, 2016
Doctor Strange Defies Death
Revisit the time Doctor Strange battled unreality and death itself!
After a five year break from flying in his own solo title, the Sorcerer Supreme returned to headlining status in 1974's DOCTOR STRANGE #1 by Steve Englehart and Frank Brunner, resulting in his first #1 issue!
However, Strange lacked time to properly celebrate the occasion as a new villain named Silver Dagger infiltrated the Sanctum Sanctorum while the house's owner meditated. In quick succession, the new assailant incapacitated both Clea and Wong and then stabbed Strange in the back with one of his namesake weapons. He then made off with the Eye of Agamotto and Clea!
Awakening, Strange requested the Cloak of Levitation and the Orb of Agamotto in an attempt to locate his missing student. Though it worked momentarily, the Master of the Mystic Arts soon found himself dragged into the Orb itself by a manifestation of Death. The mage encountered talking caterpillars who turned into huge monsters, false versions of his fellow heroes, a recounting of his own origins, and even members of the Four Horsemen of the Apocalypse.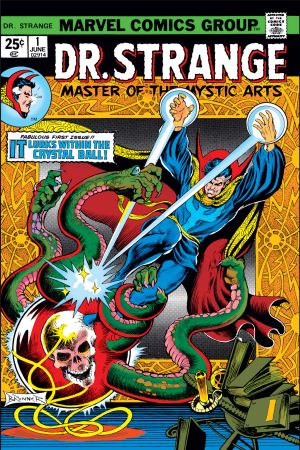 All of that paled in comparison to his true test though: facing Death. First he fought the entity and then tried to escape its clutches in order to save Clea and go on to continue protecting humanity. In his attempt to get to the recently revealed Eternity, though, Strange gave himself over to Death and sacrificed himself.
Doctor Strange survived, of course. The Ancient One appeared to congratulate his pupil on passing a test that expunged the fear of death from his soul. The teacher added that he could go on living for hundreds of years after returning to his physical body and marked him with an Ankh representing enduring life!
More powerful than ever, Doctor Strange returned to the mortal plane to save Clea and stop Silver Dagger but first inhabited the form of a mannequin that Dagger had decapitated in an earlier issue. He then inhabited Clea who helped him escape back to their home where he got back inside his own body and soon banished Silver Dagger to the same realm of unreality Strange previously found himself trapped in.
Opening the Book of Vishanti
Silver Dagger might have debuted in the pages of DOCTOR STRANGE #1, but he continued to act as a thorn in our hero's side for quite a while. As the villain recounted in issue #5, he started out as a Cardinal in the Catholic Church and almost made it to Pope. Feeling rejected when another gained the position, he traveled the world gathering mystic knowledge and then punishing his teachers for their devilish practices with death. Always trying to escape the realm of Agamotto that Strange banished him to, he encountered the Sorcerer Supreme again as well as other heroes like Spider-Man, Ms. Marvel, Werewolf by Night, and even Pip the Troll!
The Hype Box
Can't-miss news and updates from across the Marvel Universe!