Comics
Published November 29, 2016
The Doctor Is Out
Revisit when the former Sorcerer Supreme discovered a new path to enlightenment.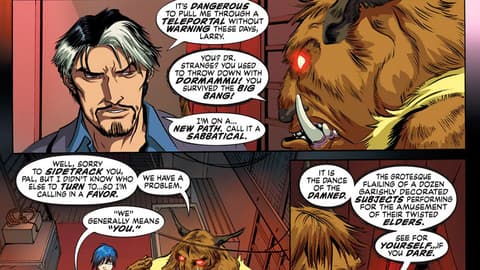 After Doctor Strange gave up the mantle of Sorcerer Supreme and Brother Voodoo took over for a time, the Master of the Mystic Arts appeared in NEW AVENGERS and his own limited series simply titled STRANGE written by Mark Waid and drawn by Emma Rios in 2009.
As this story kicked off, Strange set up a situation where a young woman named Casey Kinmont would help him get to her grandfather, an incredibly rich man who owned a baseball team that sold its souls to the devil decades ago. After passing a few mystical skills on to the surprisingly adept Casey and actually taking part in the baseball game himself, Stephen saved the players and left without saying much else.
Intrigued by Strange's comments about her being a natural in the ways of magic, Casey continued using her truth-revealing glasses and the vanishing spell he taught her on the fly while trying to dig up more information on the mysterious magic man.
It turned out that the vanishing spell itself sent the targets to a realm ruled by a very angry god called Baroshtok. Luckily, the mad deity retained some empathy and accepted that Casey had not known the ramifications of her actions.
While trying to transport away, Strange and Casey wound up in the middle of a confrontation between a pair of soul stealing demons, the nicer one named Laroximus and the reality-threatening one called Virilian. What manner of high-stakes competition might bring about this kind of veracity? Why the Bibb County, George Miss Buttermilk Pageant, of course. Casey attempted to ferret out which stage mom made a deal with that particular devil while Strange and Larry poked around Virilian's realm to ascertain the true scope of his plans.
Without giving too much away, STRANGE ended with one character selling their soul, huge sacrifices, the return of an old enemy and a victory that saved the world, even if it proved to be a less than happy ending.
Opening the Book of Vishanti
Even though Doctor Strange pledged to save Casey at the end of this limited series, he hasn't as of this writing. In fact, "Casey Kinmont" only appeared in one issue outside of STRANGE and it turned out to be a fake. A mystic named Adria tracked Stephen down in GIRL COMICS #2 and gave him some problems, especially noting that women like Casey, Clea, Night Nurse, and others tended to enter his life and leave worse for the wear. Ultimately, Stephen defeated this opponent, but her words seemed to ring with at least some truth.
The Hype Box
Can't-miss news and updates from across the Marvel Universe!