Comics
Published December 2, 2016
Doctor Strange: The Way of the Weird
Something weird is going on in Manhattan.
Launching in the wake of Secret Wars, DOCTOR STRANGE returned our pal Stephen to the Sanctum Sanctorum in Greenwich Village where people needing help with supernatural problems could seek him out. He also tackled problems as they popped up, like harmful creatures attaching themselves to unassuming humans. After a series of weirder-than-usual occurrences, including unforeseen incursions from other dimensions and a variety of spells losing their power, Strange uncovered the truth: a mysterious technology-based force aimed to eradicate magic across multiple dimensions.
Enter, the Empirikul, a group dedicated to tracking down and destroying magical energy wherever they find it. To them, magic represented a sin that needed to be wiped out in every dimension. Lead by The Imperator, the Empirikul—including the supernatural-sniffing Witchfinder Wolves—had already made their way to an unsuspecting Earth right under Stephen's nose.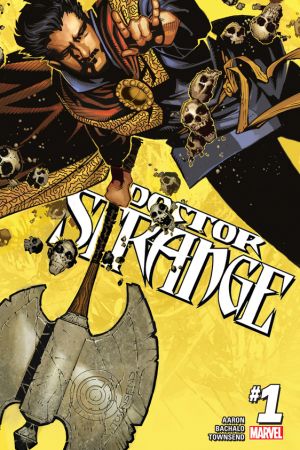 To Strange and some of his fellow mages, much of this trouble resulted from the fact that the Sorcerer Supreme had not balanced the scales of magic. An older magician explained that he would drown a rabbit every time he saved a life to keep things even. Strange intended a mysterious ritual in the basement of his home to do exactly that, but Wong instead created the Secret Disciples of Strange to absorb just some of the punishment our hero took on while performing his duties, which take an unimaginable toll.
Aaron and Bachalo also introduced a new character into Strange's life: a librarian from the Bronx named Zelma Stanton. She entered his life seeking help with an extra mouth growing out of her head, but agreed to return to organize the doctor's ever-growing collection of mystical tomes.
Right now, the first eight issues of DOCTOR STRANGE can be read on Marvel Unlimited. #1-5, covered here, make up the first arc while the other three really dive into Strange's battle with the Empirikul, which leaves magic in a much different place than the Sorcerer Supreme would like.
Opening the Book of Vishanti
These first five issues act as a lead-in to a much larger story called "The Last Days of Magic" that wove through DOCTOR STRANGE #6-10 as well as the DOCTOR STRANGE: LAST DAYS OF MAGIC one-shot. The ride continues in the main series by Aaron, Bachalo, and guest artists like Leonardo Romero and Kevin Nowlan. For even more magical adventures, check out the spinoff DOCTOR STRANGE AND THE SORCERERS SUPREME by Robbie Thompson and Javier Rodriguez featuring a team of mages from throughout time gathered to stop a threat called The Forgotten with secret ties to Merlin.
The Hype Box
Can't-miss news and updates from across the Marvel Universe!