Comics
Published April 27, 2020
The Story that Turned Bucky Barnes Into the Winter Soldier
Revisit Ed Brubaker's legendary run with 'Captain America' on Marvel Unlimited—for free!
For decades there were only a few rules in comics when it came to characters coming back from the great beyond, but one of the great pillars of the concept was, "Bucky stays dead." Then, in 2004, writer Ed Brubaker came at the rule with a new twist by asking, "What if Captain America's partner never died in the first place?"
Looking back at the actual comics, Bucky Barnes was fine and dandy the last time Captain America appeared in the CAPTAIN AMERICA COMICS (1941) series, which came to a close in 1954. However, in 1964's AVENGERS #4, the Sentinel of Liberty was thawed out by the titular team and immediately screamed for his partner Bucky! 
Soon, he explained that they had both raced for an explosive drone plane. As it flew off over the water with the heroes atop, Cap realized it was booby trapped and bailed, telling Barnes to do the same. But the boy was stuck. The ensuing explosion sent Rogers further into the water's freezing depths and, presumably, killed Bucky. The pain of the loss, which was also directly connected to the Shield-Slinger missing decades of his life in suspended animation, took its toll on Steve Rogers.
And then Brubaker and artists Steve Epting and Michael Lark brought Bucky Barnes back in the pages of CAPTAIN AMERICA (2004). So, members of the Merry Marvel Marching Society, with all of that as prologue, we've decided now's the perfect time to look back and see exactly how Brubaker dealt with the supposedly un-resurrectable Bucky Barnes!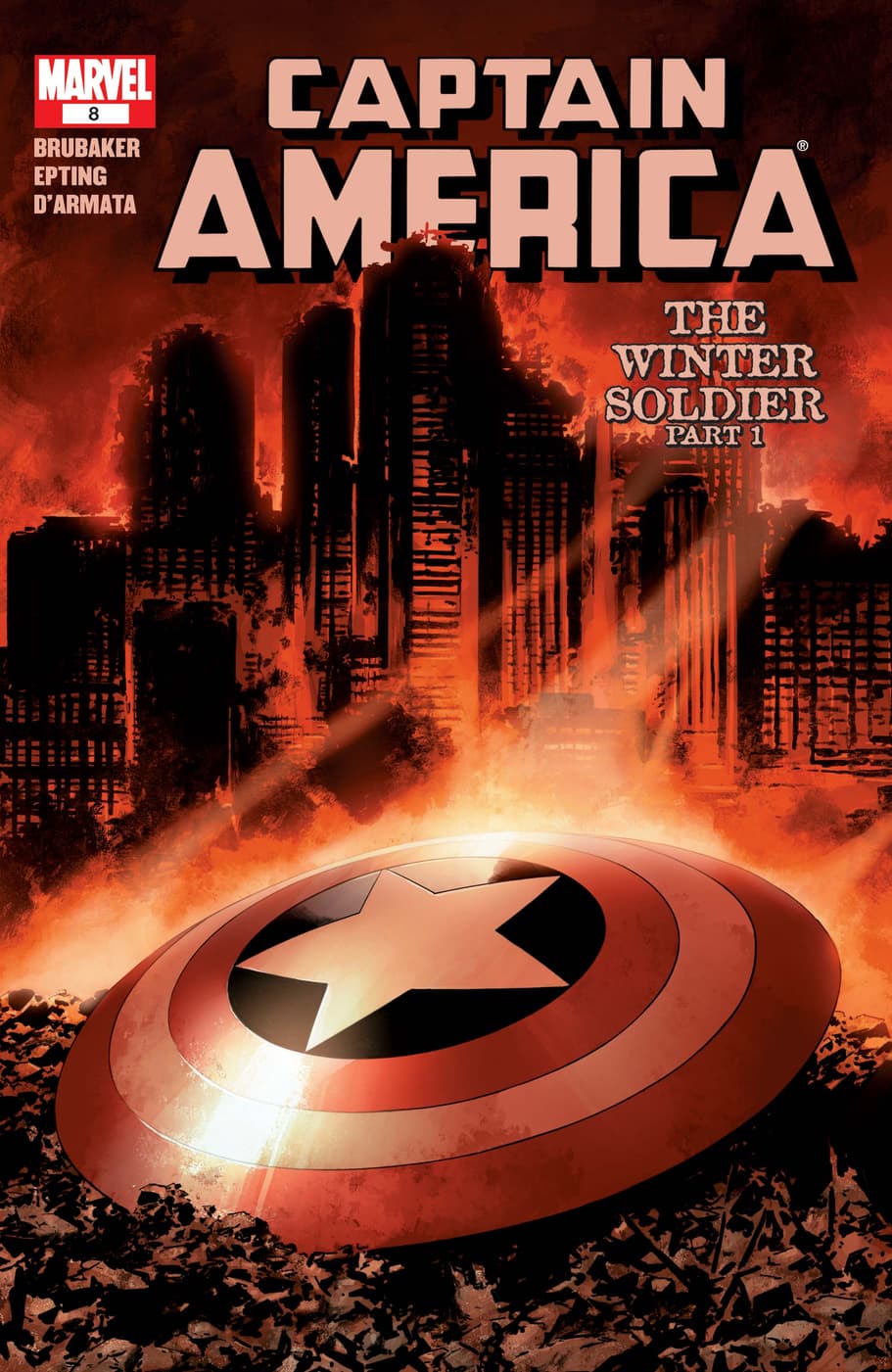 The whole story began five years prior, when the Russian deserter General Aleksander Lukin offered to sell the Red Skull some KGB-developed experimental weaponry from a secret facility. When the Skull saw a man with a robotic arm in suspended animation, he recognized it and wanted to make a purchase. Lukin said he would only trade it for Red's Cosmic Cube; neither agreed to those terms. It would take the Skull five years to piece together a Cube. See, he planned to fuel the cobbled-together weapon by harnessing the destructive energy released by bombing Manhattan, London, and Paris. In that same span of time, Lukin revived the man in the tube and sent him to kill the Nazi villain and steal the wildly powerful object!
Cap got called in when S.H.I.E.L.D. came found the Red Skull's body by way of an anonymous tip. Eventually they found out about the plan to blow up the Big Apple and stopped it. However, the Red Skull's agent Crossbones made the call himself to set off the other bombs in Paris and London.
While Rogers, Sharon Carter, and other S.H.I.E.L.D. agents went to save Paris, Union Jack discovered that someone else had already killed all of the Skull's agents in London and made off with the bomb. A mysterious figure also killed one-time Bucky Barnes fill-in and eventual Nomad Jack Monroe (whose full story is told in CAPTAIN AMERICA #7 by Brubaker and Jean Paul Leon). When planted evidence put Nick Fury on the trail of Monroe as the Red Skull's assassin, he sent Carter to investigate, but she was quickly captured by the same guy who soon after set a bomb to blow under Philadelphia.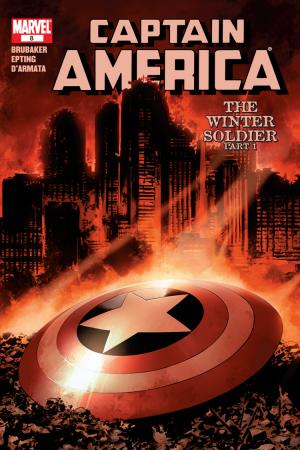 Around this time, Steve also began having problems with his memory, specifically regarding the day he assumed Bucky died; he theorized that the Skull's barely-powered Cosmic Cube had been unlocking memories inside him. Then, when he went to save Carter, she told him she thought her kidnapper was...Bucky. At that same moment, the Winter Soldier had Cap in his crosshairs, but Lukin ordered him not to take the shot so that Rogers would suffer upon seeing the bomb go off and all that came after it. The plan worked. After the explosion, when Cap briefly saw the mystery man, he said his old friend's name only for the killer to respond—with the now iconic line—"Who the hell is Bucky?"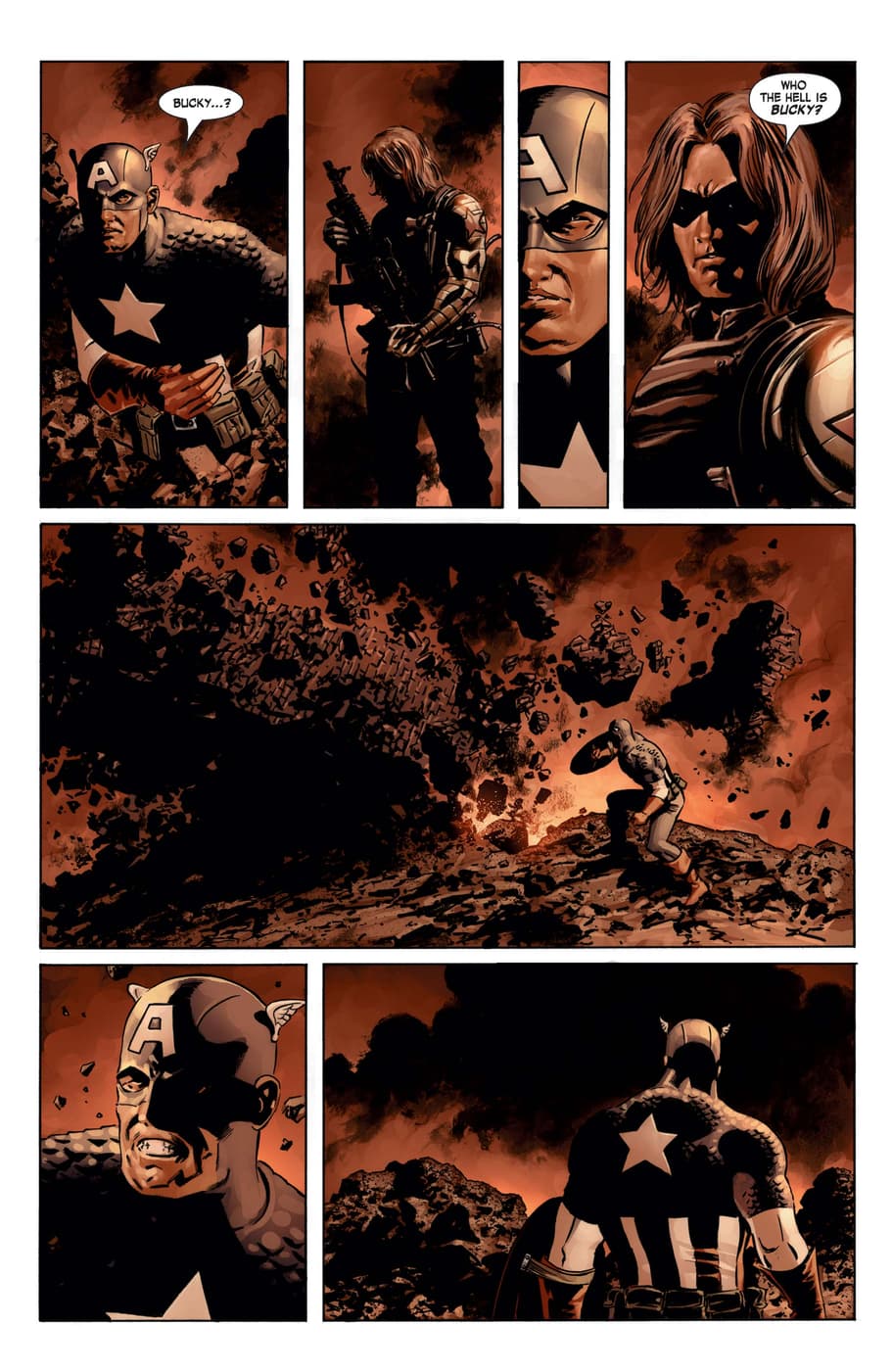 Shortly after, Nick Fury told Captain America and Sharon Carter about the rumors of a Russian operative called the Winter Soldier who would be brought out of suspended animation to kill important people and then go back under. Thanks to advances in computer tech, they were also able to find pictures of a man who looked an awful lot like a barely-aging Bucky Barnes around those assassinations, across decades. Rogers had a hard time believing all this, but it wasn't until the Russian Winter Soldier file wound up in his apartment that he really believed it might be true.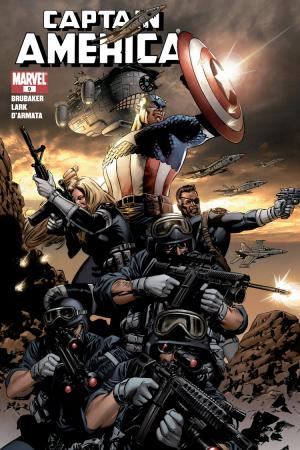 Decades ago, his partner had been found in the water missing one arm and most of his memories after the drone plane explosion. However, the Russians knew his true identity and began manipulating his mind with brainwashing and programming techniques, especially after realizing that he had retained the physical memories of his intense training. When the Winter Soldier proved difficult to control over long periods of time, the Russians began the suspended animation process that kept him young and under their control.
Eventually, Cap worked with Iron Man and Falcon to figure out how to track down the Cosmic Cube. Lukin had sent the Winter Soldier to hide it in a deep, dark vault. Iron Man had to sit that part of the mission out, but Falcon gave his compatriot cover so the Sentinel of Liberty could deal with his former friend. During the ensuing skirmish, the Winter Soldier claimed to have no memory of Rogers, but Steve eventually got his hands on the Cosmic Cube and used it to make him recall everything about his life—the good and bad. In a fit of rage, Barnes grabbed the Cube and crushed it with his metallic hand, but not before sending himself far away from that place.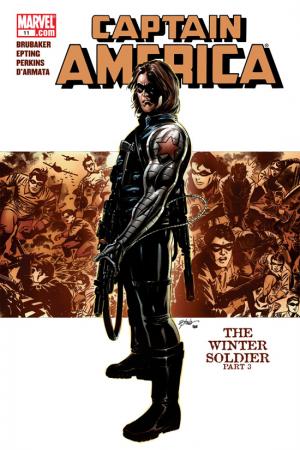 Barnes would go on to become a fixture in the Marvel Universe, even becoming Captain America for a time, but at this point he needed to find out what to do with himself. Sure, he'd been a hero for the country he grew up in, but had then been turned into a weapon for the hated enemy. He may not have been in control of his actions, but he remembered every second of that time.
Now we have one of the most interesting and intriguing characters in the House of Ideas—and it's all because Ed Brubaker decided to break the rules!
Read these invincible issues on Marvel Unlimited right now—for free!
The Hype Box
Can't-miss news and updates from across the Marvel Universe!