Comics
Published March 12, 2018
The Unbeatable Squirrel Girl: 2 Fuzzy, 2 Furious Takes You Inside The Mind of a Hero and The Minds of Squirrels
Authors Shannon Hale and Dean Hale talk all things fuzzy!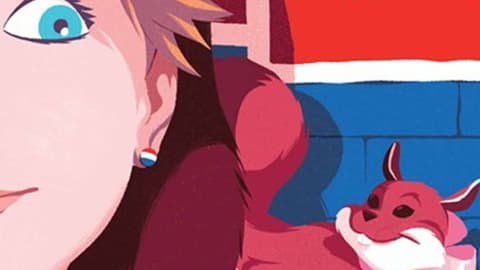 Doreen Green may seem like your average 14-year-old girl but she's got a super-powered fuzzy alter-ego that's just bursting to fight crime! As the Super Hero Squirrel Girl, she has unimaginable powers but also has to deal with the daily life of being a teen. Doreen knows that her life is anything but normal— as if her text-chains with the Avengers weren't a dead giveaway—always bright-eyed and literally bushy-tailed, she's ready to take on anything that threatens her family, friends, or little rodent pals.
Authors Shannon Hale and Dean Hale talked with Marvel.com about what it was like writing the newest book in the Squirrel Girl novel series,"The Unbeatable Squirrel Girl: 2 Fuzzy, 2 Furious"—writing from the perspective of a teen, coming up with super heroic animal names, the Avengers' eating habits—and oh yeah, the authors also happen to be fluent in squirrel. [In case you missed it, read an excerpt here.]
Marvel.com: Other than the genetically mutated Super Hero part, Doreen is an average 14-year-old girl. Was it hard to get into the mind of a middle-schooler?
Dean Hale: I have no memories of life before the age of 30 and have therefore conducted several long-term brain studies to understand the "lives" of small and medium-sized humans.
Shannon Hale: Conveniently, we have four in-house on which to perform our experiments. Truly, one of the reasons why I love writing for young readers is I do remember a lot of what that felt like and I want to honor that experience for readers that age.
Marvel.com: Was it harder to write from the point of view of a 14-year-old or from the POV of a squirrel? Seeing as how a big part of this book is told from a squirrel's eye view.
Dean Hale:  Oh, Doreen's point of view was harder for sure. Writing Tippy and her pals is like writing personal journal entries.
Marvel.com: With so much animal-action in the story, this book pits dog lovers against cat fans — which side do you choose?
Shannon Hale: Confession: we have two cats at home. But ultimately we agree with Squirrel Girl—why all the fighting, folks? It's just silly!
Dean Hale:  With cats in the house, they have the upper paw here. But if I channel my squirrel-self, I would prefer a respectful cavalry-capable dog.
Marvel.com: One of the opening scenes has Thor eating empanadas — which sounds like you tapped into my dreams. How did you decide that the hand pie was to become one of his favorite foods?
Dean Hale:  Empanadas pack all of the comfort and deliciousness of a mead hall dinner into a convenient portable bundle. Fighting demons and giant serpents is hungry work and a hero doesn't always have time to stop at an ale-house to replenish.
Shannon Hale: Also, I closed my eyes and tried to imagine the best possible thing in the world.
Marvel.com: Speaking of Thor, not to give anything away but it's revealed (through group text, obviously) that the Avengers are in space fighting Thanos. So does this story run parallel to the Infinity War we'll be seeing on the big screen?
Shannon Hale: Yes! Absolutely! We're 100% confident that it is! And we have zero authority to make these claims, and yet, here we are! (Note: please do not email us for "Avengers: Infinity Wars" spoilers. We have none.)
Dean Hale: And to be honest, since he is notoriously difficult to deal with, there's a better-than-average chance that at any given moment, the Avengers are in space fighting Thanos.
Marvel.com: Squirrel Girl has access to Avengers group texts, which is a comedy within itself. How did you come up with the idea — and how did you come up with the voices for the heroes in the group chat?
Shannon Hale: We both love Ryan North and Erica Henderson's UNBEATABLE SQUIRREL GIRL comics. They start each issue with a page of twitter interactions between heroes and sometimes villains. We wanted to tap into the spirit of that but keep it middle school, which means—texting. Constant, constant texting. Also it just seemed like a great way to up the comedy. I had a blast writing our version of Winter Soldier and Thor. Which I'm sure is canon now and completely accurate in every way.
Marvel.com: Right away I noticed Amanat Street — a reference to Marvel's Sana Amanat — what other Easter eggs might readers find in the book?
Dean Hale: The masses of squirrel names in both books are packed with references to other in-universe characters. Most of them are so obscure or obtuse they likely don't even qualify as eggs. Easter shells, maybe?
Shannon Hale: Also we named a bunch of squirrels after people who generously donated to the Trevor Project. Good work, squirrel friends!
Marvel.com: Finally, would you say the fact that Hydra uses Comic Sans for party flyers is a dead giveaway of their evilness?
Shannon Hale: It's a good point. Hydra is good a lot of things, but graphic design is not one of them.
Dean Hale: We just googled "evil fonts" and chose the first one that wasn't legit demon script. Or not OBVIOUSLY demon script, anyway.
"The Unbeatable Squirrel Girl: 2 Fuzzy, 2 Furious" is available now wherever books are sold. Interested in learning more about Doreen Green, Marvel TL;DR gives you everything you need to know in 2 minutes!
The Hype Box
Can't-miss news and updates from across the Marvel Universe!