Comics
Published November 14, 2017
The Unbeatable Squirrel Girl: In Space!
Ryan North sends Doreen back into space for an adventure with the new Sorcerer Supreme.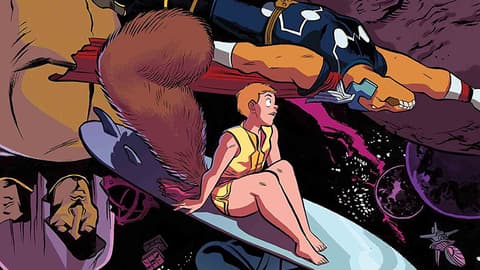 On December 13, THE UNBEATABLE SQUIRREL GIRL #27, from writer Ryan North and artist Erica Henderson, begins a new story arc titled "Forbidden Pla-Nut!" In the first issue, Doreen has to get to the other side of the galaxy to save her friends Nancy and Tippy from an alien world, so she'll need some assistance in getting there. Naturally, she intends to recruit Dr. Strange, but finds out there's a new Sorcerer Supreme in town, Loki!
We talked to Ryan about the new arc and how Squirrel Girl is going to get along with the mischievous trickster.
Marvel.com: In "Forbidden Pla-Nut!", Doreen's heading into space, but in true THE UNBEATABLE SQUIRREL GIRL fashion, this cosmic adventure isn't the least bit orthodox. Can you talk a little about the impetus for this story and some of the exciting guest stars?
Ryan North: Sure!  It was part of Marvel Legacy but our book is only 3 years old, so there wasn't much of a legacy to go back to – we're still in the middle of making it!  So instead we thought "well, what's the opposite of going back to basics" and the answer is clearly "shoot Squirrel Girl into space."
So that's what we did!  It starts with a kidnapping, features a talking cat, and ends up on the other side of the galaxy.  And that's just the first issue!
Marvel.com: What drew you to pairing Doreen up with these new characters?
Ryan North: Doreen is of course lots of fun, but the fact that Loki becoming is Sorcerer Supreme now is crazy: it's a bold twist for the character, and of course Squirrel Girl and Loki have a history, through their mutual friend Nancy Whitehead.  So this was a chance to explore that more, and once you go into space in a Marvel comic you run into all sorts of cosmic characters that I'm very excited to showcase.  If you look at the covers, the Silver Surfer is involved.  Squirrel Girl has a history with his ol' pal Galactus, too.
Marvel.com: What can you tell us about the villains at play here?

Ryan North: I don't want to spoil the reveal, but there's actually a couple of villains appearing at the same time.  One of them is an enemy of Strange who believes (quite reasonably, as it turns out) that Loki is not quite as competent at the whole "sorcerer supreme" business as Strange used to be, and another is a new enemy who is similarly taking advantage of a fortunate (or unfortunate) situation.
It'll be crazy fun!  IN SPAAAACE!
Marvel.com: What are some of your favorite "going into space" Marvel stories that inspired this arc?
Ryan North: I love the first appearance of Galactus and the Silver Surfer, back in the FANTASTIC FOUR#48.  But in more modern sense, there's a lot of fun with the Guardians of the Galaxy, and that's the same sort of fun I'm going for here: that sense of space being full of mystery, and a lot of it is insane, and you're not going to understand everything but it's going to be awesome.
That's what I'm shooting for!
Marvel.com: You and artist Erica Henderson have been collaborating on this book for awhile now. What's your favorite part of writing for her?
Ryan North: Erica takes what I write and elevates it into a better version of the script, which is terrific, because then everyone thinks I'm better than I am.  IT'S A SECRET, DON'T TELL ANYONE.  So my favourite part is getting back her pencils and seeing what she's done.  We've also got a great working relationship where she feels super comfortable changing things for storytelling reasons, so she'll sometimes tweak something or move stuff around, and then it's not just "I get to see the story illustrated" but also "I get to see the story illustrated, and also, better."  It's super great!
Marvel.com: Is there anything ridiculous you managed to squeeze into this new story that you're proudest of?
Ryan North: There is!  We managed to get a fresh take on the Silver Surfer that hasn't been done in all of Marvel history.
I'm super proud of that but I don't want to say what it is because it's a spoiler, so I GUESS EVERYONE WILL JUST HAVE TO BUY THE ISSUE TO FIND OUT!
Readers can do just that on December 13, when THE UNBEATABLE SQUIRREL GIRL #27 drops, from Ryan North and Erica Henderson!
The Hype Box
Can't-miss news and updates from across the Marvel Universe!