Comics
Published June 12, 2018
The Wasp Returns to Comics This October
You asked for it, you got it! Here are Jeremy Whitley's and Gurihiru's plans for Nadia van Dyne!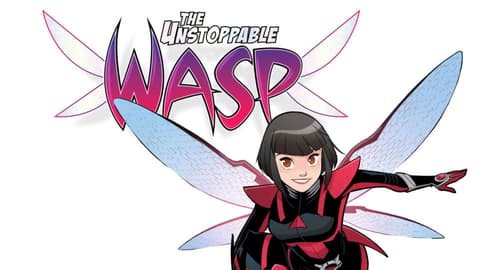 Marvel Comics fans have been hoping for a return of the latest woman wearing the Wasp costume — Nadia van Dyne! Back by popular demand, the young Super Hero is making a buzzworthy return written by Jeremy Whitley with art by Gurihiru. Nadia will be teaming up with her Agents of G.I.R.L. as well as her stepmother, Janet van Dyne AKA the original Wasp, to uncover a mysterious connection between A.I.M. and Nadia's father, Hank Pym. THE UNSTOPPABLE WASP #1, the first in an ongoing series, will fly into stores on October 3, but we have an inside look at Nadia's new adventures and some previews of the art!
Marvel.com: What kinds of adventures is Nadia going to be having this time around, and how will her "hive" of friends be involved?
Jeremy Whitley: They're science ladies having science adventures! All of our Agents of G.I.R.L. are back, and they're all on the same mission: to change the world through science. They're also going to be Nadia's back-up in the field in ways that are new to this volume. It's always useful to have four of the smartest scientists in the world in your earpiece, but we've got a few other ways for them to get in on the action.
So much of the first volume was about assembling the team and saving Ying — this will be one of our first real chances to see G.I.R.L. in action out in the world.  We're gonna have so much fun!
Marvel.com: We're all excited to see Nadia shine on her own, but will any familiar faces be giving her a helping hand?
Whitley: Our goal with the adventures Nadia has are, as in the first volume, to combine the young and vibrant part of the current Marvel Universe with the heritage and fun of the Marvel Universe that she inherits from her family tree. Between Janet, Hank, Scott, Cassie, and Jarvis, Nadia has a ton of Avengers history around her. Also, Mockingbird's sticking around as a mentor in the lab, so count on some killer chemistry and things getting hit with sticks!
Marvel.com: Can you discuss the villains and challenges Nadia will face? Will there be anyone we'll recognize?
Whitley: I think we'll have some surprising returns from the first volume, as we not only deal with some of Nadia's history in the Red Room, but with the revitalization of A.I.M. under a familiar face that Nadia last saw inside of a giant robot. Beyond that, we want to bring in some family classics and some new blood as well. Nothing is quite as much fun as making new villains to plague the Marvel Universe.
Marvel.com: Will we learn more about Nadia's past with the Red Room?
Whitley: "Absolutely…" he says coyly, "but I can't tell you here.  They might be listening."
Marvel.com: What kind of arc will Nadia experience throughout her series? Did your plotting and writing go the way you'd planned, or did you change direction along the way?
Whitley: I think we're going to see a lot more of the Nadia we got to know in the last two issues of the first volume, one who doesn't have all of the answers. It wasn't so long ago that Nadia was a part-time Avenger with very few social obligations. Now she's a Champion, has responsibilities with G.I.R.L., and has a lot more people in her life than she ever has before. A lot of this first story is going to be about how Nadia reacts to having so many more commitments in her life. We're also going to deal a lot more with what she's inherited from Hank, both in her civilian life and as the Wasp.  Hank's had more than his fair share of enemies — and right now, he's off making more.
Marvel.com: How will Nadia get to show off her science and technology skills in addition to her Super Hero skills? Do all of her skills work hand-in-hand or do they ever cause her to feel some sort of conflict? (Meaning, would a teenage girl with a scientific mind ever overthink a Super Hero mission?)
Whitley: I think Nadia considers herself a scientist first, and her superheroics are an extension of that. I like to think of her as coming from the same school as characters like Mr. Fantastic and Ant-Man, where what makes them super has as much to do with what's in the brain as anything else.
The other component to this when it comes to Nadia is that, when possible, she prefers to settle things nonviolently. If she can talk to or make friends with someone that she's supposed to be fighting, she absolutely will. So, I would say, Nadia's brain IS what makes her a Super Hero, even when she's not using science to solve the problem.
Marvel.com: Gurihiru is doing the art for THE UNSTOPPABLE WASP – how did you work with them to create Nadia's new look and how do you think the artwork sets the tone for the series?
Whitley: I had the immense pleasure of working with Gurihiru once before on the first project I ever work on for SECRET WARS: SECRET LOVE. I learned that Gurihiru have an amazing sense of style and that the project will probably be served best by me telling them what I need and letting them fill in the blanks. We went back and forth on the designs just a little, but only to get them finely attuned. I credit them with looking at Elsa's work on the first volume and seeing how they could make those looks fresh and new.  I think they've done a tremendous job.
THE UNSTOPPABLE WASP #1, written by Jeremy Whitley with art by Gurihiru, will go on sale October 3! Check in with your local comic book shop to pre-order your copy!
The Hype Box
Can't-miss news and updates from across the Marvel Universe!