Comics
Published April 9, 2019
This July, Characters Fuse in 5 'Secret Warps' Annuals
Read more Soldier Supreme, Weapon Hex, Ghost Panther, Arachknight, and Iron Hammer!
This July, the character crossover action of INFINITY WARPS evolves into the cosmic conflagration of SECRET WARPS!
When Gamora used the power of the Infinity Gauntlet to fold various corners of the Marvel Multiverse in on itself, she created fusions of various characters. From Captain America and Doctor Strange came Soldier Supreme, from X-23 and Scarlet Witch came Weapon Hex, from Black Panther and Ghost Rider came Ghost Panther, from Spider-Man and Moon Knight came Arachknight, and from Iron Man and Thor came Iron Hammer!
And now, IMMORTAL HULK writer Al Ewing has masterminded an all-new journey across the cosmos with five epic 40-page warp tales...
In SECRET WARPS: SOLDIER SUPREME ANNUAL #1, writers Al Ewing and Mark Waid team up with artists Carlos Gomez and Alex Lins for Part 1 of an interconnected story, "Acts of War"!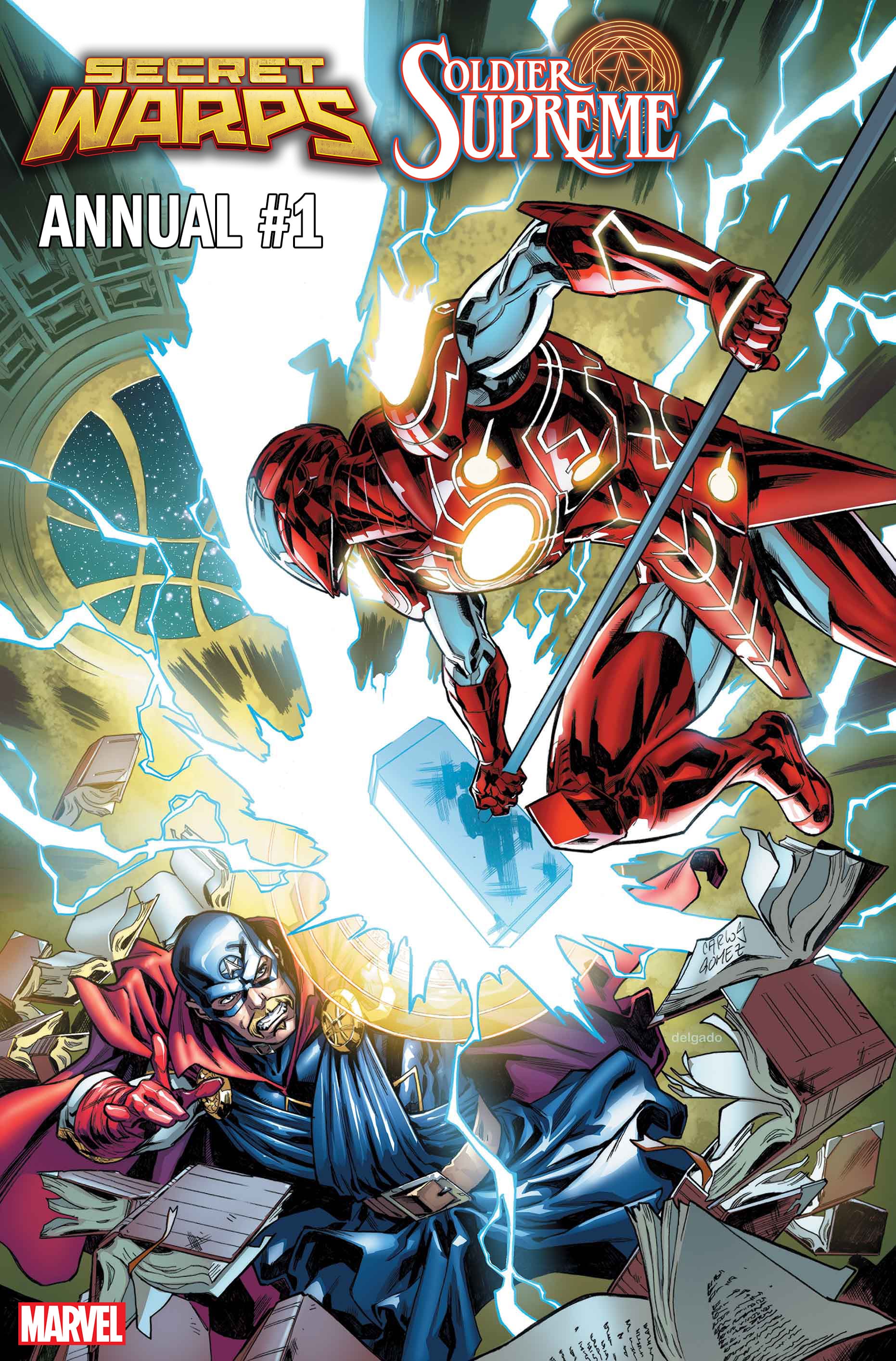 As the villains of Warp World trade foes, it begins a rift between Soldier Supreme and Iron Hammer that could tear the Super Hero community in half. But could this criminal conspiracy be the portent of a much bigger cosmic calamity? Plus: A bonus tale of Soldier Supreme versus Baroness Umar for the fate of our nation!
Then, in SECRET WARPS: WEAPON HEX ANNUAL #1, Ewing and Tim Seeley join artists Carlos Villa and Bob Quinn for Part 2, "Inferno Attacks"!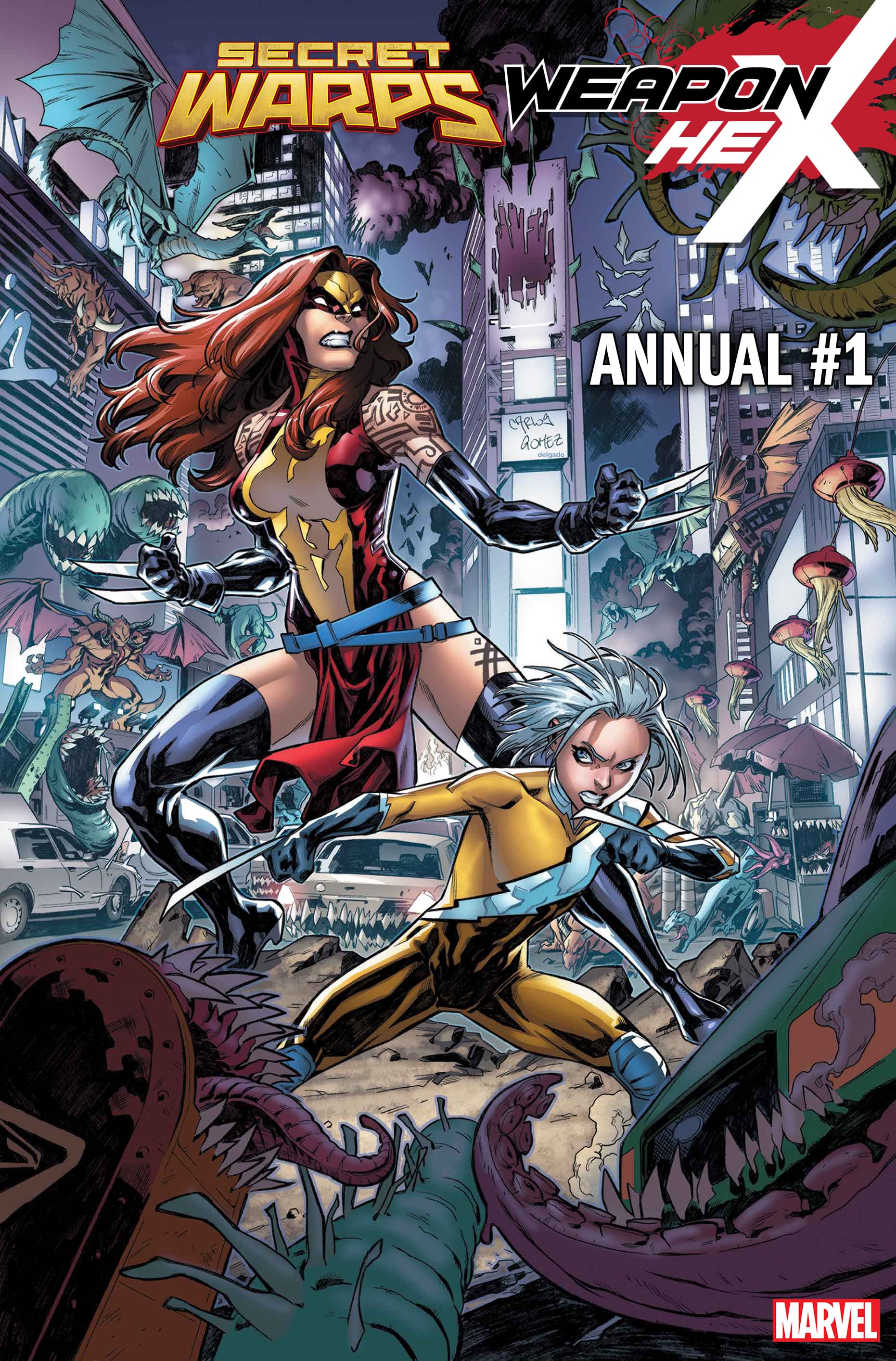 Weapon Hex and Speed Weasel join the fight for Warp World as the forces of Hell invade the streets of New York City! Then catch a bonus story of the spellbound sisters taking down a ferocious furry femme!
Next, in SECRET WARPS: GHOST PANTHER ANNUAL #1, Ewing and Daniel Kibblesmith align with Carlos Gomez and Ig Guara for Part 3, "Days of Future Mars"!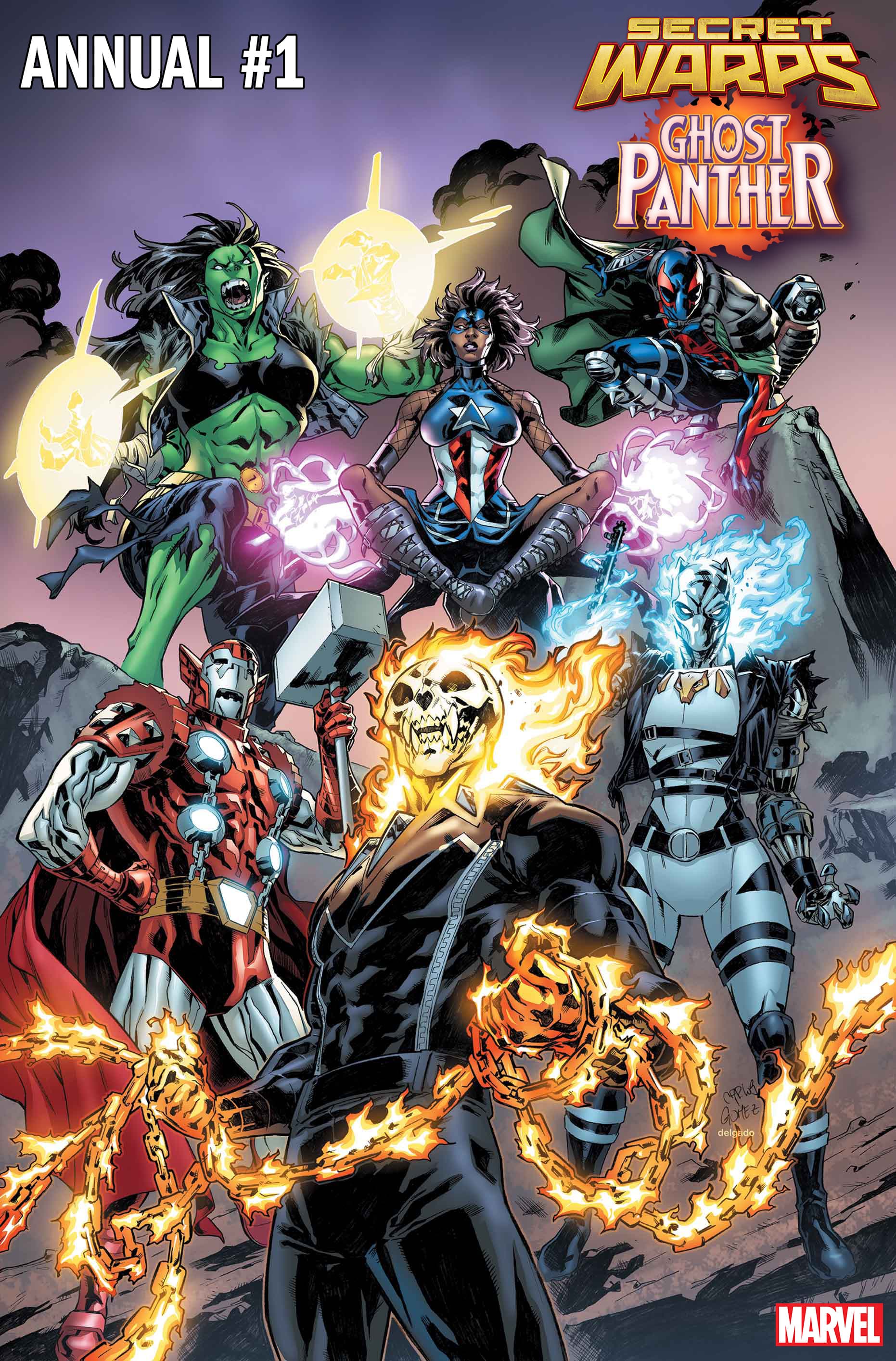 The stunt-riding cursed king of Wakanda, the Ghost Panther, heads to the far future…in the year 2099! But can he rally the inheritors of the legacy of his fellow heroes to defeat the Martian invaders? Then, read a bonus tale of T'Challa taking on creatures of the night alongside Knightblade!
In SECRET WARPS: ARACHKNIGHT ANNUAL #1, Ewing and Jim Zub fuse with Carlos Villa and Carlo Barberi for Part 4 of the tale in "Supremeuniversal"!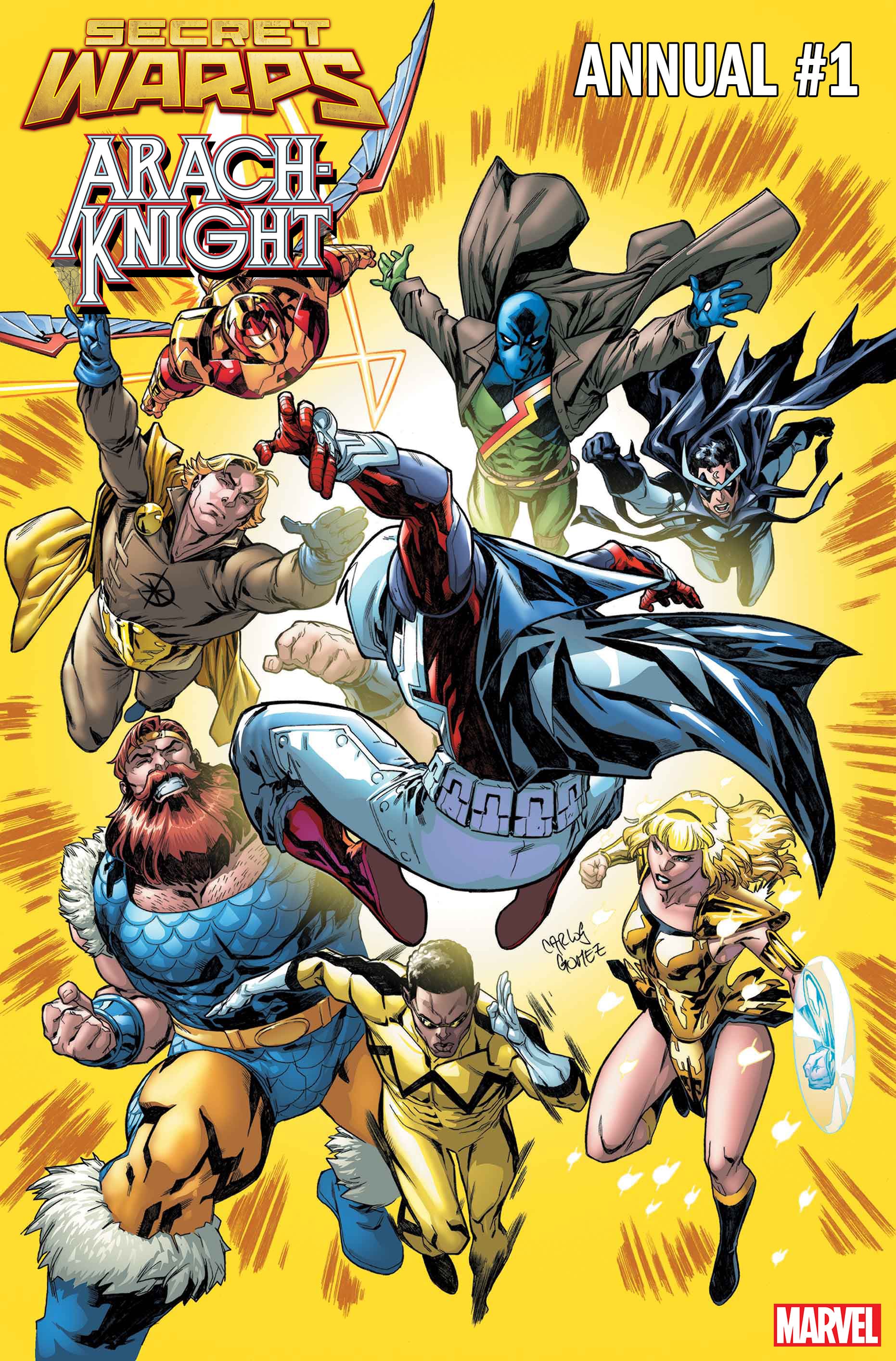 The web-spinning Arachknight finds himself out of the depth of all four of his personas as his own warped universe begins colliding with another—the New Supreme Universe, homes of the Supreme Seven! Plus: A bonus tale of ol' AK trying to persuade the Terrific Two to become a Trio!
And finally, the action concludes with SECRET WARPS: IRON HAMMER ANNUAL #1! Ewing and fan-favorite Tini Howard join Carlos Gomez and Ario Anandito for the final part of the story, "Secret Warps"!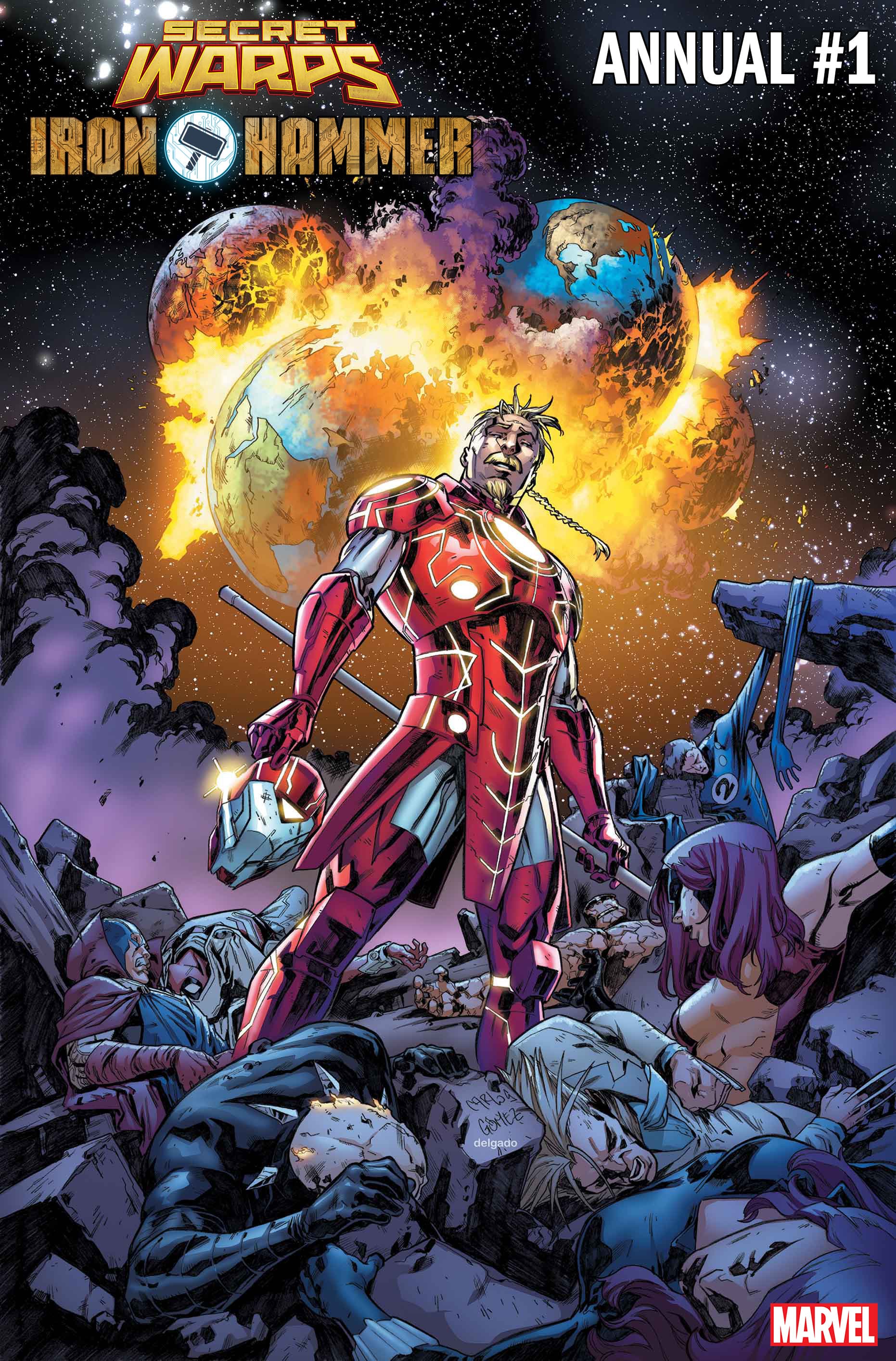 Whatever has been causing worlds to smash together is out of control…and starts smashing Warp Worlds heroes into one another! As the heroes begin turning into strange new amalgamations, can even Ghost Hammer turn things back to normal? Then, a bonus tale of Sigurd Stark battling the twin wolves of addiction and Fenris the god devourer!
Read these stories when they start hitting your local comic shop this July!
The Hype Box
Can't-miss news and updates from across the Marvel Universe!