Comics
Published December 4, 2017
Together Again: A Rogue & Gambit Sketchbook
Pere Perez reunites the mutant heroes and sends them undercover!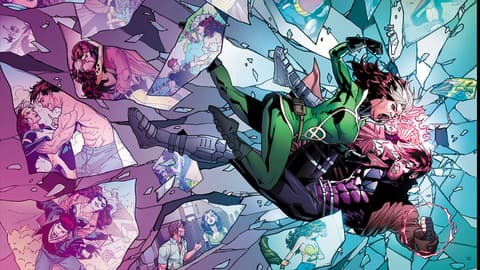 Seeing an ex out in the world usually leads to an awkward encounter. There's so much in the way of unresolved emotion and old feelings bubbling up to the surface. Now, imagine all that with a fellow super hero you still occasionally have to work with.
That's where our title characters find themselves as the five-issue limited series ROGUE & GAMBIT kicks off on January 3 thanks to writer Kelly Thompson and artist Pere Perez. Kitty Pryde sends the star-crossed duo out on an undercover mission that promises to bring up all kinds of feelings between the two.
We talked with Perez about reuniting these former flames, looking back at their history, and working with Thompson!
Marvel.com: These two characters have mountains of history between them. How much of that did you look into after signing on for this book?
Pere Perez: The script Kelly gave me has a lot of information, both written and in images, about the history of those guys, so almost everything I need is there. Luckily, [many] of the things we'll see referenced in the book come from the 90s version of those characters, and I've read most of that stuff. When I was in high school, I was buying pretty much all the [X-Men] titles, so it's just a matter of refreshing what I read years ago.
Marvel.com: Given their past, how do Gambit and Rogue initially react to one another and how does that play out on the page?
Pere Perez: We start our story at a point where their relationship is not at its best. So, it's a matter of seeing how they deal with all that emotional baggage while trying to work as a team. That will act as sort of a healing process through the story. My challenge here is trying to reflect all that evolution with their expressions and body language, as well as the page layout.
Marvel.com: In this story, our heroes get sent on an undercover mission to find missing mutants. Do you enjoy playing with the tension that comes from this spy-like situation?
Pere Perez: Indeed! It has that kind of James Bond vibe to it, and I think the readers will have a good time trying to solve the mystery. It has a very calculated balance between action, suspense, romance, horror, and some humor. What else can you ask for?
Marvel.com: Was there any discussion about which costume or costumes Rogue and Gambit would wear when they need them? Do you have a favorite from their wardrobes?
Pere Perez: Yes, mostly with Gambit. I did a round of possible re-designs for the suit, but we ended up sticking with a pre-existing one which is pretty close to his classic suit. And let's say we'll not only be seeing one costume for each of them throughout the book. Also, Kelly had a very clear vision of how she wanted to see the guys while not in costume and she gave me a lot of fashion references to begin working on their looks.
Marvel.com: It sounds like you and Kelly are working well together on this book so far.
Pere Perez: It feels very organic. Her scripts are powerful and meticulously written. She has a very clear vision on how those two should act and I feel that I have all the necessary information in her scripts, so I can draw from there all I need to make them look alive. Also, she is very nice and always willing to help, so working with her is a real pleasure.
See how these two former lovebirds get along in ROGUE & GAMBIT #1, coming from Kelly Thompson and Pere Perez on January 3!
The Hype Box
Can't-miss news and updates from across the Marvel Universe!