Comics
Published August 24, 2018
Top Dogs of the Marvel Universe
Celebrate National Dog Day with a look at Marvel's favorite pups!
Have you tried Marvel Unlimited yet? It's your all-access pass to over 25K Marvel comics, all available at your fingertips. Sign up now.
Happy National Dog Day, Marvelites!
To celebrate this delightful day dedicated to perfect pet pups and pooches everywhere, we thought we'd take a look at some of the best furry friends of the Marvel Universe. From four-legged royal companions to three-headed Hades hounds, here's a handy infographic that compiles the ten dogs with the most appearances ever in Marvel Comics!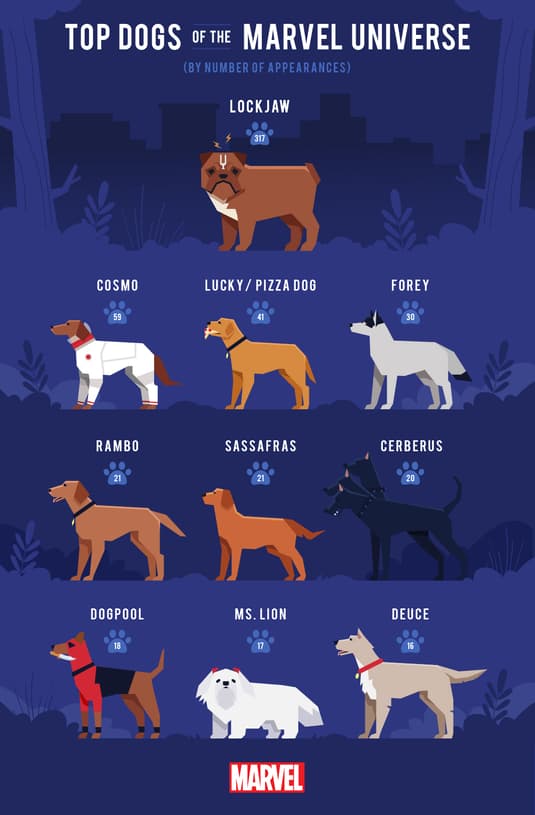 With over five times the number of appearances than the next most frequently found pup, Marvel's number one furball is—of course—Lockjaw!
Standing over five feet tall and weighing in at half a ton, the giant pup made his debut more than five decades ago in 1965's FANTASTIC FOUR #45. Born on the island of Attilian, Lockjaw may be a real dog with Inhuman abilities or an Inhuman that took a dog form when originally exposed to the transformative forces of the Terrigen Mist—the answer is unclear. But whatever his original makeup might be, contact with the Mist endowed the K-9 with a few superhuman (or superdoggie) skills—most uniquely, the ability to teleport himself and others across dimensions. Read the solo adventures of this good boy with his recent series, LOCKJAW!
After the Inhumans' best friend, the lineup includes...
Phew—now those are some magnificent Marvel mutts!
Continue the National Dog Day celebration by reading up on these pups with Marvel Unlimited!
The Hype Box
Can't-miss news and updates from across the Marvel Universe!