Comics
Published February 5, 2022
Our Top Moments from 'Star Wars: War of the Bounty Hunters'
Check out the entire Star Wars crossover event starring Boba Fett on Marvel Unlimited!
Have you tried Marvel Unlimited yet? It's your all-access pass to over 29,000 Marvel comics. Download our supercharged app on the App Store or Google Play today! 
Within the pages of Marvel's STAR WARS comics universe, there is a lot that happened between The Empire Strikes Back and Return of the Jedi. However, the most pivotal moments took place in STAR WARS: WAR OF THE BOUNTY HUNTERS, an epic crossover event that united the ongoing series STAR WARS (2020), STAR WARS: DARTH VADER (2020), STAR WARS: BOUNTY HUNTERS (2020), and STAR WARS: DOCTOR APHRA (2020), as well as an assortment of one-shots that put the spotlight on some of the most prominent bounty hunters in the galaxy. 
Now that the entire "War of the Bounty Hunters" event is on Marvel Unlimited, fans can go back and read each issue at their leisure. And some of the things that went down will have a major impact on the Star Wars comics coming later this year and beyond. Before you take a deep dive into the complete story, read our top moments from STAR WARS: WAR OF THE BOUNTY HUNTERS.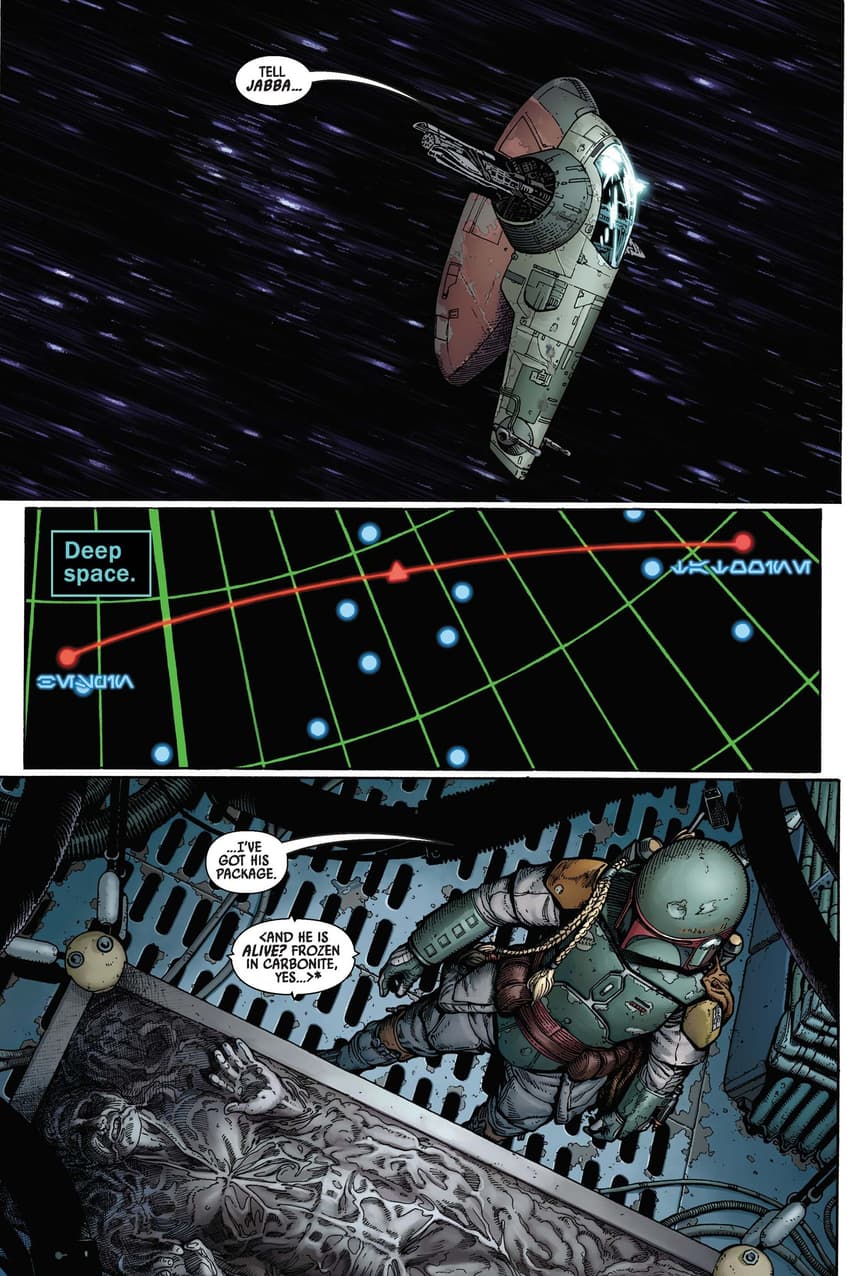 Boba Fett had his hands full trying to deliver Han Solo's frozen body to Jabba the Hutt while evading the Rebel Alliance and an assortment of bounty hunters who were eager to steal his prize (and cash reward). When Fett finally had enough, he confronted Hutt's majordomo (AKA right-hand man) Bib Fortuna and learned that Jabba himself had put a bounty on Boba. And the only way for Boba Fett to come out on top was to retake Han Solo's body himself! 
Who would be brazen enough to steal Han Solo out from under the nose of the galaxy's deadliest bounty hunter? Crime syndicate Crimson Dawn took responsibility for that theft, and then had the gall to invite the criminal underworld to bid for Han's body. However, that wasn't the biggest shock of them all. In the closing pages, Han's former lover, Lady Qi'ra, revealed that she leads Crimson Dawn... and stealing Han was her idea.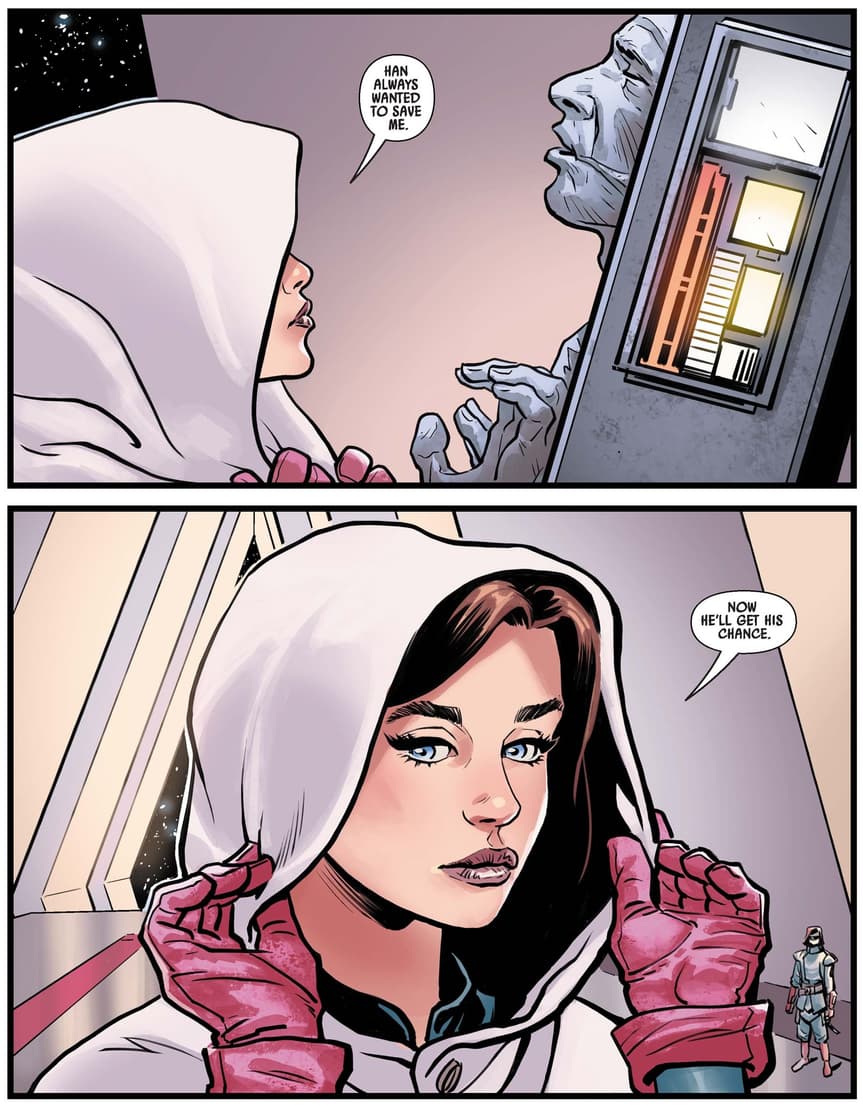 When Darth Vader wants something, he takes it. And while Vader has little use for Solo himself, he realizes that Han is excellent bait for Vader's estranged son, Luke Skywalker. Vader demonstrated his complete lack of fear of both the Hutts and the Crimson Dawn by snatching Jabba's prize away and then refusing to pay Crimson Dawn's fee. 
Qi'ra is a formidable power player with a network of connections all her own, but we couldn't suspect that she would be able to fight Darth Vader on her own terms. She didn't back down from the challenge when Vader moved to take Solo without paying. Qi'ra's fighting technique suggests that she may have been trained by her former boss, Darth Maul. She also studied the martial arts known as Teräs Käsi, a hand-to-hand combat designed to take down Jedi, and Vader referred to it by name. But even that knowledge could only hold Vader back for so long. 
Remember what we said about Vader getting what he wants? Once he had Han's frozen body, Vader immediately used it as collateral to issue a demand to his son. If Luke Skywalker didn't immediately surrender himself, then Vader had no qualms about using his lightsaber to slice Han Solo in half. This was not an idle threat, and Vader has done far worse for far less.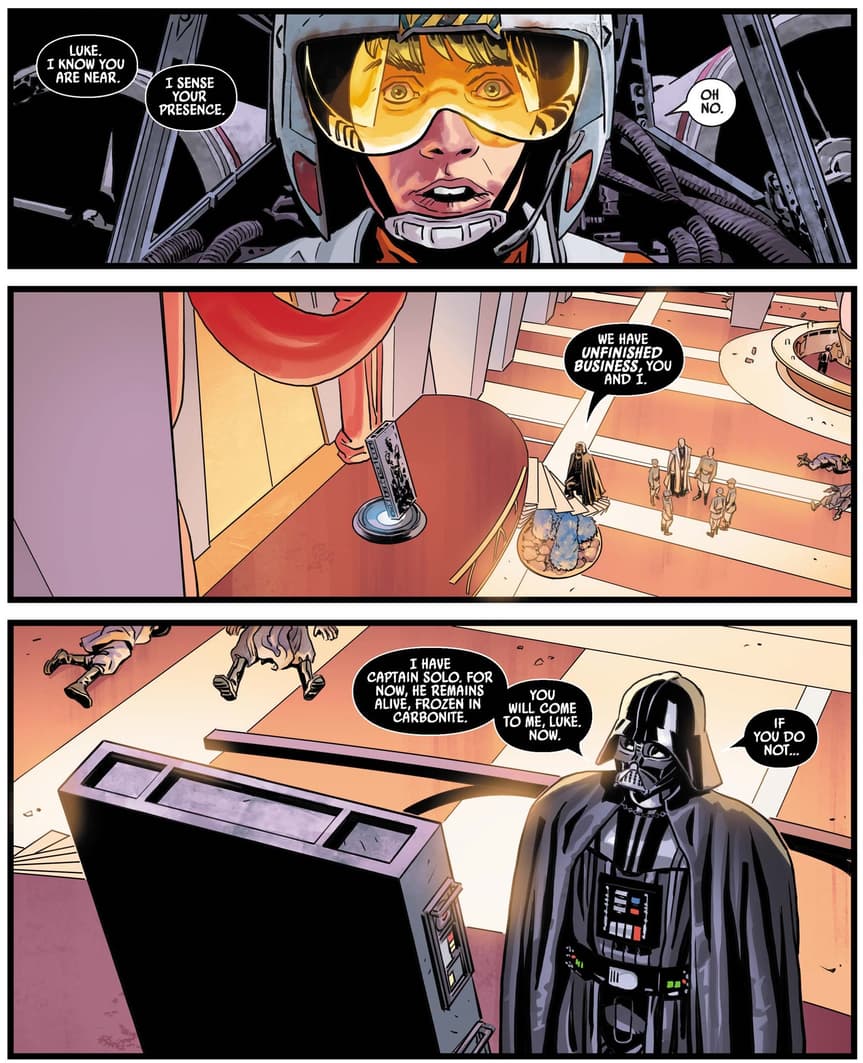 As Boba Fett fought his fellow bounty hunters, Dengar and Beilert Valance, the Empire came close to getting away with Han's body. Of course, Fett couldn't let that happen. Dengar was worthless to Fett, but Valance was willing to make a temporary truce with Boba because he had a surprising motivation of his own. Valance still considers Han to be his friend, and he wanted to be the one that saved him.  
Of course, Boba Fett inevitably left Valance for dead when he was no longer useful. Despite this, Han's life would have been lost if not for Boba's presence. In front of a shocked Princess Leia and Lando Calrissian, Boba Fett retrieved Han's body when it was thrust out into space. It wasn't an act of altruism—he simply wanted his bounty back. But without Fett's intervention, one of the heroes of the Rebellion would have died decades before his time.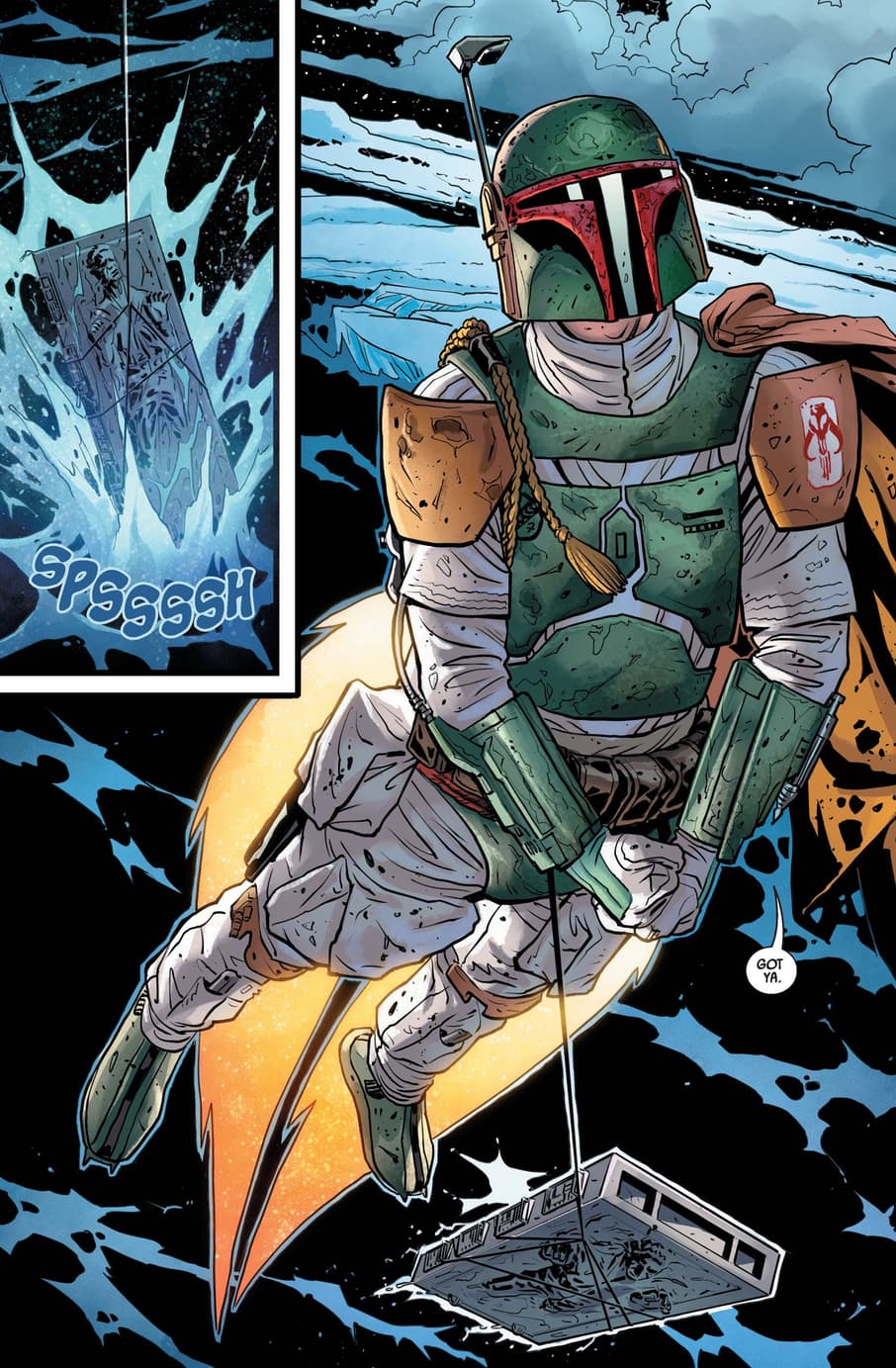 In the finale, Leia, Chewbacca, and Lando had some unexpected assistance from the Crimson Dawn that allowed them to board an Imperial Star Destroyer. Meanwhile, Crimson Dawn operatives goaded the Hutt council into an ultimately disastrous space battle with the Imperial forces. Crimson Dawn may not have gotten the money for Han's bounty, but these manipulations left Qi'ra in a greater position of power. Now, she'll use that influence to once again make Crimson Dawn a force to be reckoned with.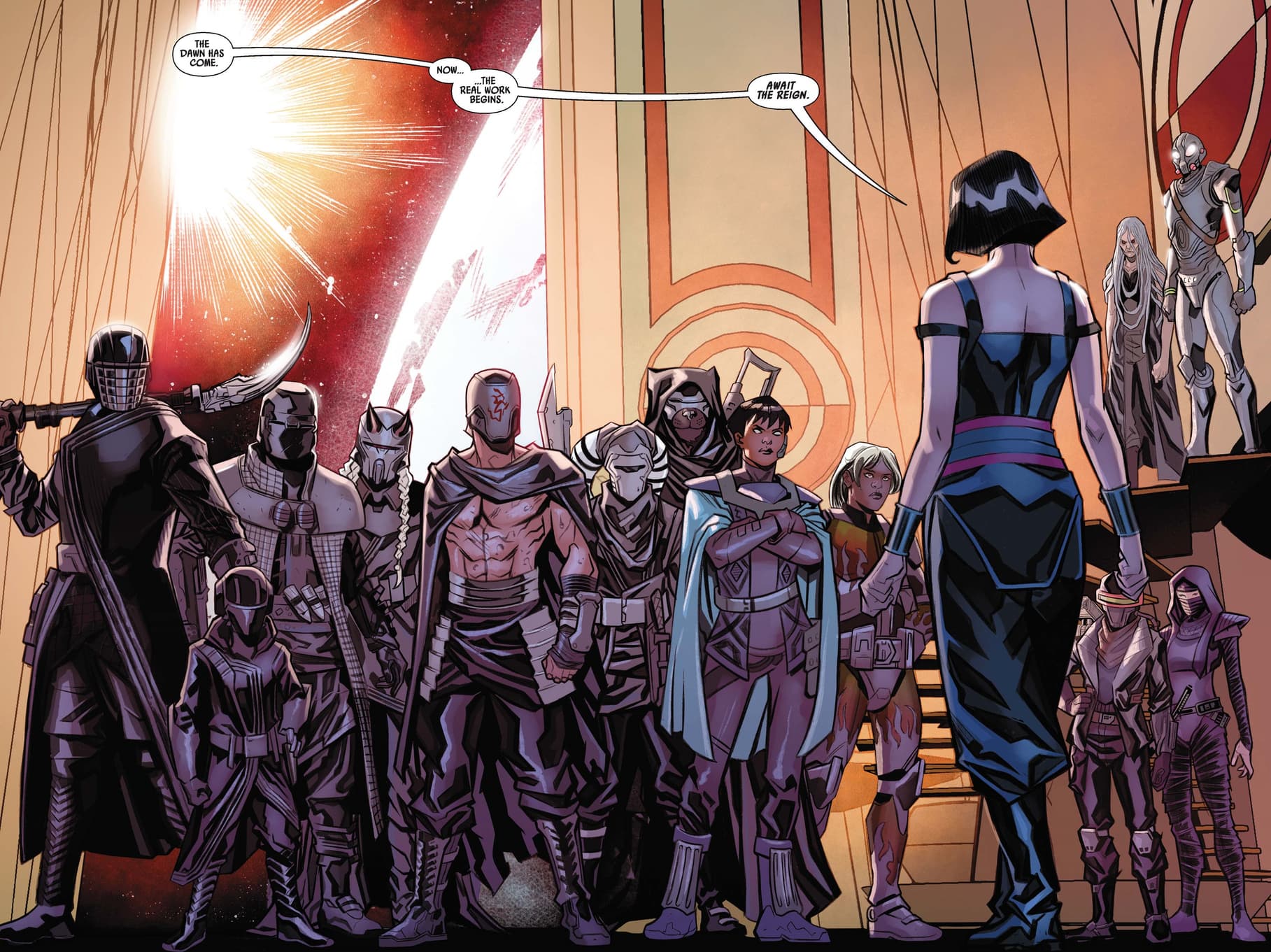 The Hype Box
Can't-miss news and updates from across the Marvel Universe!