Comics
Published April 6, 2017
Totally Awesome Hulk: Settling a Showdown
Artist Mahmud Asrar helps conclude Amadeus Cho's interstellar adventure!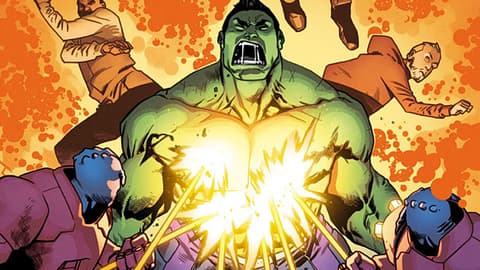 "The Big Apple Showdown" in TOTALLY AWESOME HULK will come to a smashing conclusion with issue #18 on April 19. Written by Greg Pak and drawn by Mahmud Asrar, the storyline brings Ms. Marvel, Shang-Chi, Silk, and Jimmy Woo into Amadeus Cho's wild world just as aliens attack.
Asrar first hopped on the book with issues #11 and #12 before returning for the "Big Apple Showdown" story beginning with #15. Now, we talk with the artist about bringing all of these heroes together, making Amadeus Cho even more awesome, and continuing to work with Pak.
Marvel.com: Between your first stint on this book and the current one, do you feel like you've developed even more of an understanding of how this Hulk navigates the world?
Mahmud Asrar: Definitely! Admittedly it was a challenge at first to overcome what I was used to with Bruce Banner when it comes to The Hulk. However, I really liked the idea of a younger and a more optimistic Hulk. Still, I think a defining factor for The Hulk is his anger and Amadeus has plenty of that in him which surfaces at times. That is something I like about him: the unexpected facets of his personality.
Marvel.com: This time around the arc involves working with a team consisting of Jimmy Woo, Ms. Marvel, Silk, Shang-Chi, and others. How has it been making those characters all fit on the page together both in the quieter moments and the action scenes?
Mahmud Asrar: I've been used to drawing team books for a while now so that part wasn't that big of a challenge. Having a familiar face in the form of Ms. Marvel in the team helped as well. Greg really brought each character's personality forward which made it all very entertaining for me to depict. This was really important and helpful as it kept things fresh and interesting in all kinds of situations, whether it was a quiet moment, an action sequence, or when a drama was unfolding. I especially came to enjoy drawing Silk a lot during all this.
Marvel.com: With issue #18, the world finds itself invaded by an alien race. How was it developing that other-worldly design aesthetic?
Mahmud Asrar: I tried to keep a unified idea for the visuals of the aliens. A theme of hexagons and geometric shapes. Even though the aliens all wore very similar armor, they have certain elements in them that differ. Especially with their leader. I've intentionally made his armor evolve during the arc. I added elements to his armor as the story progressed. It's difficult at times to come up with new designs and concepts almost on a monthly basis when it comes to comics, but it's also one of the fun parts.
Marvel.com: Overall, how has the collaborative process been with Greg? Do you feel like you've evolved as collaborators?
Mahmud Asrar: Greg, is one of the nicest guys in comics. That alone makes things work as I can be flexible in picturing the story. More importantly, of course, is that he is one amazing writer. He weaves great super hero stories that are great on their own merit but to me, what makes his stories stand out is that they have heart. You can connect easily with the characters presented in the story. Even those you might see for a few panels. All this made things really easy for me and I feel I've adapted quite fast to working together.
TOTALLY AWESOME HULK #18 by Greg Pak and Mahmud Asrar blasts off on April 19!
The Hype Box
Can't-miss news and updates from across the Marvel Universe!