Comics
Published May 19, 2017
U.S.Avengers: Call it a Comeback
Cue the montage as Al Ewing's team battles back from the brink!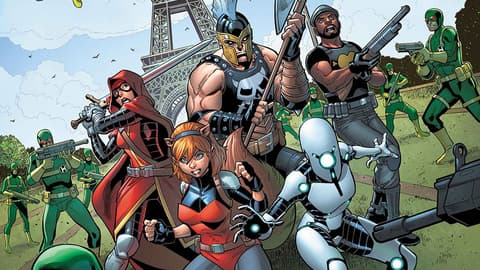 In U.S.AVENGERS #6—available now—the tenuous situation of the team quickly descended into outright bad. Divided from each other, under assault, some of their own members being turned against them, this squad of heroes faces if not their darkest hour, the prelude to it, for certain.
But we know that you cannot keep a good group down. That it always seems darkest before the dawn. That rally caps really do work. So we sought out writer Al Ewing to tell us what difficulties his squad must best to cancel their personal apocalypse in U.S.AVENGERS #7, coming June 21.
"It's very difficult to talk about the exact challenges the team will be facing over the course of the next couple of months, and how they'll get out of them, without getting deep into spoiler territory," Ewing admits. "But I'll do my best to drop some hints."
ROBERTO DA COSTA – CITIZEN V
"Roberto's had it relatively easy lately," argues the writer. "There's been no challenge he hasn't been able to overcome. But that was when he was a free agent in total command of his forces. Now A.I.M. is part of S.H.I.E.L.D., and when the Director of S.H.I.E.L.D. is secretly HYDRA, that's bad news. As we saw in #6, Roberto and A.I.M. have lost big—and in the process, Roberto was shot by a treacherous subordinate. Never mind bouncing back, is he even alive?"

TONI HO – IRON PATRIOT
"As we've seen, Toni's been building bigger and bigger suits of armor—from something relatively reasonable in issue #1, to the behemoth in issue #3, and in issue #6 we saw it's gotten completely out of control," Ewing points out. "Pretty soon, we're going to see how useful all this big armor actually is. The question is, what happens once it's taken away? And when she's in a position where she's got to rebuild from nothing, will she follow Tony Stark's path or the road of her late father, Professor Yinsen?"

SAM GUTHRIE – CANNONBALL
"As we saw in #6, Cannonball is absolutely dead," the writer promises. "Dead, dead, dead. We never even saw the body, so that's how you know he's dead. And even if, by some freak accident, he managed to survive…well, he's probably lost in space and very likely in an extreme form of trouble that we'll find out about over the course of months before the team has to embark on some kind of 'Search For Sam' that takes them into a wild adventure. But what are the chances of that? He's dead as a doornail."
GEN. ROBERT L. MAVERICK – RED HULK
"The General's been chafing against his limited brand of Hulk powers for a little while now; as a government-issue Hulk,' he's not quite the powerhouse he thought his 'Hulk plug-in' genetic treatment would make him," says Ewing. "He turns back to human at bad moments, and then has to wait over a day for his next transformation. Fortunately, science just discovered a means of making him a Hulk 24/7. Unfortunately, it's HYDRA science. What happens when Maverick is forced to stay a Hulk for far, far longer than his body was meant to take?"
AIKKU JOKINEN – ENIGMA
"So far, Aikku's only ever been part of a team," the writer reminds. "In fact, as Pod, she was a team of one, bonded to an alien 'planetary [defense] system' that died saving her life. She's always had the rest of the U.S.Avengers to rely on. Even her personal life revolves around the team, as she met her current girlfriend, Toni, from inside the Pod suit. So what happens when she's torn away from the team—from all her friends, bar Doreen—and flung all the way to Europe, where the international wing of HYDRA is causing havoc on the streets of Paris? Can she go it alone?  Who can she turn to for help?"
DOREEN GREEN – SQUIRREL GIRL
"Squirrel Girl faces the challenge of fighting some bad guys," Ewing reveals. "Will she beat the bad guys? She usually does, admittedly, but it's always possible that this is the time she won't. I mean, we killed off Cannonball."
Find out who might be next to fall in U.S.AVENGERS #7, brought your way June 21 by Al Ewing and artist Paco Medina!
The Hype Box
Can't-miss news and updates from across the Marvel Universe!