Comics
Published February 16, 2017
U.S.Avengers: Done in One
Al Ewing discusses the fine art of the single issue story!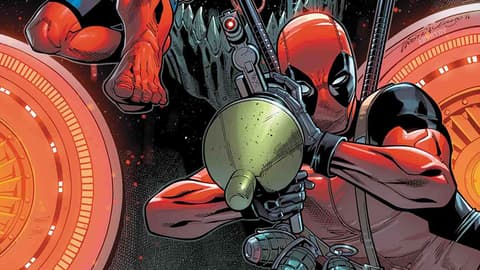 U.S.AVENGERS #4 arrives in shops and on stands on March 15, the first part of a…one-part story?
Yes, indeed. Writer Al Ewing and artist Paco Medina will be taking fans back to the old school with a tale so intense, so fast moving it could only be told in a single issue.
To enlighten us on the ancient art of the done in one, Ewing gave us a spot of his time.
Marvel.com: For you, what's the key to delivering a single issue story that satisfies in general?
Al Ewing: Beginning, middle and end; a powerful opener and a slam-bang finish are obviously important, but every page in between needs to satisfy. Fortunately, by its very nature, the done-in-one story has to be dense. When you're delivering a full tale in a short space, there's no room for messing around.
In this case, we've got a beginning, a middle, another middle, and an end, because it's a four-issue crossover in one comic! Short issues, admittedly—five-page chunks, even—but that just makes them all the sweeter!
Marvel.com: Specific to these characters and this book, what makes a strong single issue story?
Al Ewing: I wanted to go solo on Red Hulk; he got some play in [U.S.AVENGERS #1], but since then he's been stuck in human form waiting for his "hour of power" to come around again, so I figured the readers deserved 20 full pages of smashing Red Hulk action! We get to see his idea of a stealth op when he's tasked with infiltrating the small and fictional country of Lichtenbad—nestled on the borders of Latveria and Symkaria—to fight a rogue, rabid American Kaiju!
And what's a crossover without guest stars galore? I hear that Deadpool guy is pretty big these days—he was in a film, as I recall—and he's one of the few Marvel characters I've not actually written yet. Putting Deadpool in issue #4 is the new thing across all my books, as readers of ROCKET will soon come to learn.
Marvel.com: What can you tell fans about American Kaiju? Why, if they haven't already, are they sure to fall in love with him now?
Al Ewing: American Kaiju is a giant lizard monster with the US flag painted on his face like Nuke. I think that answers both of your questions.
Marvel.com: What elements does Deadpool bring to this book? How does he alter the chemistry amongst the other U.S.Avengers?
Al Ewing: Well, mostly he's bouncing off General Maverick, but it's some fun bouncing, although we've made the classic error of taking away his power of speech for the bulk of the issue. It's like I never even saw that movie.
But essentially, he's there to poke fun at a couple of cherished genre conventions—I'm pretty sure that's how it generally goes with a Deadpool guest spot—and he's bringing along a fabulous new/old villain who's the great-grandson of one of the forgotten heroes of the Marvel Monsterverse! Who could it be? There's no telling, unless you've already read the solicits for this issue!
Marvel.com: From a creative perspective, what made you feel that it was important to deliver such a story at this juncture of the book?
Al Ewing: Well, we've just come out of the opening arc, and we're about to go into an arc that's even heavier as Secret Empire plays havoc with all our hopes and certainties. I felt like the readers could use a breath of air and maybe even something to put a smile on their faces. This is definitely going to be the lightest-hearted issue so far; and it's also the most experimental thing I've done in a while in terms of format, what with the whole four-comics-in-one thing.
Hopefully readers will enjoy the fun before everything gets darker and gloomier.
Marvel.com: How did Paco Medina's art aid you in delivering a single issue story that satisfies by itself and as part of the larger series?
Al Ewing: Paco is a genius when it comes to fun and action; he's got a clear, clean, un-muddled style that pops off the pages, and every single panel just begs for dialogue. His art on this issue in particular inspired me to add in a whole bunch of additional gags that weren't in the plot, and we're passing the savings on to you, True Believer!
Seriously, I don't know what I'd do without him on this series at this point; he's set the tone perfectly on everything we've done together since CONTEST OF CHAMPIONS, and I'm pretty sure the readers agree.
Dive into the done-in-one action of U.S.AVENGERS #4 by Al Ewing and Paco Medina on March 15!
The Hype Box
Can't-miss news and updates from across the Marvel Universe!