Comics
Published April 21, 2017
U.S.Avengers: Eyes on the Prize
Al Ewing reveals Steve Rogers' plans for A.I.M. as Secret Empire dawns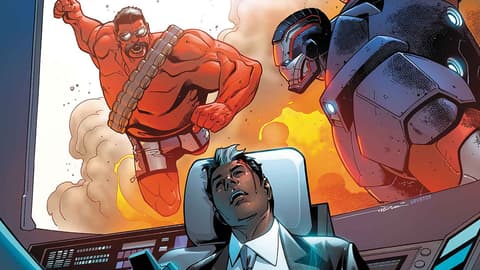 In U.S.AVENGERS #6—available May 17—Steve Rogers continues his campaign to remake the Marvel Universe in Hydra's image by finally seizing control of A.I.M. One cannot help but wonder, however, what's motivating the Sentinel of Lies to pull this society of scientists under his wing.
Thankfully, we do not need to wonder when we have writer Al Ewing on the speed dial. He gladly gave us some perspective on Rogers' dark plan.
Marvel.com: To begin with, why is A.I.M. such a glittering prize for Steve Rogers in specific and Hydra in general?
Al Ewing: Well, they're not a glittering prize as such—although if he can sway any to his side, that's fine—but they are a potential complication, and one with the potential to mess up his intricate plans. So ideally, he needs to get them out of the way, both by making sure they don't interfere with his plan as it unfolds, and then after that, by making sure they don't interfere with Hydra business.
Marvel.com: What threat would an independently operating A.I.M. represent for Rogers?
Al Ewing: Well, for one thing, they've been trained to resist hypnosis in a way S.H.I.E.L.D. hasn't—thanks to the teachings of the late, great Professor X—so Rogers can't just use his good friend Dr. Faustus to brainwash them. Which means he's probably going to have to lock them up in some secret facility somewhere and work on them for a while. He can't let a bunch of super-scientists run around free and unsupervised.
Marvel.com: How does he envision A.I.M. working after he fully seizes control of them? What is his ideal vision of them as an organization?
Al Ewing: I imagine if he can get the whole organization on board, he'll put them to work somehow, most likely as an arm of Hydra.
To be honest, what Rogers probably wants from A.I.M. is for them to just get back in their safe little box and be "evil scientists" again so at least he can understand what's going on with them. He's an old man at heart, he likes things a certain way and why does he have to change?
Marvel.com: As Roberto da Costa struggles against and, seemingly, falls to Rogers' agenda, what are his fears for A.I.M.? Where does he worry it might go under someone else's direction that isn't his?
Al Ewing: Well, Roberto's going to have a lot to worry about himself. As people might have guessed from the solicits, he's in some serious personal danger and he might not make it through this one alive. But assuming he does, I'd imagine his biggest nightmare for A.I.M. would be them slipping backwards into their old, evil ways, or being lured there by a charismatic creep like Rogers.
Marvel.com: U.S.AVENGERS, particularly with this issue, is a great mix of intense action and political machinations. How does Paco Medina's art help to bring that to life on the page without either element eclipsing the other? Any particular sequence, without spoilers, you are really excited for fans to see him render?
Al Ewing: Paco's brilliant and he draws an amazing Red Hulk, too. I'm going to particularly enjoy seeing him deal with the sequence set in Europe, since that's going to feature some exciting guest stars—for anyone who knows his work, we're bringing back a selection of the contestants from the CONTEST OF CHAMPIONS comic we did together. So fans of Guillotine, Outlaw, and Ares should hopefully be happy there. I know I will be.
See if Steve Rogers succeeds in U.S.AVENGERS #6, available May 17 courtesy of Al Ewing and Paco Medina!
The Hype Box
Can't-miss news and updates from across the Marvel Universe!