Comics
Published March 1, 2017
Ultimate Marvel Vs. Capcom 3 Comes to Comics
Hear from the artists behind the exclusive Marvel Vs. Capcom comic!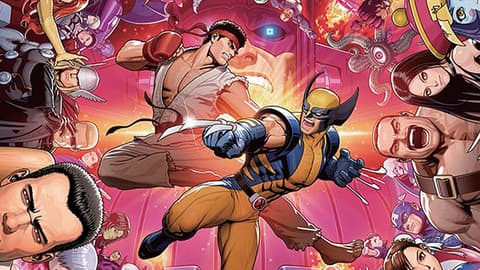 This interview originally appeared on the Capcom-Unity blog
As previously announced in our other blogpost, physical versions of "Ultimate Marvel vs. Capcom 3" are coming to PlayStation®4 and Xbox One™ on March 7 for $29.99. These versions will feature updated cover at and an exclusive comic featuring original art from Marvel's own Sean Chen and Gerardo Sandoval.
We caught up with Sean and Gerardo to share their thoughts on the Marvel vs. Capcom series and what it was like creating the exclusive comic.
Please introduce yourself and give us a little background on what you do for Marvel.
Sean Chen: I'm a veteran comic book artist with about 20 years in the industry. I'm mostly known for a long run on [IRON MAN], but have also done stints on Wolverine, X-Men, Spider-Man, the Avengers, among others.
These days I split my time between [comics] and advertising. In comics, I do mostly covers and special projects for different publishers. In the advertising industry, I mostly do storyboards for television commercials.
Gerardo Sandoval: My name is Gerardo Sandoval. I have worked on titles such as AGE OF APOCALYPSE, GUARDIANS 3000, NEW AVENGERS, and [more].
When you were approached with this project, what was your reaction?
Sean Chen: I knew it was going to be lots of fun. It was a great opportunity to draw many of the iconic Marvel heroes that I loved, as well as some of the well-known Capcom characters. While I was unfamiliar with some of them, they were all great fun to draw.
Researching the few characters that I didn't know too well turned me into a fan. They were all well designed, both visually and in personality and abilities.
Gerardo Sandoval: When I was younger I was a gamer. I really loved Capcom and everything Street Fighter. For me this opportunity was a huge surprise because I always wanted to do a [Marvel Vs. Capcom] art piece and I never thought that it could be possible.
Being more familiar with drawing characters from the Marvel Universe, what approach did you take when creating your own renditions of characters from the Capcom universe?
Sean Chen: First and foremost, I wanted to make sure that they all appeared and acted in character. Capcom, being the steward of these characters, as well as the diehard fans of them, care a lot about how they are portrayed. A big part of my job is to make sure to be respectful by acknowledging that there are people very passionate about these characters. I did my homework and did a fair amount of research, which included discussing the characters with my son and some of his friends.
The challenging part is that some of the Capcom characters are on the very realistic end of the spectrum, such as Chris Redfield. Others such as Viewtiful Joe are very cartoony. Trying to integrate the different art genres into one story universe took some thought and calibration.
Gerardo Sandoval: It's not easy to design a piece like this because I only had one chance to create the main characters. I had to [put] each one of the characters in a pose very familiar to the fans. As a fan myself, I knew Capcom characters and how they should look, so it was really fun, but challenging to put all the main characters together in one shot.
Who is your favorite character to draw from both the Marvel and Capcom universes and why?
Sean Chen: I always love drawing Iron Man since I am very tech oriented. A big part of the fun of drawing comics is to engage a variety of character types, and this book had them all. A great counterpoint to the hard edges of Iron Man was the organic and feminine forms of Storm and Morrigan. It was also great fun to draw the anime and cartoon characters as Zero and Viewtiful Joe. I would have to say that Morrigan was the most fun to draw from the Capcom side because she had a unique offbeat design. In terms of personality, Viewtiful Joe was great fun to portray because of his big, in your face attitude.
Gerardo Sandoval: Venom, Wolverine, Sagat, or Zangief. For some reason, I am not into the good guys, I always liked the bad guys. Not Spider-Man but Venom, not Ryu but Sagat. Villains, or anti-heroes, are more interesting characters for me so I really enjoy drawing bad guys. Also, when I was a gamer, I always played as a villain.
Who is your favorite character to play from both the Marvel and Capcom universes and why?
Sean Chen: Some of the Capcom characters have been around forever, such as Chun-Li and Ryu, so they are the ones I am familiar with from my younger days. As far a Marvel is concerned, Wolverine is always a favorite.
How does it feel to know your name is now cemented in this epic franchise that has spanned over 20 years?
Gerardo Sandoval: It's one of my dreams come true. It's a great achievement, but at the same time, not enough for me. I really had the dream of being part of something like this but not only with one art piece. I hope in the future I can produce more art for this epic series.
A huge thanks to both Sean and Gerardo for their beautiful work on the exclusive comic and giving their thoughts on the franchise! The all-new comic book is a must-have for collectors and fans of the series and tells the story of two colliding universes featuring some of the most iconic Marvel and Capcom characters in its 10 full pages of action packed story. To secure your copy of this limited release, you can preorder now at GameStop and EB Games.
The Hype Box
Can't-miss news and updates from across the Marvel Universe!