Comics
Published May 15, 2017
Ultimates 2: Cosmic Throwdown
Al Ewing prepares us for a Galactus vs. Ego grudge match for the ages!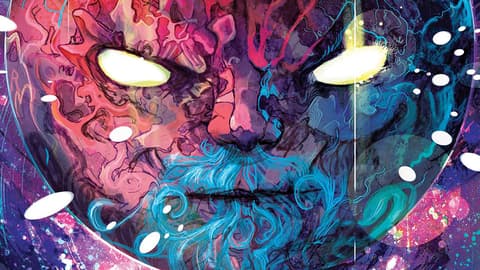 The Planet Eater vs. the Living Planet: a tale as old as time.
In ULTIMATES 2 #8 on June 21, however, that story has been flipped on its ear. No longer a devourer, now a lifebringer, Galactus, nonetheless, must lock horns with Ego. A grudge-carrying, very unhappy Ego.
ULTIMATES 2 writer Al Ewing called us from the outer reaches of the galaxy to tell us what the titanic intergalactic struggle could mean for the Marvel Universe.
Marvel.com: Galactus v. Ego certainly makes a lot of on the face sense but it isn't just about the World Devourer v. the Living Planet. How deep does their antagonism run?
Al Ewing: They've hurt each other. Galactus, in particular, bolted a sidereal engine to Eternity—digging it into his living flesh, probably causing a lot of pollution—and shot him off into the depths of space. That's not something that Ego finds easy to forgive. They're almost destined to fight each other, on some level, like you say; it's the planet-eater versus the living planet. They're natural enemies, like the cobra and the mongoose.
Except Galactus isn't a planet-eater any longer.
Marvel.com: Galactus has gone through a lot of changes as of late. How, if at all, does that change the dynamics of this struggle?
Al Ewing: It's going to have to. If Galactus can't consume Ego—and presumably he's got an ethical objection to just blowing him up, given his new catchphrase of "Everything Lives"—we're left with a very one-sided fight. Which is bad, since Galactus might be the only thing standing between the Marvel Multiverse and the First Firmament, an ancient evil sentient cosmos looking for revenge against Eternity just for existing.
Marvel.com: Artist Aud Koch is relatively new to the book. When you get into depictions of cosmic conflicts, there is a lot of chance to just really dig into some exciting visuals. What has Koch brought to the book? How does her art showcase your approach to the story?
Al Ewing: Aud's been one of my favorite artists to work with. She's got a unique style in terms of comics, something reminiscent of Aubrey Beardsley, allowing for some much more intense emotional beats.
She's also not afraid to break up panels, set her own pacing, and make suggestions. [Regular ULTIMATES 2 artist] Travel [Foreman] does that as well, and it really helps take the book into that collaborative space where it's unique to the team. I hope ULTIMATES 2 readers enjoy the art on these two issues as much as I enjoyed watching it come in—see if you can guess which page of #8 I've got up on my wall.
Marvel.com: Where do the Ultimates figure into a battle of this huge a cosmic scope?
Al Ewing: Issue #8 is a solo issue for Galactus, before we bring the team back to fight the Eternity War at long last. So he's on his own and, as readers will have seen in issue #7, he's not in peak condition. He's still recovering from his treatment at the hands of Logos and the First Firmament, so it's entirely possible Ego—who's more powerful than ever—could take him down for good.
Marvel.com: Speaking of scope, what could be the fallout/consequences of these two facing off once again?
Al Ewing: Well, there's everything to play for; Galactus is building forces for a war for reality itself, and if he can get Ego on board, that's going to be a big win for him. Alternatively, if Ego bows out—or worse, joins the other side—Galactus is in serious trouble. I will say that whatever happens, readers will exit this issue very excited for the next one. The Eternity War is on, and things are ramping up at an astonishing rate.
Join the cosmic conflict with ULTIMATES 2 #8, coming your way from Al Ewing and Aud Koch on June 21!
The Hype Box
Can't-miss news and updates from across the Marvel Universe!