Comics
Published February 24, 2017
Ultimates: Troublemakers
Writer Al Ewing reveals his team's new antagonists, the Troubleshooters!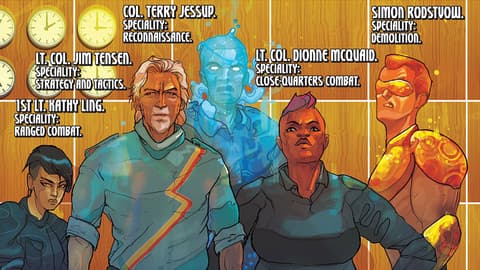 The Ultimates cannot do what they do without gaining the attention of others. As seen way back in ULTIMATES #12, some of those people have command of a pretty powerful team of individuals, the Troubleshooters.
When we found ULTIMATES 2 writer Al Ewing, he proved nice enough to tell us all about the 'Shooters, including their counterparts from a New Universe gone by.
Who are the Troubleshooters?
"When the world's ultimate super team was working in concert with the government, their cosmic-scale activities were tolerated; now the thought of what they could do is making the NSA very nervous indeed," Ewing reveals. "Their solution? Send in the Troubleshooters, a group of 'psychic soldiers' tasked with monitoring high-powered super-teams and dealing with any potential issues. They've already engaged the Ultimates in combat, but how much of a threat are they against the people who took down Thanos?"
Jim Tensen (New Universe counterpart: John Tensen, aka Justice)
"An ex-member of the mysterious First Eternity Battalion, James Tensen is the world's foremost expert on the Psi-Force—a quasi-magical psychic energy field that can be manifested in different ways," recalls the writer. "In Tensen's case, it takes the form of a 'sword'—a powerful blast of energy that even Captain Marvel can't absorb—and a 'shield'—a force screen that's as impervious as his subconscious wants it to be.
"While he sees himself as a 'warrior of Spring'—a personal pop-philosophy he taught in seminars before he was recruited—his work with the Troubleshooters has taken him outside his comfort zone," Ewing continues. "Can he still call himself a 'Justice Warrior' when he's fighting America Chavez?"
Kathy Ling (New Universe counterpart: Kathy Ling, aka Shockwave and Codename: Spitfire)
"Kathy Ling's Psi-Force manifests as 'techno-telekinesis,' the ability to interface with complex machinery using the power of her mind," explains the writer. "That makes her the only human on the planet who can pilot the 'Codename: Spitfire' psychic-powered armor. It's already beaten the Black Panther's Kimoyo system; can it defeat the man underneath?"
Dionne McQuaid (New Universe counterpart: Dionne McQuaid, aka Indigo)
"Dionne McQuaid uses the Psi-Force to turn her emotions into solid purple thought-forms, what she calls her 'Mood Indigo,' Ewing says. "She's cool under pressure, but in combat she can let herself go and manifest massive tentacle monsters growing right out of her psyche, with enough punch to slam even Captain Marvel into the mat."
Terry Jessup (New Universe counterpart: Tyrone Jessup, aka Voyager)
"A suave ex-SAS member, Jessup—callsign 'Network'—is perhaps the most connected to the Psi-Force of any of the Troubleshooters," argues the writer. "That's because, after a top-secret attempt by a skunkworks facility to duplicate the White Event, he's been transformed into pure, living thought.
"Without the limits of a physical body, Terry is the ultimate spy; as fleeting as a thought, and able to create psychic constructs in enemy minds that seem as solid as objective reality. By travelling through the collective unconscious, Terry can travel vast distances at faster-than-light speeds—but does that make him faster than Monica Rambeau?"
Simon Rodstvow (New Universe counterpart: Rodstvow of the Medusa Web)
"Simon Rodstvow was the first Troubleshooter recruited by the NSA and the one about whom the least is known," states the writer. "The only team member not connected in some way to the Psi-Force, Rodstvow gets his powers–a terrifying mastery of cosmic energies, and a portal ability that echoes America's own–from an unknown source. He's a thoroughly nasty character, a brutal thug who worships strength above all, but is he even human? The Blue Marvel is maybe the only hero who can stand up to him long enough to find out."
Philip Nelson Vogt (New Universe counterpart: Philip Nolan Voigt, aka Overshadow)
"The enigmatic 'Man in the Shadows' leads the Troubleshooters from his dusty, old-fashioned office," Ewing describes. "Readers don't know much about him yet, but I can reveal here that he was also once a First Eternity Battalion member, serving alongside Jim Tensen and he has his own strange connection to the Psi-Force. Unlike his New Universe counterpart, there's a relatively decent man inside Philip Vogt, but does that mean he has what it takes to face Galactus and live?"
Track the Troubleshooters' next move in ULTIMATES 2 #5 by Al Ewing and Travel Foreman, out March 22!
The Hype Box
Can't-miss news and updates from across the Marvel Universe!