Comics
Published July 11, 2017
Unbeatable Squirrel Girl: Prehistoric Possibilities
Ryan North teases Doreen's Dino-filled trip to the Savage Land.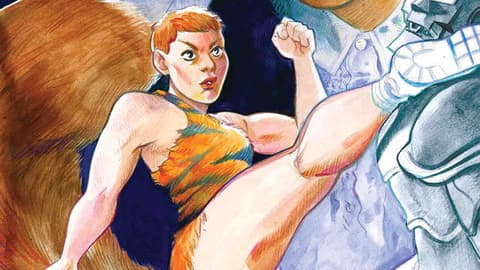 Life finds a way. Just like how Doreen Green finds a way to punch a Tyrannosaurus Rex square in the face in the upcoming UNBEATABLE SQUIRREL GIRL #23 from Ryan North and Erica Henderson! Our favorite acorn-loving hero finds herself in the Savage Land, surrounded by dinosaurs and not all of them are so friendly.
Oh, and did we mention there's a pretty nasty villain on the loose as well, a baddie who's given the Avengers a run for their money? To give us more insight into the prehistoric possibilities of this issue, writer Ryan North provided a rundown of why he spared no expense when it came to giving readers a reptilian good time.
Marvel.com: Just for some context, what brings Doreen to the Savage Land?
Ryan North: She wins a programming contest whose prize is an all-expenses-paid trip to the Savage Land, but when she arrives she finds out the contest organizers may have had some…ulterior motives.
Marvel.com: You have had experience dealing with dinos, particularly creating Dinosaur Comics. What was your approach to putting them side-by-side with Squirrel Girl?
Ryan North: Erica and I had a big chat about what we wanted to do with the dinosaurs, and came up with an entirely logical reason why these dinosaurs don't have feathers (they're usually drawn as the classic 60s lumbering dinosaurs, which makes sense because that's when they were conceived). So apparently our major rule for visiting the Savage Land was we had to explain why these dinosaurs were scientifically accurate after all. It shows up in one panel when they first arrive, but we're all extremely satisfied with that panel, I assure you. My main goal was to capture how amazing dinosaurs are, which is to say: extremely.
Marvel.com: Did you go into writing this arc with particular species of dinosaurs in mind? If so, which ones are your favorites?
Ryan North: I mean, I obviously have a soft spot for Tyrannosaurs, Utahraptors, and Dromiceiomimus – they're all from Dinosaur Comics! But we did have a very particular T. Rex in mind for this story: it's one nobody has seen before, but it has a familiar face…
Marvel.com: Are we getting a mix of different era-dinos (i.e. Jurassic, Cretaceous, etc.)?
Ryan North: We are! The Savage Land was made by aliens (In the book. In real life, the Savage Land SADLY does not exist) so I assume that they grabbed them from all sorts of different time periods. The Savage Land's got all the hits!!
Marvel.com: The promo synopsis teases some squirrel-on-giant lizard fighting action. What else can you tell us about this amazing turn of events and what might cause Doreen to punch a T. Rex in the face?
Ryan North: She punches a T. Rex in the face for really justified reasons, I assure you. I don't want to spoil the story, but I'll say the Savage Land is facing a threat on a scale it's never before encountered, and the only thing that can save the entire area is some computer science students, and also a woman who has squirrel powers. Those two things ONLY.
Marvel.com: Speaking of, is Doreen as big of a fan of dinosaurs as you guys are?
Ryan North: Doreen, like all right-minded people, is a huge fan of dinosaurs. Is there anyone who isn't? I mean it sincerely. I have never met someone who said, "Giant animals who ruled the earth for longer than humans, have even been evolved from, and whose amazing skeletons we can find in the ground after they've turned into rock. SNOOZE. NO THANKS." That's literally a sentence nobody has ever said before. Dinosaurs are awesome, they definitely belong in our squirrel comic, the end.
Marvel.com: A super villain is also being teased. Who are they and what kind of trouble are they creating for Doreen and these majestic prehistoric creatures?
Ryan North: If I tell you who they are, that gives it away! But they're a bad guy who can barely be stopped, doesn't particularly care who gets hurt, and who has brought the entire team of Avengers to the brink of defeat multiple times. I'm sure Doreen Green alone in the savage wilderness will do fine! What could possibly go wrong, right??
Marvel.com: How should readers prepare for such a massive issue? Should they figuratively pack anything in particular for this trip?
Ryan North: They should be prepared to see a Squirrel Girl punch a dinosaur. I'm not sure how I can sell it better than that. "Squirrel Girl Fights Dinosaurs: The Comic" would've been an amazing title for this series. Also, there will be some feelings too, but peppered around dinosaur fights!! I promise.
Pick up UNBEATABLE SQUIRREL GIRL monthly from Ryan North and Erica Henderson!
The Hype Box
Can't-miss news and updates from across the Marvel Universe!