Comics
Published December 12, 2017
Unbelievable Gwenpool: Gwen-uine Success
Christopher Hastings looks back at the creation of Gwen Poole!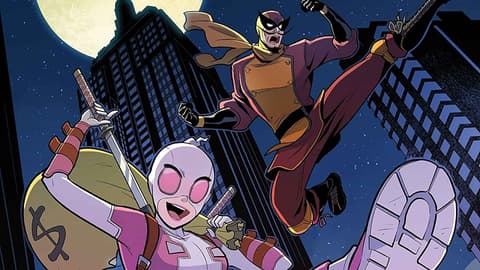 From overnight variant cover sensation to fully fleshed out adventuress, Gwenpool's come a long way in a relatively short time. Now, poised for the launch of her new story arc "Lost in the Plot," she's never been better, more believable, and…well, unbelievable, too!
And on January 10, writer Christopher Hastings and artist Gurihiru's UNBELIEVABLE GWENPOOL #24 reteams Gwen Poole with Georges Batroc! Together again, the duo look to exercise their villainous sides by robbing a Manhattan casino. But, as with all of Gwen's books, the issue contains more layers than might appear.
Before issue #24 comes out, however, we decided to take a look back at how Hastings—Gwenpool's co-creator, along with artist Chris Bachalo—crafted such a one-of-a-kind character.
Marvel.com: Chris, Gwenpool originally jumped off a variant cover before breaking the fourth-wall and jumping into everyone's hearts—has there ever been a character with such a unique conceptual origin as her?
Christopher Hastings: Gwenpool's creation process is fairly unique as far as I know. I'd love to find out other cases of creative teams coming up with a character's backstory after having first appeared as a variant cover.
But as far as Gwen's fourth wall breaking, she certainly has her influences. She-Hulk and Deadpool have definitely acknowledged they live in a comic, with She-Hulk occasionally stepping out between panels in a similar way to Gwen Poole. Animal Man has also, of course, influenced what we decided to do with Gwenpool. Not to mention the "Thursday Next" series.
I think Gwenpool diverts from other comic characters who break the fourth wall because we take it very seriously and we treat it as if it were real. If Gwen knows that Jane Foster is Thor because she's read that comic, that's a pretty big problem for Jane. If Gwen can jump through panels, well, that means she can travel through time. And we like to see how that actually could play out. It adds a lot of really fun story possibilities to the super hero world.
Marvel.com: How did you go about crafting such a unique character?
Christopher Hastings: I wanted some similarities to Deadpool—mercenary work, fourth wall breaking—but for her to have them for her own reasons. And that's how I came up with the idea of her being a person from the real world transported into the comics. Everything else just spins off of that. She puts on the costume to become a "main character" and not a disposable "extra." She's uses weaponry because she has no powers. She's a mercenary because she wants to have fun in the Marvel Universe, and also she needs money. She talks about everything like it's a comic book, because she knows it is. And then later down the road, that knowledge sort of expands, it levels up. And now she can see the panel borders and interact with them.
Marvel.com: How did you decide on the balance between humor and drama? And how has that changed for you over time?
Christopher Hastings That balance is one of my biggest interests in writing, and I don't think I've quite cracked it. Every time I sit down to write, I try to learn from how it went last time and how to do it a bit better. I know I'm a comedian. I like jokes, and I like to read and write funny comic books. But I also know that humor can open a back door into your heart, so I try to bring some depth and character to the situation too, so you grow to love the characters. They're not just disposable joke-spewers. But you don't want it to get too heavy and dreary either, especially when the reader gets sold something that's supposed to be funny. You want that drama and that character, because it keeps you coming back, but you it shouldn't weigh everything down either. Like I said, I don't think I've figured it out yet!
Marvel.com: What element of her growth as a character has received the most surprising reaction from fans?
Christopher Hastings: I can't believe that some people still think she's Gwen Stacy! But I think that actually works to our advantage now. People instinctively hate when someone is wrong on the Internet, so whenever someone says she's Gwen Stacy, an army of Gwenpool readers shows up to tell the real deal about the book. I'm very grateful for those readers.
Marvel.com: Who do you see as Gwenpool's greatest arch-enemy? And why?
Christopher Hastings: In small ways, she acts as her own worst enemy. She's impulsive, she doesn't quite read situations one-hundred percent the right way, and she acts on incorrect assumptions.
But also, in a very literal way, Gwen's arch-enemy is herself—the future evil version that she's terrified to become. That potential evil future Gwen has been the reason for everything that's happened in the series since issue #16.
Marvel.com: With that in mind, what sorts of GWENPOOL stories would you like to tell that perhaps you haven't gotten to yet?
Christopher Hastings I would love to do a story where Gwen has to chase her future evil version through the past of Marvel Comics, where the future evil Gwen messes with the origins of all the Marvel heroes, stopping them from getting their super powers. Current Gwen would have to fix things, but in order to do that, she'd have to hurt the characters she loved! Uncle Ben would have to die. Banner would have to be cursed to become The Hulk. Tony Stark would have to survive being a prisoner of war. It's a lot of tragic origins that would just tear Gwen up to be forced to recreate for the greater good. I pitched this story a while ago, and we couldn't do it for Secret Reasons, so I'm not spoiling anything by laying it out here.
Marvel.com: Likewise, which character would you love to have guest star?
Christopher Hastings I'd really love for Gwenpool and Squirrel Girl to have a story together. I love UNBEATABLE SQUIRREL GIRL, and her writer, Ryan North, is one of my dearest friends and occasional collaborators. It would be a blast.
Marvel.com: Here's hoping! To finish, what's coming up in the next few issues of UNBELIEVABLE GWENPOOL that really has you stoked? Something you can't wait for readers to see?
Christopher Hastings As silly as this may sound, I've really come to love the version of Batroc the Leaper that we've made for this series. He's become a mentor figure to Gwen—kind of a cranky uncle. UNBELIEVABLE GWENPOOL #24 completely focuses on Gwen and Batroc's relationship, and we get to do some cool stuff with both Gwen's comic powers, and Batroc's uh…really great kicks and jumps. Seriously.
Read UNBELIEVABLE GWENPOOL #24, by Christopher Hastings and artist Gurihiru, on January 10!
The Hype Box
Can't-miss news and updates from across the Marvel Universe!