Comics
Published September 13, 2017
Uncanny Avengers: Best Friends Forever
Jim Zub reunites Beast and Wonder Man for Marvel Legacy!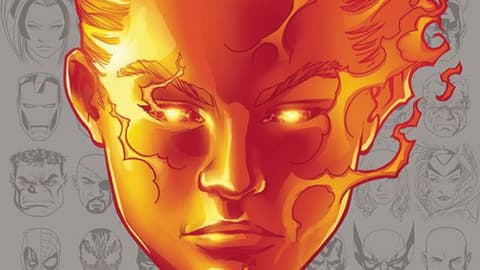 UNCANNY AVENGERS writer Jim Zub takes the goal of the Unity Squad to heart: to unite people of the Marvel Universe regardless of status, power level, race, or creed. And even though the squad's been technically disbanded, Marvel Legacy gets a kick start when he brings two old friends back together—Wonder Man and Beast.
On October 11, Zub joins artist Sean Izaakse with a new start for two of the Universe's best pals in UNCANNY AVENGERS #28! We caught up with Jim to hear more about how one of Marvel's greatest friendships will impact the Unity Squad.
Marvel.com: It's been awhile since we've seen Wonder Man and Beast together—how did you first become familiar with their connection?
Jim Zub: I'm a big fan of Simon and Hank, absolutely. I grew up on '80s Marvel stories and read backwards and forwards at the same time—enjoying new super hero stories while also collecting back issues from the '70s—so their friendship acts as a central component to how I see both characters. It's a classic friendship on the same level, for me, as Power Man and Iron Fist or Wolverine and Nightcrawler.
Marvel.com: Did you do any research to refamiliarize yourself with their dynamic? What's key to getting that dynamic correct?
Jim Zub: I always read key issues for characters I'm writing, this story included. I dug through classic AVENGERS storylines where they both appeared and reacquainted myself with their antics.
There's a playful honesty to Hank and Simon's friendship that I really enjoy. I wanted to make sure I reflected that here in UNCANNY AVENGERS. They're silly, but beneath that silliness exists a strong humility and the ability to admit when they've screwed up. Hank and Simon are truthful with each other even when it hurts. They know when to joke and when to dig deep into the heart of a problem.
Marvel.com: How did Sean Izaakse's artwork help to nail the tone of their friendship?
Jim Zub: Sean's an exemplary artist and the kind of collaborator who brings his A-game to every page. No matter what I write, he's always going to deliver something even better than I originally imagined—it's pure joy.
Sean's a big ol' Marvel nostalgia buff like I am and the instant he found out he would be drawing Hank and Simon tipping pints and kicking butts his enthusiasm drove the whole thing forward. He handles quiet moments of conversation and big action with equal confidence. I think readers are going to love it.
Marvel.com: What brings Simon and Hank together in issue #28?
Jim Zub: Both Beast and Wonder Man are heroes who have struggled to find their place and that's a big part of what this issue of UNCANNY AVENGERS will be about. Sometimes you need to sit down with someone you trust and lay out what you've been doing so you can figure out where you should go and what you want to do next in life. These two friends are trying to find their way after difficult times and bad choices. It's part confessional, part drink-up, with a side of super villainy that needs to be taken care of.
Marvel.com: What made this storyline the right way to open up the Marvel Legacy era for UNCANNY AVENGERS?
Jim Zub: Beast and Wonder Man haven't been mainstays of the series, but their story symbolically reflects where the whole team finds themselves right now. Steve Rogers disbanded the Unity Squad in the lead up to Secret Empire, but they're still around—out of shared purpose instead of a formal Avengers mandate. They're looking for a new path and finding people they trust to stick with them through thick and thin.
Marvel.com: Besides Simon and Hank, who else can fans expect to encounter in this issue?
Jim Zub: The rest of Team Uncanny will be here as well—Rogue, Human Torch, Doctor Voodoo, Wasp, Synapse, Quicksilver, and The Scarlet Witch. These characters illustrate a Venn diagram of different parts of the Marvel Universe: human, mutant, inhuman, mystic—you name it. I'm juggling a big ol' pile of super heroes and it's a ball.
Marvel.com: For fans familiar with the Beast-Wonder Man buddy comics of old, what would you say to convince them to snag this issue? And for fans who may be less familiar, what's your pitch?
Jim Zub: The heart and humor you remember from classic Beast and Wonder Man AVENGERS stories will be here—but we're not just retreading the past. It's easy to jump in and get a feel for where these characters are now and the decisions they're making moving forward. We're respectful of continuity without getting mired in it.
Marvel Legacy draws upon an understanding of what's come before to take a confident step into the future. That's what we're doing on UNCANNY AVENGERS and across the Marvel Universe. I hope you'll join us.
UNCANNY AVENGERS #28, written by Jim Zub with art by Sean Izaakse, hits on October 11!
The Hype Box
Can't-miss news and updates from across the Marvel Universe!