Comics
Published March 3, 2017
Uncanny Avengers: Braving the Secret Empire
New writer Jim Zub embeds the Unity Squad in the upcoming event!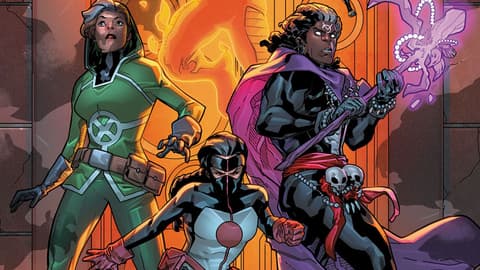 As we get closer and closer to the dawn of Secret Empire, many of our favorite characters will find themselves drawn into dramatic circumstances. That will definitely be the case with the Unity Squad featured in UNCANNY AVENGERS!
We caught up with Jim Zub, new writer on the series, about his plans for the team and their role in this exciting summer event. And, for anyone attending this weekend's Emerald City Comic Con in Seattle, don't miss the Marvel: Next Big Thing panel on Saturday March 4 at 2:45 pm where he'll fill you in on all things UNCANNY.
Marvel.com: UNCANNY AVENGERS issues #24 and #25 will tie in with Secret Empire. What can you tell us about the team's involvement in this event?
Jim Zub: That's a surprisingly tough question! As you might imagine, Secret Empire is filled with secrets so I can't reveal too much just yet. The Uncanny Avengers are quite powerful and capable with older and experienced heroes like Rogue, Wasp, and The Human Torch on the team. [Captain America] and the forces of Hydra understand that and they make plans to, let's say, keep them out of play. We'll see the team getting caught up in machinations they hadn't expected, and it will sideline and threaten them in unexpected ways.
Marvel.com: We like seeing our heroes outsmart Hydra. But in issue #24, Hydra will have the upper hand. Can you tell us about writing this story, where the team really has to scramble out of a bad situation?
Jim Zub: I had fun starting my run on the book with the team thrown right into the deep end. Issue #24 opens with big action as the team gets caught off-guard and on the defensive. As the readers dig into Secret Empire, they'll understand the bigger events that have pulled the team into this situation, while our heroes are still trying to figure that out on their own. If you read UNCANNY AVENGERS you'll see that something terrible has happened and the team is trying to work through it and if you read SECRET EMPIRE, you'll see exactly how dire it really is and what's actually at stake.
Marvel.com: You will take over the series from Gerry Duggan with issue #24. Can you tell us a little about that experience?
Jim Zub: Gerry has done an incredible job with this wonderful cross-section of characters. I've really enjoyed getting to pick up the torch from him—literally the torch, because The Human Torch is included—and continue their story. To me, the team feels like a family. We've seen them on other teams and they've had other loyalties, but the missions they've gone on as Avengers have created a strong bond. They have to look out for each other.
All the characters on the UNCANNY AVENGERS [team] have found themselves pulled together in an unexpected fashion. Almost all of them have deep roots in the Marvel Universe. I've had a blast showing them together, holding their own against some top-tier opponents.
Marvel.com: Secret Empire will also influence THUNDERBOLTS, which you write as well. Can you talk about the experience of weaving these longer story arcs in with the twists of an event like this?
Jim Zub: It's a lot of work, but also tons of fun. The earlier in the process you can set your priorities, the better. When I talk to CAPTAIN AMERICA: STEVE ROGERS writer Nick Spencer, or to the editorial team, Tom Brevoort and Alanna Smith, or Gerry, we try to find ways to make sure we all get out of it what we need, so we can take advantage of everyone's priorities for the overall story.
Everyone involved in the event comes together and says, "What do you need and how can we introduce that into the story in the most emotionally satisfying way? What makes sense in terms of our end goals?" As you discuss it back and forth, you see new possibilities and that empowers you to create something even better. You plan maybe 80 percent of it, and then you have another 20 percent where you realize you can add in an unexpected twist or go deeper with an emotional element; that's the stuff I find really satisfying.
Marvel.com: UNCANNY AVENGERS has built itself on some really interesting relationships like Deadpool and Rogue or Quicksilver and Synapse. Do you plan to continue that?
Jim Zub: Definitely! I think every team book needs those relationships; it has to have that heart beating under the surface, otherwise you wouldn't keep reading it. The Secret Empire tie-in issues throw the [Unity Squad] into the deep end, so we won't see too much relationship material initially but, after they make it through that, we've got cool plans and will continue developing those relationships and friendships. Gerry's run emphasized that these characters stay together because of shared ideas, not just a government mandate or anything like that. They don't have a charter or chairperson. They have an emotional, mission-based connection.
Marvel.com: Would you like to mention anything else?
Jim Zub: Playing in the Marvel super hero sandbox has been a wonderful experience so far. Getting the chance to work on an Avengers monthly title has been surreal, and I look forward to building something fun and exciting for readers every issue.
Look for Jim Zub to begin his run as writer of UNCANNY AVENGERS with issue #24, coming in June!
The Hype Box
Can't-miss news and updates from across the Marvel Universe!