Comics
Published January 11, 2017
Uncanny Avengers: Something to Fear
Gerry Duggan helps Red Skull bring the Unity Squad's terrors to life!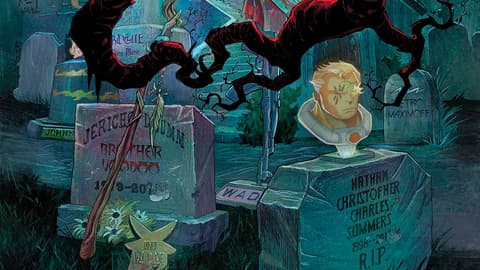 As they say, courage doesn't mean you have no fears, it means you take action despite the fact that you feel afraid. And in UNCANNY AVENGERS #20 on February 8, our heroes will have to do just that, as The Red Skull prepares to use their worst nightmares against them.
Writer Gerry Duggan explains what scares some of Earth's Mightiest Heroes:
"The team has a mission for which they feel willing to make the ultimate sacrifice. They're willing to die to win this fight, and take back Xavier from Red Skull. The fear that they probably share in common is having the Red Skull subvert them in this way."
Of course, they each have their own individual terrors, as well, as Duggan outlined for us. And the Red Skull certainly won't shy away from using them to his advantage…
The Human Torch
"When you have the power of fire, you worry that you'll accidentally burn something that you shouldn't. And we've seen some excellent stories featuring Johnny about this fear of his."
The Wasp
"Janet has gone through the horrifying experience of having Ultron wear Hank Pym's face over his own. And so in this version, she carries the fear that her life is not her own, and Red Skull preys on that in an interesting way."
Doctor Voodoo
"Although as a magician he has always seemed to find himself in Doctor Strange's shadow, he has gotten over that. But his brother has become his Achilles heel. He recently had to choose between an Avenger and his own brother, and he chose the Avenger because he felt so disgusted by what his brother had done to come back to life. Now, he feels afraid of letting his brother get the best of him."
Deadpool
"Interestingly, Rogue asks Deadpool to stay behind as a safety switch because what's wrong with his head makes him immune to telepathic coercion. So his fears will have to remain his own."
Cable
"He keeps things pretty close to the vest, but he, possibly more than anyone else would, feels afraid of losing this fight and what The Red Skull having the chance to mature his telepathic control over Xavier would mean for the future. So he knew he had to come back and help win this one."
Face your fears in UNCANNY AVENGERS #20, due out February 8 from Gerry Duggan and Pepe Larraz!
The Hype Box
Can't-miss news and updates from across the Marvel Universe!