Comics
Published November 27, 2018
Uncanny X-Men Across the Years
Marvel.com columnist Ben Morse gives a cross-generation analysis of the iconic series!
Marvel.com columnist Ben Morse is an authority on Marvel's Merry Mutants. In advance of a round of interviews with the writers of the current UNCANNY X-MEN, we asked him to look back at the legacy of the legendary comic.
The first X-Men comic I ever read was UNCANNY X-MEN #229 by Chris Claremont and Marc Silvestri. I'm not sure what year it was—sometime in the '80s. At the time, I didn't understand the difference between any Super Hero comics, and I could not have named any of the X-Men for you.
That initial exposure to Marvel's mighty mutants intrigued me, but was a little off brand as this installment found the X-Men freshly off having "died" in battle with the Adversary and making their way to Australia where they would settle after fighting off the debuting Reavers. I was—and still am—a comic book fan who likes being dropped in the middle of complex continuity because there's so many paths it can take you down, but even for me, this was a bit much. I barely had a concept of who Wolverine, Storm, Colossus, and Dazzler were thanks to that awesome arcade game—and Rogue, Havok, Longshot, and Psylocke were complete cyphers (and I'm not talking Doug Ramsey).
A few years later, something happened that would forever alter my relationship with the Children of the Atom and cement me not just as a lifelong comics fan, but as a Marvel Zombie of the highest order: the debut of Chris Claremont and Jim Lee's iconic and record-setting X-MEN #1 in 1991.
I was instantly hooked. Everything I'd dug about the aforementioned video game as well as the comics I'd dipped my toes in was amped up to 11 here. The costumes! The powers! The fights! The romance!
I loved the X-Men so much that down the line, working as a summer camp counselor, I crafted an elaborate real life game of Clue centered around the murder of Jean Grey, and got my fellow staff members to dress up as everybody from Iceman to Lilandra so we could produce a mini movie about it all.
The thing about 1992 was we weren't yet in the age of the full-fledged Marvel multimedia invasion that would occur 15 years or so later; yes, there were X-Men toys and video games, but if I really wanted access to the good stuff, the comic shop was where I had to go. And what a glorious time to be an X-fan! Writers like Scott Lobdell and Fabian Nicieza weaved wondrous webs of soap opera and intrigue as illustrated by the best in the business including Andy Kubert, John Romita Jr., and more.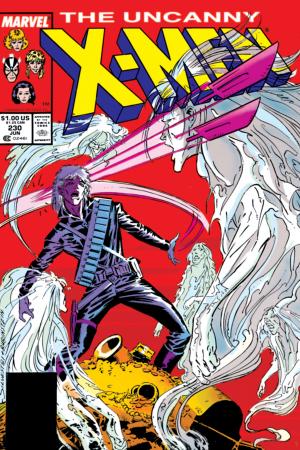 I admit, however, that at 10 years old I still didn't quite grasp the social significance of X-Men—but it didn't take me too long after that to get that I was reading something of substance stronger than just "hero punches villain." When I was younger, it was easy to equate Professor X to Dr. Martin Luther King Jr., Magneto to Malcolm X, and the struggle of mutants to real-world discrimination. As a 36-year old, I understand the metaphor is more nuanced than that, but still, it's not a stretch to say X-Men taught me more about these concepts—the same way it has for many. At its best, X-Men serves as a metaphor that continues to be relevant throughout the years.
There have been a multitude of mediums through which mutant mayhem has been chronicled in the half century plus since Stan Lee and Jack Kirby kicked things off, but I'm particularly excited about this latest reinvention of UNCANNY X-MEN—issue #4 available this week—because it's being produced by people who grew up as fans of these characters and concepts just like me. Every editor putting in hours behind the curtain to get this book made as well as the tremendously talented triumvirate of writers at the fore and every other artist associated with the effort has a deep and abiding love of the X-Men.
For almost 30 years, the X-Men have held a special place in my heart, and I know it's the same story when it comes to a lot of people hopefully taking the time to read this. Rejoice! It's an x-citing new era for our main mutants—and we get to see it from the start!
Read UNCANNY X-MEN #4 at your local comic shop on December 5!
The Hype Box
Can't-miss news and updates from across the Marvel Universe!