Comics
Published January 5, 2017
Unleash the Beasts: Mangog
The hatred of billions funneled into one horrible beast!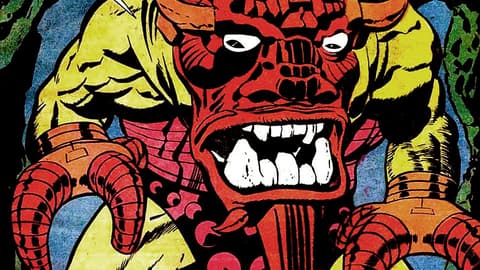 With so many classic creatures on the loose in Monsters Unleashed, we turn to their earlier adventures thanks to Marvel Unlimited.
In 1968, Stan Lee and Jack Kirby pitted Thor against one of his greatest and most monstrous foes: Mangog! Ulik discovered the place where Odin buried the creature in the pages of THOR #154. The troll remembered the basic history of Mangog after finding where Thor's dad hid the being in his Odin-Cave. He said that it held the last of an alien race that "almost succeeded in destroying Asgard itself!"
Once freed, Mangog immediately stated his intention to take out those responsible for squashing his people's invasion. Ulik realized he screwed up in freeing the creature. To make up for it, he sent a warning to Thor and the other Asgardians.
In the following issue Mangog tore through a trio of Storm Giants before bursting through the very walls of Asgard and taking on its forces directly. Along the way he explained that, when Odin destroyed the invading space race, they funneled the power of billions into one being: Mangog.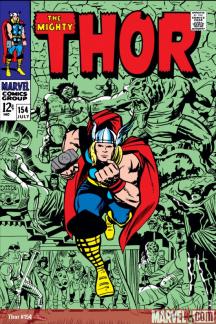 Thor finally met his foe at the end of #155, but the real battle began in #156 and carried through into #157. The Odinson fought against the beast valiantly both alone and alongside his fellow Asgardians. Mangog even grasped the gigantic Odinsword, about to unleash Ragnarok when Odin awoke from the Odinsleep to negate the previous spell that created the beast in the first place. In doing so, the god king brought those souls back to life.
Though that may have seemed like the end of Mangog, he continues to pop up from time to time to hassle Thor and his pals. Resurrected by everyone from the mystic Igron to a clone of Thanos, each ensuing version of Mangog usually ends up on the wrong end of Odin or Thor's wrath.
Forget about Thor, meet Thorr in our next installment!
The Hype Box
Can't-miss news and updates from across the Marvel Universe!