Comics
Published June 30, 2017
6 Reasons Why The Wasp Is Unstoppable
Writer Jeremy Whitley talks the qualities that make Nadia special!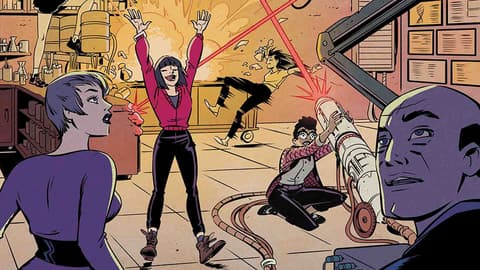 We talked to UNSTOPPABLE WASP #8 Jeremy Whitley to walk us through the qualities that make Nadia a different kind of hero.
OPTIMISM: "Like a number of Marvel heroes, Nadia has a dark beginning," the writer recalls. "She is born and raised in the Red Room where she is forced to train as an assassin and then a mad scientist. She has every right to be a character who is angry and dark. What sets Nadia apart is that she has consciously decided not to be either of those things. Nadia is a bright spot in and often dim and dangerous world."
"Honestly, I think this is made all that much more notable by her position as a scientist," he continues. "Scientists in comics and movies are so often projected as the doom and gloom type, projecting the end of the world or causing it. Nadia sees science in the way early comics like Fantastic Four and Tales to Astonish did, as a means to do amazing things."
SHE LIVED THROUGH TRAGEDY WITHOUT BEING DEFINED BY IT: "There are characters whose entire arc as both heroes and people are defined by something that happened to them," points out Whitley. "Nadia is not that person. She rescued herself from her captors and made the choice to get away from that life. She has chosen to embrace her genius and her gifts as a scientist and use those not for the nefarious causes for which she was trained, but to save and change the world."
"You won't catch Nadia lurking in the shadows or posing on top of any churches in the rain," the writer elaborates. "That's not her thing."
HER LINEAGE: "One of the funnest things about Nadia is that her family ties her so closely in the Marvel Universe and the Avengers specifically, but Nadia is new to the whole thing," Whitley asserts. "Both her father and her step-mother are founding Avengers whose origins were penned by Stan Lee and Jack Kirby. You can't get much more Marvel than that. So to see her explore this inheritance of excitement and adventure is fantastic, while she is still able to give an outsider's view to some of the stranger things in the Marvel U."
SHE ADMIRES SUPER HEROES FOR THEIR MINDS: "Nadia is not really familiar with superheroes as superheroes, outside of her own family," explains the writer. "What she knows about superheroes are the things she has learned from studying scientific papers. So while Nadia doesn't even know who Daredevil is when he shows up in issue #6 and is unfamiliar with the superhero known as Mockingbird, she is instantly overcome with excitement upon meeting Doctor Doom and has an overwhelming sense of hero worship for Bobbi Morse, not as an agent of S.H.I.E.L.D. but as a scientist. Picture Kamala Khan, but instead of reading comics her whole life, she's been reading scientific papers."
SHE NATURALLY SEEKS FRIENDSHIP AND PARTNERSHIP: "Nadia has been alone her whole life," states Whitley. "She's tried to make friends, like Ying, but the Red Room is run to make that intentionally difficult. As much as she wants to be a hero, she also wants to make friends. I guess she's an anti-Wolverine in a way. He's the habitual loner that somehow gets dragged onto a team, she's the social butterfly who's been forced to work alone for far too long."
"Part of this issue for Nadia as well is the desire to form a lab," he adds. "She knows that a good lab should have a diversity of experiences and specialties. She has no urge to be at the head of a group, so much as to raise up the girls around her. She wants them to all get the means they need to do what they want to do and the recognition they deserve for being geniuses."
SHE THINKS OF SUPER HEROISM AS THE SIDE JOB: "Well, for Nadia, being a hero isn't just about what you do when you have the costume on," reveals the writer. "Sure, that's part of it, but bigger than that is the influence you have on the world. She knows that as The Unstoppable Wasp she may be able to save the day in the moment and prevent calamity, but Nadia and G.I.R.L. can make the kind of changes that save the world in a more permanent and meaningful way. Basically, Nadia feels like she inherited heroism, but G.I.R.L. is her personal mission."
The Hype Box
Can't-miss news and updates from across the Marvel Universe!