Comics
Published May 4, 2017
Unstoppable Wasp: Flying to Free Comic Book Day
Meet writer Jeremy Whitley and scientist Tamara Robertson!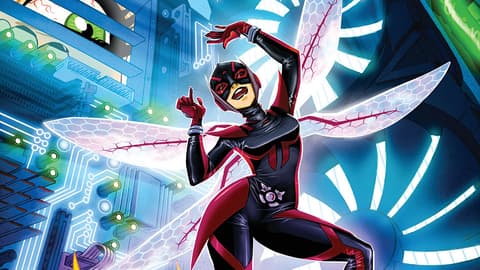 As you're probably well aware, Free Comic Book Day happens this Saturday! And our talented creators never fail to join in the festivities. Jeremy Whitley, writer of UNSTOPPABLE WASP will appear at Ultimate Comics in Raleigh, North Carolina—and scientist-in-real-life Tamara Robertson, a chemical and bio-molecular engineer, will join him to present some exciting science demonstrations.
We caught up with both and chatted about the role that comics like WASP play in promoting the importance of S.T.E.M. (Science Technology Engineering Math).
Marvel.com: Jeremy, what do you see as the significance of working on a story that promotes both women and girls in S.T.E.M., and the empowerment of young women generally?

Jeremy Whitley: It's incredibly important to me. Part of why I started writing my creator-owned series Princeless was because I wanted to share my love of comics with my daughter. As she has gotten a little older—she's five now—she has developed some interests of her own. One of those is science. It's important to me, despite what she may be told by some of the boys in school, that she knows she can be a scientist. Thanks to UNSTOPPABLE WASP, that's a message I get to share not just with my own daughter, but with a lot of other daughters out there. I know that is certainly a goal that Tamara and I share.
Marvel.com: What impact do you think having real-world scientists like Tamara involved in the comics world has?
Jeremy Whitley: I think it bridges a gap between telling girls what they can do and showing them what they're capable of. Tamara is a really amazing scientist—and person for that matter—and being able to share her story helps us show that female scientists and geniuses are not just the things of fiction. Maybe UNSTOPPABLE WASP will help the next girl who will follow in Tamara's footsteps to find her way.
Marvel.com: How did you and Tamara connect, and how did this event come together?
Jeremy Whitley: Our "Agents of G.I.R.L." column in the back of UNSTOPPABLE WASP was shared with Tamara by mutual friends online. I saw that she was excited about it and asked if she would like to be profiled for the column. She was super excited, so we went for it. As it turns out, Tamara went to college just down the street from the Ultimate Comics in Raleigh we'll be appearing at. It just so happened that the stars aligned and Tamara was going to be in town for a talk at the school just before Free Comic Book Day. And seeing as her interview was going to be in the issue of UNSTOPPABLE WASP coming out that week, the opportunity was too good to pass up. Both she and the folks at Ultimate Comics were super psyched about accompanying our Free Comic Book Day festivities with a some awesome science demonstrations from Tamara.  It all came together perfectly.
Marvel.com: What do you hope attendees get out of the event?
Jeremy Whitley: I hope first and foremost they have fun and get a chance to check out what comics have to offer. But beyond that I hope it gives everybody a chance to learn a little something about science. Obviously, having Tamara means that any girls who come out and are interested in science will get to meet a pretty amazing and inspirational woman in S.T.E.M. and that's super important. Hopefully everyone leaves with something to read and something to think about.
Marvel.com: Tamara, what do you feel is the role of comics like UNSTOPPABLE WASP in encouraging young women to pursue careers in S.T.E.M.? You also competed on "Mythbusters: The Search," which probably also had a similar role in impacting young people.
Tamara Robertson: I think that the presence of women who are in S.T.E.M. as well as the portrayal of Women in S.T.E.M. in mainstream media, such as comics like UNSTOPPABLE WASP, shows like "Mythbusters: The Search," and movies like "Hidden Figures" is vital because it gives young girls role models while also showcasing to young boys that it's normal to see different genders and races in these roles. For so long scientists have always been old white men and while it was never the intention of these portrayals, for young people, this creates an unconscious bias and perception that those roles aren't for them. I grew up with these media portrayals and never thought I as a woman could be an engineer; my only role model in this role was Scotty from "Star Trek," so when my college professor approached me about it I literally remember saying, "I don't think girls do those jobs." We have to recognize that media shapes young people's perceptions of the world, themselves, and who they could one day be, and be better at including all genders and races so that everyone feels they can be in S.T.E.M.
Marvel.com: What sparked your interest about the event on Saturday? Why did you want to get involved?
Tamara Robertson: Jeremy's creation of the Agents of G.I.R.L. is brilliant because it combines the world of super heroes with scientists so clearly! In most comics, the super heroes are in S.T.E.M. or have someone in the field creating their tech but people often just concentrate on their super powers. Everyone loves the Hulk's strength but often the fact Bruce Banner is a scientist isn't seen. In UNSTOPPABLE WASP, Nadia is a scientist and she's a super hero and both are represented in the comics, and then to take it a step further, real scientists are included in each comic that debuts! So kids get to celebrate a comic-based scientist super hero and an everyday scientist super hero all in one. Additionally, I recently read Jeremy's article on the guiding principles of G.I.R.L. and these are principles that all people can benefit greatly from learning and embodying in life!
As for Free Comic Book Day, when Jeremy asked me if I'd be interested, I jumped at the chance! I love comics and I love science outreach so the combination of the two was right up my alley, and I truly enjoyed trying to make a science exhibit around Marvel! I am really excited to present my "Marvel at Science" show at Free Comic Book Day because I'm going to be doing an homage to some diverse and incredible Marvel comic book characters that I'm hoping fans will enjoy!
Marvel.com: You've also worked as an actress and costume designer. How have those different interests impacted your career path? As a designer, I'd imagine you'd enjoy super hero costumes!
Tamara Robertson: Super hero costumes would be awesome! Currently I'm dabbling in these firsthand for the first time as I dive into cosplay, but I've always been obsessed with the costumes and tech that science fiction brings to shows and movies!
As an engineer, design in all aspects is part of daily life; examining others' designs, re-engineering existing designs and making your own designs. As a North Carolina State engineer, I went to school with some incredible textile engineers but my focus was always on the process side for plants and product design. It wasn't until I came to L.A. that I was blessed to find and work under an incredible wardrobe designer, Catherine Baumgardner. She opened my engineering mind to the textile design side of the world.
As for the acting, I think ultimately I needed an outlet that I could be creative and emotional in because as an engineer you don't often get to do this. The human emotional range is so beautiful when harnessed creatively, and just like any other machine, the body can do amazing things when fine-tuned and allowed to operate. So getting to push those limits within myself has been a fun adventure.
Marvel.com: What message do you hope people take away from the event on Saturday?
Tamara Robertson: I hope attendees leave the event wondering how they could be like the science fiction characters in their favorite comics through applying S.T.E.M. principles, and that they go home and start asking questions about the incredible worlds they read about in comics. While they may be science fiction today, the things we read about in comics and see in science fiction shows and movies are what inspires S.T.E.M. operatives to start innovating and creating new things.
Read the latest issue of UNSTOPPABLE WASP and celebrate Free Comic Book Day this Saturday!
The Hype Box
Can't-miss news and updates from across the Marvel Universe!