Comics
Published February 10, 2017
Unstoppable Wasp: Meeting of the Minds Pt. 2
Jeremy Whitley and Elsa Charretier recruit real world scientists to back up their new hero!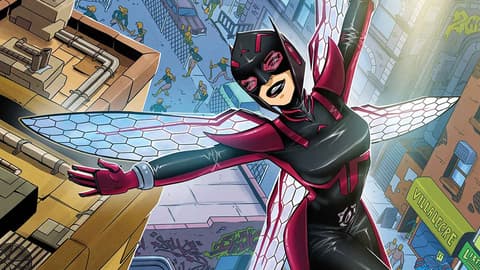 Each month in the letters page of UNSTOPPABLE WASP, space will be devoted to spotlighting real world female scientists and their work.
"I have to credit our amazing artist Elsa with the original idea," says Whitley of the profiles. "I had been kicking around that I wanted to do some outreach to STEM and women in science and she came up with an idea. She would draw headshots and we'd do a little profile on female scientists. Her original plan was to post these on Twitter or Tumblr, but ever since I started working on UNSTOPPABLE WASP I'd wanted to do a letters page. I love letters pages and as engaging as Nadia is as a character, I thought it would be perfect.  Elsa's idea of profiling female scientists from our audience was exactly what I was looking for."
Celebrating science and the innovative minds working towards advancement in various fields fits perfectly with Nadia Pym's character and the overall feel of UNSTOPPABLE WASP.
"UNSTOPPABLE WASP is all about young female super scientists setting out to change the world," notes Whitley. "It made perfect sense to us to highlight female scientists who really are shaping our future. We already knew several women who fit this description and were comics readers, so the idea of sharing their awesome work with the rest of our audience seemed like something that had to happen. We look forward to learning about more amazing comics loving lady scientists as we open up to submissions and hopefully a few of [our] younger readers may even find something that interests them as well as the expert that they can ask about it."
Marvel.com proudly presents the latest pair of scientific spotlights; for more, check out every installment of UNSTOPPABLE WASP, with issue #3 coming March 1 and issue #2 available now!
Hey, new friends, it's Nadia! I'm so glad to see you again. You look great! Winter must really agree with you! Don't worry, Team Wasp will be back next month to bring you another chapter of our story, but in the meantime, I have some more really special lady scientists to share with you. These new Agents of G.I.R.L. are extra amazing, so please check out what new recruits Jin Kim Montclare (@jkmontclare) and Raychelle Burks, Ph.D. (@DrRubidium) had to say!
WHAT KIND OF WORK DO YOU DO?
Jin: I am a professor of chemical and biomolecular engineering, and I work on engineering new types of proteins. Proteins are important biomolecules that exist in foods such as eggs, milk and meat as well as in all living organisms–including humans. My research focuses on creating a protein that can detoxify toxic nerve agents such as pesticides as well as creating new protein biomaterials that can deliver important therapies to treat human disorders.
Raychelle: I'm a chemistry professor and spend my time teaching and doing research. My area of focus is analytical chemistry, specifically designing detection techniques for compounds of forensic interest (drugs, explosives, chemical or biological weapons, etc.). My research group is currently focused on using color image analysis as a stand-in for colorimetry–and we're using cell phones to do it!
WHAT EXCITES YOU ABOUT YOUR WORK?
Jin: Two things really excite me: that I get to 1) work on research that can ultimately help people (by removing toxins or treating diseases) and 2) interact with a wonderful group of young aspiring engineers and scientists making exciting advances in research.
Raychelle: I love the challenge of coming up with low-tech, affordable, reliable and portable detection schemes. It gives me and my students an opportunity to play super-science MacGyver!
WHY ARE YOU PASSIONATE ABOUT YOUNG WOMEN GETTING INTO SCIENCE?
Jin: Being a woman in STEM, I feel fortunate to be doing what I love to do as an educator and researcher! My path was made possible through the support of my mentors from K-12 to now, so I do my part by encouraging other young women to pursue STEM.  More than half the students I mentor directly at NYU are women, and I am quite proud of it! I have also actively engaged in mentoring programs including STEM  Women on Fire as part of the Ultimate Mentor Adventure Contest! I work with science teachers at local K-12 schools to help effectively convey scienctific ideas and make them exciting. In fact, in collaboration with InSchoolApps, we made an app called LewisDots for kids to make chemical structures and learn about bonding!
Raychelle: As a black female scientist, I am familiar with the historical and current barriers to our access and advancement in STEM career fields. Margot Lee Shetterly's great book Hidden Figures (now a feature film) speaks to such struggles. While gains have been made in accessibility, we have a long way to go in making STEM careers equally within reach for woman of color and other under-represented minorities.
WHAT FEMALE SCIENTISTS (REAL OR FICTIONAL) HAVE INSPIRED YOU IN YOUR WORK?
Jin: When I was little, my hero was Marie Curie. She not only won a Nobel Prize in Physics, but years later, she was awarded the prize in Chemistry, too! Very few individuals are awarded the Nobel Prize, so to earn two in two different fields is AMAZING! In terms of inspiration for my work, my graduate advisor Alanna Schepartz has mentored me through my own dissertation work on miniature proteins at Yale while serving as an incredible role model. Finally, the Nobel Laureate Ada Yonath, who was responsible for determining a high-resolution structure of the ribosome (a gigantic complex that helps decode DNA into protein), is an amazing source of inspiration because my group employs the insights from such structures to make cool proteins in the lab.
Raychelle: When I was little, I didn't know of any female scientists–talk about hidden figures! It wasn't until I was a senior in high school that I discovered Dr. Mae Jemison, medical doctor and NASA astronaut. Before that, I looked to my favorite fictional super-brain, Agatha Christie's Miss Marple, for inspiration. She is one hell of a quantitative thinker! When I'm in need of inspiration, I look to Jeannette Brown's African American Woman Chemists. I am also inspired by my science friends: Dr. Danielle Lee, Dr. Stephanie Page, Dr. Kate Clancy and Dr. Malika Jeffries-El.
DO YOU HAVE A FAVORITE EXAMPLE OF CLEVER/UNUSUAL/OR NONSENSICAL USE OF SCIENCE IN COMICS?
Jin: I thought it was clever that the characters from X-Men had super-powers due to mutations. It made absolute sense to me since mutations in DNA can cause changes in living things in order to adapt (like a giraffe's neck to allow them to reach the treetops for food).
Raychelle: I'm a sucker for super-hero-by-vampirism. Okay, that sounds splashier than super-hero-by-blood transfusion. She-Hulk fits the bill! Hulking out is a bit like a blood-borne disease? It almost makes sense, except…it totally doesn't! I love these sci-fi stretches!
HOW LONG HAVE YOU BEEN READING COMICS AND WAT WAS YOUR FIRST COMIC BOOK?
Jin: I started reading comics when I was in elementary school with Archie Comics, but my favorites have been Sandman and Lucifer…and of course Rocket Girl and most recently MOON GIRL & DEVIL DINOSAUR! For MG & DD, I love that the protagonist is a girl STEM genius and I even get consulted on it for inspirational scientist/engineer quotes (because my husband, Brandon Montclare, is writing it)!
Raychelle: I started reading comic books in high school, jumping into the Wonder Woman reboot by George Pérez when I stumbled across in my local public library. It caught my eye because I grew up watching reruns of Linda Carter's Woman Woman!
Please send all of your suggestions for girl, lady or lady-identifying geniuses in science and technology to us at MHEROES@MARVEL.COM and mark your letters "Okay to Print"! You can also tweet at us using the hashtag #AgentsOfGIRL.
Until next month, do svidaniya!
Nadia
The Hype Box
Can't-miss news and updates from across the Marvel Universe!