Comics
Published March 6, 2017
Unstoppable Wasp: Meeting of the Minds Pt. 3
Jeremy Whitley and Elsa Charretier recruit real world scientists to back up their new hero!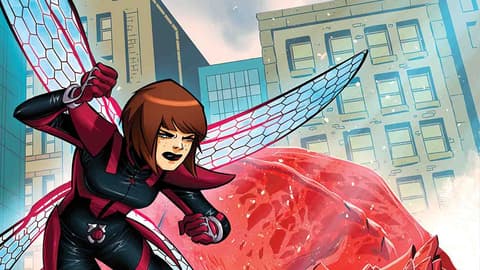 Each month in the letters page of UNSTOPPABLE WASP, space will be devoted to spotlighting real world female scientists and their work.
"I have to credit our amazing artist Elsa with the original idea," says Whitley of the profiles. "I had been kicking around that I wanted to do some outreach to STEM and women in science and she came up with an idea. She would draw headshots and we'd do a little profile on female scientists. Her original plan was to post these on Twitter or Tumblr, but ever since I started working on UNSTOPPABLE WASP I'd wanted to do a letters page. I love letters pages and as engaging as Nadia is as a character, I thought it would be perfect.  Elsa's idea of profiling female scientists from our audience was exactly what I was looking for."
Celebrating science and the innovative minds working towards advancement in various fields fits perfectly with Nadia Pym's character and the overall feel of UNSTOPPABLE WASP.
"UNSTOPPABLE WASP is all about young female super scientists setting out to change the world," notes Whitley. "It made perfect sense to us to highlight female scientists who really are shaping our future. We already knew several women who fit this description and were comics readers, so the idea of sharing their awesome work with the rest of our audience seemed like something that had to happen. We look forward to learning about more amazing comics loving lady scientists as we open up to submissions and hopefully a few of [our] younger readers may even find something that interests them as well as the expert that they can ask about it."
Marvel.com proudly presents the latest pair of scientific spotlights; for more, check out every installment of UNSTOPPABLE WASP, with issue #4 coming April 5 and issue #3 available now!
Hi again, Nadia here! Can you believe we've already been together for three months? You wouldn't believe the recommendations we've gotten for Agents of G.I.R.L.! Today's agents are pretty special though. Not only are they an optical engineer and an aerospace engineer, but they're also COSPLAYERS! Check out Sadie Geerligs (@sadiebydesign) and Nia Jetter (@thinqueaboutit)!
WHAT KIND OF WORK DO YOU DO?
Sadie: I am an applications engineer in connectivity for a fiber-optic company, AFL. In my current role I focus on developing products for card edge connectivity and embedded optics. I was lucky to find AFL after earning my bachelor's degree in Optical Engineering from Rose-Hulman Institute of Technology in 2012.
Nia: I am an aerospace engineer specializing in spacecraft autonomy, I have been working in my field for just over 16 years. There's a delay in communication between the Earth and space vehicles, so it is important that the vehicle be able to perform many functions autonomously, including controlling different subsystems and being able to fix or save itself if something is going wrong. I perform analyses and write algorithms that allow the space vehicle to operate without human intervention.
WHAT EXCITES YOU ABOUT YOUR WORK?
Sadie: I love that my job presents different challenges for me each day. My current position requires in-depth customer interaction to help develop products for their unique applications. When I was going through school, I was extremely nervous that a job in engineering would require me to sit at a desk all day and be super antisocial. It is extremely exciting to be able to see a product through the development stages to commercialization.
Nia: I love what I do! I feel like it is what I was made to do! I love math and I love solving problems. I love coming up with a vision of what technology we are going to need in the future and then determining a roadmap that we need to follow to get there. One of the greatest things about my job is that after we build the satellite or space-based vehicle, we are responsible for working the early portion of the mission before we hand the satellite over to the customer. I've had the opportunity to work thirteen missions in our mission control center. You get to see something that you worked so hard on actually performing its function up in space. It can be an incredible problem-solving experience!
WHY ARE YOU PASSIONATE ABOUT YOUNG WOMEN GETTING INTO ENGINEERING?
Sadie: At graduation, we all donned pins in memory of the former president of Rose-Hulman, Matt Branam, with his quote "Make it happen. Make it fun." He taught the students of Rose that you should make your dreams become reality, and have fun while you do it. It is really important to me to see women in fields that make them happy. I encourage anyone who has a passion for engineering, science or really anything to exploit that passion because it will lead you to greater things. Engineering has not only been a career that sustains my life, but a path to finding who I was meant to be. I wish nothing more than for other women to find the path that leads them to that same sort of belonging and happiness.
Nia: The greatest advancement is made when it is based in a foundation of diversity of thought. If a group of people with a similar backgrounds and trains of thought get together to solve a problem, they may miss an even better solution that would have been introduced by someone with a different background. Having a large portion of our society underrepresented in science and technology fields inhibits our society as a whole. It is important that, from a very young age, we make sure that no one is made to feel like science or math is too hard, or a "boy" thing. Having seen consistent resistance wear people down and make them choose to apply their brilliance to another, non-technical field, I try to be the opposite of that. I love mentoring and volunteering in schools, doing activities and explaining things simply to make sure that kids know that anyone can do anything that they put their mind to. It's important for boys to know
–and see–that girls can do anything too, so that they have no reason to expect anything less than that from women in the future.
WHICH FEMALE ENGINEERS (REAL OR FICTIONAL) HAVE INSPIRED YOU IN YOUR WORK?
Sadie: My inspiration comes all of from the fantastic ladies that have surrounded me since I started down the path of my engineering career. The thing I find the most inspiring about all of these amazing women is that, like me, they all have passions outside of their careers that they are equally talented at. My friend Katherine runs a successful blog, Engineering in Style, that showcases that women in engineering can also be super stylish. And I remember enjoying Sailor Moon because all of her friends have different talents. As a super awkward bookworm through my younger years, I always had a great appreciation for Mercury because she was a nerd and a badass! Some other really cool fictional ladies that have surfaced as women in science fields become more and more common–like Asami Sato, Winry Rockbell and Honey Lemon.
Nia: I had a female math teacher in the sixth grade who was very encouraging and really helped me realize that I was strong in math. The fact that she pulled me aside and encouraged me really made a difference. Uhura was also a great inspiration. My mother is a huge Star Trek fan, particularly of Nichelle Nichols. I was fortunate enough to meet Nichelle Nichols while I was cosplaying as Uhura!
DO YOU HAVE A FAVORITE EXAMPLE OF CLEVER/UNUSUAL/NONSENSICAL USE OF SCIENCE IN COMICS?
Sadie: Since science fiction has often been a precursor to scientific discovery, there aren't a lot of things that I find too out there. In fact, I find that most of the things in comics make people dream big enough to achieve goals that people would scoff at. If I had to pick a commonly used concept that irks me, though, it would probably be time travel. It's a very large concept to wrap a brain around, and I just don't really think it's been thought through properly yet. Don't get me wrong, I thoroughly enjoy Back to the Future and The Flash, but I just feel like aliens are more within our grasp than time travel. To the person that proves me wrong, I can't wait for you to tell all of the skeptics, "I told you so!"
Nia: So…you're telling me that there is one gene called the "X-gene" that, if activated, can result in the introduction of any kind of mutation–mental, physical or other…so I've got this bridge in Brooklyn that I'd like to sell you! I'm not a biologist, although I do like to write genetic algorithms, but the concept of the X-gene doesn't sit quite right with me if I think about it too much. However, I know that incredible things can happen when it comes to science, and I am happy to suspend my disbelief because the concept of the X-gene enables some of my favorite stories–including those with my favorite comic character, Storm!
HOW LONG HAVE YOU BEEN READING COMICS AND WHAT WAS YOUR FIRST COMIC BOOK?
Sadie: Truthfully, I didn't grow up reading comics, but I watched a whole lot of Batman and Superman: The Animated Series. About two years ago, I decided I was going to get into comics for the sake of my cosplay and bought several comics to kickstart my love. My main objective was to obtain a Supergirl comic, but I left with multiple copies of the PRINCESS LEIA comic as well, which remains one of my favorite storylines. I have also fallen in love with SPIDER-GWEN, CAPTAIN MARVEL and GWENPOOL. It will be really exciting to add UNSTOPPABLE WASP to my lineup of super-awesome ladies in my comic collection, and maybe someday in cosplay. After all, how could I not when her character is basically my tagline brought to life? Engineer by day, super hero by night.
Nia: My first comic book was a John Stewart Green Lantern book. I don't remember how old I was. I remember there being so many comics around me that I felt like I was surrounded–my dad was going through his old comics. I remember my dad explaining the Green Lantern to me and how John Stewart was his favorite. I remember being fascinated for the first time by how the pictures were just as important as the words in telling the stories. And cosplaying gives me the opportunity to represent and pay homage to some of my favorite characters. 🙂
The Hype Box
Can't-miss news and updates from across the Marvel Universe!