Comics
Published January 6, 2017
Unstoppable Wasp: Smart Girls Rule
Meet the highly intelligent ladies getting recruited by Nadia Pym!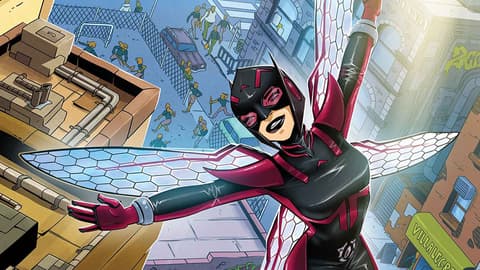 Traditionally, dudes like Reed Richards, Hank Pym, Tony Stark, and Bruce Banner have topped the list of Marvel's smartest characters.
But times have changed.
Beginning in UNSTOPPABLE WASP #2 on February 1, Nadia Pym will assemble a team of girl geniuses—known as Genius In Action Research Labs, or G.I.R.L—to break into this boys' club. Writer Jeremy Whitley gives us the scoop on each of these bright young women.
Taina Miranda
"A Puerto Rican character from Washington Heights, New York, Taina has talent as an engineer. She builds robots, working with scrap and salvaged junk, while also facing multiple sclerosis. Taina looks forward to having the money and facilities to make better prototypes. And her sister Alexis first appears in a Hawkeye story I did in A YEAR OF MARVELS."
LaShayla "Shay" Smith
"A physicist from Brownsville, Brooklyn, Shay has a lot in common with me as a teenager: a Latchkey kid who goes home on her own at the end of the school day. During that time, she works on her science and tends to get in trouble thanks to her work. She has a tendency to blow things up and break things. She currently focuses on teleportation and faster-than-light travel."
Priya Aggarwal
"Priya, a second-generation Indian American, lives in Queens, specifically Jackson Heights. She specializes in biology, and botany in particular. But she keeps her intelligence largely hidden because she just wants to be a regular kid, and do normal, popular kid stuff. Priya shows reluctance when it comes to joining the group, and Nadia has to persuade her. But we'll see her come into her own."
Honorable Mentions
"Lunella Lafayette—aka Moon Girl—will appear in the second and third issues [of UNSTOPPABLE WASP]. We'll see her around, though she'll have some other issues of her own that she'll have to deal with, too. I've talked to the creative team on [MOON GIRL AND DEVIL DINOSAUR], and we'd like to do some more crossovers with her.
"We'd love to do some stuff with Riri Williams, as well. We could have a lot of fun putting all of these super-intelligent girls together, and they could get into all sorts of situations.
"G.I.R.L. will also possibly have one other additional member, but she will play a major role in the first story arc, so I don't want to reveal too much about her yet. One of the big questions of the story will be whether she'll join the team. This first arc will get pretty intense!"
Join up with the G.I.R.L. gang in UNSTOPPABLE WASP #2 by Jeremy Whitley and Elsa Charretier on February 1!
The Hype Box
Can't-miss news and updates from across the Marvel Universe!