Comics
Published March 22, 2017
Unworthy Thor: Revelations
Finally find out what felled the Odinson with writer Jason Aaron!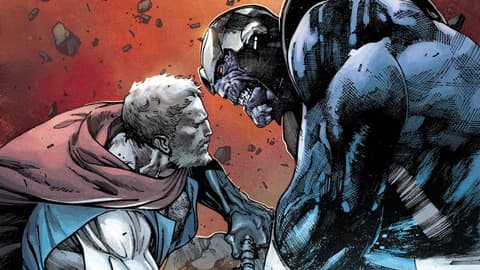 WARNING: This article contained SPOILERS for UNWORTHY THOR #5, available now!
As Thor fans know, the Odinson has had a pretty difficult go of it lately. With the loss of his worthiness, he has found himself on a bit of a journey of self-discovery. As UNWORTHY THOR wraps up, we'll see what this arc means both for his role in the larger Marvel Universe, and his place in the MIGHTY THOR series moving forward.
We chatted with writer Jason Aaron about what lies ahead for the Odinson.
Marvel.com: UNWORTHY THOR has forced the Odinson to figure out who he is without his worthiness. Can you give us your take on the journey he has gone through?
Jason Aaron: Everything I've done over the last few years with making Thor Odinson unworthy and bringing Jane Foster in was about telling a very specific story with her and with a different sort of Thor. But I also wanted to give Thor Odinson his own journey, so I wouldn't just push him aside. I like the idea of watching him wrestle with his unworthiness and seeing how that changes him, how it makes him a very different sort of character. I think this [limited series] gave us the biggest version of that kind of story that we've done. We've seen a darker, angrier, very different kind of Thor Odinson.
Marvel.com: Can you tell us a little about your experience writing both UNWORTHY THOR and MIGHTY THOR simultaneously?
Jason Aaron: I love writing Thor. I've been doing it for several years now and I have a big pile of Thor stories I've wanted to get to. It felt great to have the chance to write two Thor books at once. And to get to work with artists Russell Dauterman and Olivier Coipel at the same time felt like an extravagance of riches. Olivier is already established as one of the best Thor artists ever, and I see Russell rising up the ranks, as well. His art just gets better and better with every arc. And I've enjoyed doing these two very different Thor stories at the same time; now we'll see the two characters collide, and the Odinson's story will get wrapped up again with Jane Foster's.
Marvel.com: This is the last issue of the UNWORTHY THOR series; could you tell us a little about what's next for the Odinson?
Jason Aaron: You can expect to see him pop up in the pages of MIGHTY THOR very soon. He has missed a lot in the time he has been away, so he'll have a lot to catch up on. And as you can see from the tease at the end of the UNWORTHY THOR #5, we still have more story to tell with the hammer of the Ultimate Thor. After the current MIGHTY THOR arc wraps up, we'll dive into the story of a brand new Ultimate Thor—yet another very different sort of Thor added to the mix.
Marvel.com: You mentioned the hammer of the Ultimate Thor, which the Odinson encounters in UNWORTHY THOR. What role will it play in his story moving forward?
Jason Aaron: It will have its own big arc, when someone else comes along and picks up the hammer, and gets transformed by it in a different way. This hammer is a little different in that it's a relic from a dead universe, a holdover from the Ultimate Universe that somehow survived through the events of Secret Wars. The exact nature of that hammer, how it differs from the hammer of Thor in the mainstream Marvel Universe, how it affects someone who wields it, we'll answer those questions in the pages of MIGHTY THOR.
Marvel.com: In this issue, we finally learn what Nick Fury whispered to the Odinson in Original Sin that made him unworthy. He said, "Gorr was right." What kind of impact did you hope this reveal would have on the Odinson's story?
Jason Aaron: The idea with this mystery stretches back to the beginning of my run on Thor. We still see the effects that Thor's battle with Gorr the God Butcher had on him, and the overall meaning of what Gorr did and why. I think as long as I'm guiding Thor's ship, that idea of worthiness and what it means to be a god in the Marvel Universe will remain prominent themes. And I think this reveal shows that these questions still plague Thor Odinson, and I don't expect that to go away anytime soon.
Follow the fate of the Odinson yourself in UNWORTHY THOR #5, on sale now, and in future issues of MIGHTY THOR!
The Hype Box
Can't-miss news and updates from across the Marvel Universe!