Comics
Published December 16, 2016
Venom Madness Hits Marvel this March
A surprising returns spawns over 25 special variant covers!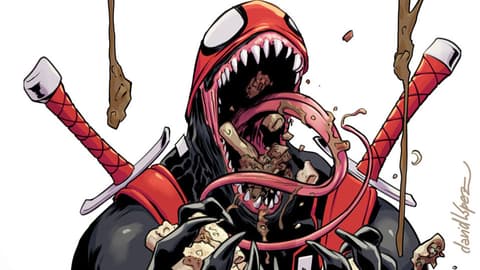 The month of March. Spring is in the air. Flowers are blooming. And Venom is taking over!
That's right, the sinister symbiote just made his big return in the pages of Mike Costa and Gerardo Sandoval's hit VENOM series. But that was just the beginning! Marvel's celebrating all things Venom in the month of March with a big issue and an even bigger variant program. It all kicks off with the can't-miss VENOM #5, as the new host comes face-to-face with the symbiote's greatest nemesis – the Amazing Spider-Man! Plus, a shocking return that will have fans everywhere talking!
"Mike and Gerardo have a lot up their sleeves and they're just getting started," says Associate Editor Devin Lewis. "Each issue ramps up the stakes, and March's VENOM #5 is the biggest one yet. With a knock-down, drag-out fight with the one-and-only Spider-Man and a cliffhanger that's definitely going to turn lots of heads."
Then, witness the Avengers, Black Panther, Deadpool, the X-Men and more as they bond with the symbiote for a series of Venomized Variants coming to your favorite Marvel titles!
"One of the coolest things about Venom is getting to see the symbiote bond with other Marvel characters. Well, we're taking that idea and dialing it up to 11 this March," says Marvel SVP Sales & Marketing David Gabriel. "Some of our top heroes are about to get a symbiote makeover, courtesy of the best artists in the business. Each of these mega-talented artists let their imaginations run wild, producing some truly fun (and frightening!) variant covers."
Look for these Venomized Variants coming exclusively to comic shops throughout the month of March:
Venom is back and he's badder than ever. Be there this March when VENOM #5 and the Venomized Variants take your local comic shop by storm!
The Hype Box
Can't-miss news and updates from across the Marvel Universe!