Comics
Published September 6, 2017
Visions of the Astral Plane: An Astonishing X-Men Sketchbook
Check out Old Man Logan's hunt for the Shadow King with Ed McGuinness!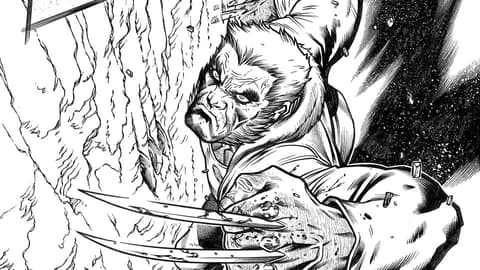 ASTONISHING X-MEN refuses to give its characters—or readers—a chance to catch their breath. Written by Charles Soule, the series kicked off with artist Jim Cheung, then had pencils by Mike Deodato for the second story—and now sees fan-favorite Ed McGuinness illustrate issue #3!
On shelves today, ASTONISHING X-MEN #3 sees Old Man Logan wandering the Astral Plane in an effort to find—and stop—the elusive Shadow King…but can Logan maneuver the mysterious realm of minds without losing himself?
We sat down with Ed to talk about designing the action-packed adventure.
Marvel.com: What's it like jumping aboard ASTONISHING X-MEN after Jim Cheung and Mike Deodato?
Ed McGuinness: At first…very intimidating—to say the least! Both Jim and Mike are amazing artists that set a pretty high bar. But the only difficult part of the story was getting all the reference right for the individual costumes, as it skips between reality and the Astral Plane quite a bit.
Marvel.com: Does having a story element like the Astral Plane allow you to play with form and function a little more than usual?
Ed McGuinness: Absolutely. Things are always shifting and not always what they seem. The version of the Astral Plane that Logan finds himself in feels desperate and barren—perfectly designed to break him. It allowed me to play with more abstract design elements that contrasted with the complexity of the cityscape in the "real" world where Bishop, Psylocke, and Angel are operating.
Marvel.com: You've worked on various X-Men books in the past—what sets ASTONISHING X-MEN apart?
Ed McGuinness: The diversity in attitudes and temperaments between all of the characters. From the whimsicality of Angel to the brooding, one-track mind of Old Man Logan, Charles Soule handpicked some really fun characters and moments—with a few surprises thrown in!
Marvel.com: There's an awesome spread of Logan dramatically climbing a wall as a group of samurai characters look down at him. What's it like designing that kind of action?
Ed McGuinness: I based the design of the image pretty blatantly on the Golden Ratio…a really cool, basic composition concept that I actually just stumbled on recently (having never gone to art school). Better late than never! Look it up. It has literally changed how I see everything!
Marvel.com: This was the first time you worked with Charles—did you enjoy the collaboration?
Ed McGuinness: Charles couldn't have been more of a pleasure to work with. He's a very strong writer with a really clear vision and direction. I'd work with him again in a heartbeat!
Leap onto the Astral Plane in ASTONISHING X-MEN #3, by Charles Soule and Ed McGuinness—out today!
The Hype Box
Can't-miss news and updates from across the Marvel Universe!