Comics
Published October 19, 2017
War Machine: A Punisher Sketchbook
See what happens as Frank Castle gets his hands on heavy duty weaponry!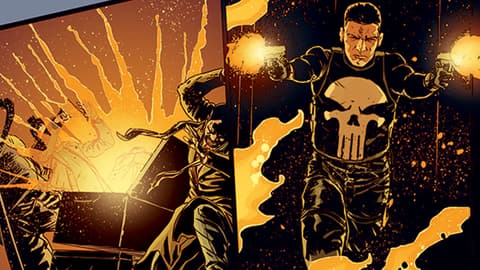 Frank Castle's always been something of a battle automaton, but with November's PUNISHER #218, he'll become a true war machine!
Writer Matthew Rosenberg and artist Guiu Vilanova's Marvel Legacy series will kick off with an idea planted at the end of Secret Empire: Punisher wants to do more and S.H.I.E.L.D. wants to help him. Feeling the need to make up for following the false Steve Rogers, Castle agrees to armor up in a modified version of the War Machine suit to tackle evil on a whole new level.
We talked with Vilanova about ratcheting up the violence, designing the armor, and working with one of Marvel's busiest writers!
Marvel.com: How was it mixing elements of the previous War Machine armors with the iconography of The Punisher to come up with something new?
Guiu Vilanova: The creative process always means good fun to me. And to mix two huge iconic elements like the Punisher's skull and the Iron Man armor is great!
Marvel.com: Has it been difficult retaining Frank Castle's look as he's outfitted in this new armor?
Guiu Vilanova: Sure. It's always difficult to keep the resemblance of a character in each and every page. But I can't complain, it comes with the job!
Marvel.com: What's it been like working with Matthew to create or redesign a new supporting cast around Frank?
Guiu Vilanova: To work with great artists such as Matthew is always a pleasure. It makes my job way more easy and enjoyable!
Marvel.com: Punisher's always been violent, but with this new set of weapons, he can do that on a whole different level. How has it been working in that realm?
Guiu Vilanova: Well, it's basically the same guy but with a "bigger gun." But Frank's still being Frank.
Marvel.com: Does sending Frank in with this armor mean you've been working on even more dangerous threats for him to face?
Guiu Vilanova: That's top secret. You'll have to buy the book if you want to know it. But he's not wearing the war machine armor to fry an egg, I can tell you that.
Matthew Rosenberg and Guiu Vilanova's PUNISHER #218 ships in on November 15!
The Hype Box
Can't-miss news and updates from across the Marvel Universe!