Comics
Published November 14, 2017
Weapon X: Nuke-Clear War
Greg Pak sends his team of mercenaries and monsters into the fray!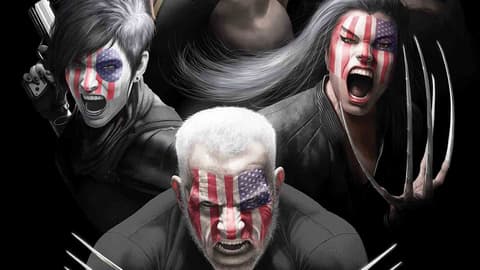 Marvel Legacy heats up in the South American country of Santo Marco with "Nuke-Clear War" part one in Greg Pak and Yildiray Cinar's WEAPON X #12 coming December 13. With mutant genocide taking place, Weapon X's ragtag alliance of heroes and villains may be the only ones who can stop it. There's just one teensy, tiny problem: he goes by Frank Simpson, better known as Nuke, and he's got a band of super-soldiers on his side. They're all hopped up on the red, white, and blue pills, which won't make things any easier for the mutant good guys.
Speaking with Pak, we got the low-down on the brewing conflict of his newest WEAPON X storyline.
Marvel.com: Mutant genocide is a pretty serious development. Can you give a quick summary of where this is happening and why?
Greg Pak: Our story takes place in Santo Marco, the fictional South American nation that Magneto took over way back in [UNCANNY X-MEN #4]. I've set stories in the country a few times over the years—in my WAR MACHINE and STORM runs—and established it as a place where dangerous leaders have periodically led anti-mutant persecutions. Most recently, the Weapon X team visited Santo Marco during the Weapons of Mutant Destruction storyline, where they investigated the murder of a mutant named Jorge. As our new story begins, the dictatorial president of Santo Marco has started a new attack on mutants and anyone related to mutants, spearheaded by a platoon of ruthless super-soldiers who wear the American flag on their faces. So yes, if you're a fan of Frank Simpson, a.k.a. the super-soldier known as Nuke, this is the story for you.
Marvel.com: What drives Weapon X to want to put a stop to it all?
Greg Pak: Weapon X is made up of loners, mercenaries, and even borderline villains who really shouldn't be able to work together as a team. But they've managed to stick together over a series of missions in order to fight shared enemies; enemies that even barely-reformed villains like Sabretooth and Lady Deathstrike see the need to take out. In this case, James Proudstar, a.k.a. Warpath, gets an emergency call from Acero, Jorge's brother, asking for help. Warpath's immediately committed to heading to Santo Marco to fight, but as you'll see in the actual story, each of the other members of the team may need a little more convincing. In particular, Domino's always got her eyes on the prize, which in her case is some kind of cash payout. And Sabretooth, as always, might have some other plan up his sleeve.
Marvel.com: How do these special super-soldier pills make the foreign militia an even match for Weapon X? 
Greg Pak: When Nuke was first introduced by [Frank] Miller and [David] Mazzucchelli back in the classic DAREDEVIL storyline "Born Again," his managers used red, white, and blue pills to amp him up and cool him down. We'll see those pills in action in this new storyline. Watch out for those red ones in particular, y'all!
Marvel.com: Will Weapon X have any mutant allies, either from the X-Men or the persecuted population they're fighting for?
Greg Pak: Weapon X tends to work alone. They barely hold together as team—they're not really built to play well with others. But Acero and his fellow Santo Marcans will play a role as well.
This is a great place to plug artist Yildiray Cinar, who makes his debut in the book with this storyline. He's doing absolutely incredible work, making every one of our heroes distinctive and fun and full of character and making every new supporting character feel like a fully fleshed out, compelling, real person. And he's totally eating up all the action. I'm loving every page he turns in, and Frank D'Armata's colors are just gorgeous over his inks.
Track a loose Nuke in WEAPON X #12 by Greg Pak and Yildiray Cinar on December 13!
The Hype Box
Can't-miss news and updates from across the Marvel Universe!