Comics
Published September 15, 2017
Weapon X: Striking First
Getting inside the twisted mind of Stryker with writer Greg Pak!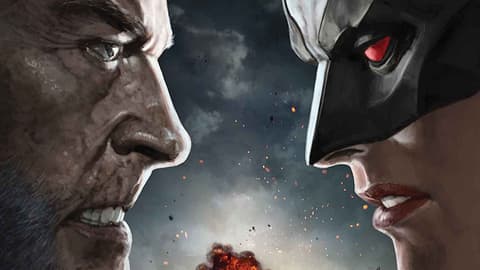 Behind every Hulk-Wolverine hybrid stands a megalomaniacal and bigoted man named Stryker.
In the latest chapter of Weapon H's tortured story, the madman continues his quest to destroy mutantkind. In response, Sabertooth wants to kill the Weapon before things get worse—though he'll be met with resistance in the form of claws…as Logan and Laura Kinney join the fight. On October 11, Greg Pak and Fred Van Lente join artists Marc Borstel and Ibraim Roberson for "The Hunt for Weapon H: Part 3" in WEAPON X #9!
We spoke with Greg Pak to get a closer look at William Stryker and the newest iteration of the Weapon X program.
Marvel.com: Does Stryker have an end goal in mind here (other than the eradication of all mutants)?
Greg Pak: Honestly, that's pretty much it. He's a racist sociopath who's convinced himself that God wants him to rid the world of mutants. He has other side goals along the way, and if he actually succeeded, he'd probably come up with a new target—because someone with that much hate in his heart always comes up with more targets. But his primary goal has always been the extermination of mutants.
Marvel.com: He's been involved with Weapon X before—tell us more about his return to the program.
Greg Pak: He teams up with a genius scientist named Dr. Alba, who's bioengineering the world's most perfect killing machine with the DNA of various mutants and super heroes, including The Hulk and Logan.
What makes this delicious is that we've recently learned that Alba and Stryker have slightly different goals that may create massive problems for Stryker very soon. We're also going to learn a bit more about what makes Stryker tick. Literally. I can't say more.
Marvel.com: What kind of relationships does Stryker have with the mutants he's hunting?
Greg Pak: He actually teamed up with Lady Deathstrike once upon a time. So there's always the question of whether everyone on the team could really be completely on board. The team's full of loners and actual criminals, so exactly how long their allegiance will last might change at any moment.
Marvel.com: The Hulk recently saved Stryker from Logan, Sabretooth, and Lady Deathstrike—does he feel indebted to the Hulk for that moment of mercy?
Greg Pak: Nope. I don't think Stryker feels normal emotions like that. I think he's wholly convinced of his personal righteousness and the correctness of his crusade and sees everyone else he encounters as tools for his use in pursuing that crusade. He might pretend to feel indebted, but only if it might benefit him at some point down the line. But he'll never genuinely feel moral indebtedness to the Hulk—or probably anyone else.
Marvel.com: How does Stryker keep one step ahead of the mutants he's trying to kill?
Greg Pak: You'll have to read the books to find out! But no one on the team has strength and ruthlessness on the same level as Weapon H, the monster that Alba created for Stryker. So as long as Stryker controls Alba enough to control Weapon H, our heroes are in for a world of pain.
Follow WEAPON X #9, by Greg Pak and Fred Van Lente with art by Marc Borstel and Ibraim Roberson, on October 11!
The Hype Box
Can't-miss news and updates from across the Marvel Universe!