Comics
Published March 18, 2021
What Has the Ebony Blade Done to the Black Knight?
Dane Whitman's greatest weapon may have permanently changed him in this week's BLACK KNIGHT: CURSE OF THE EBONY BLADE #1!
Attention please, Merry Marvelites! This article contains SPOILERS for this week's BLACK KNIGHT: CURSE OF THE EBONY BLADE #1, so proceed with caution!
Dane Whitman's career as a hero has never been an easy road. Despite successful stints with the Avengers, the Defenders, and the Heroes for Hire, the Black Knight's greatest enemy has always come from within. As the heir to the mystical Ebony Blade, it is Dane's sacred duty to keep the sword out of the wrong hands. Yet the Ebony Blade's curse brings out the darkest urges of its wielders. Even Dane has been overcome by the desire to kill or maim. However, an unquenchable bloodthirst may be just the beginning.
In this week's BLACK KNIGHT: CURSE OF THE EBONY BLADE #1, writer Simon Spurrier and artist Sergio Dávila have demonstrated that the Ebony Blade's reach extends beyond the mortal realm – and not even death may be enough to free Dane from its grasp.
To better understand the Ebony Blade and its effect on Black Knight, Marvel.com is looking back at some key issues and revelations from his past.
Forging the Sword
As seen in MYSTIC ARCANA (2007) #2, the Ebony Blade was forged by Dane's ancestor, Sir Percy of Scandia, and the legendary wizard known as Merlin. The sword's metal came from a Starstone meteorite, a material so strong that it has held its own against Wolverine's adamantium claws. The Ebony Blade has also proven to be one of the most formidable weapons even in the modern era. Without its curse, it would be ideal for any warrior.
Becoming the Sword
During Dane's longest stint with the Avengers, he largely had a handle on the sword's curse. Unfortunately, that changed in AVENGERS (1963) #293. Namor's wife, Marrina, mutated into an alien Leviathan. Against Dane's wishes, Namor used the Ebony Blade to kill Marrina. Because the sword had claimed a life, Dane began to physically transform into an extension of the Ebony Blade itself.
For a while, Dane was able to withstand the transformation and he retained some mobility thanks to an exoskeleton. But in THOR (1966) #396-400, the curse fully immobilized Dane into a weapon, and Hogun the Grim actually used the Black Knight as a projectile to seemingly slay the Egyptian god of death, Seth.
Passing on the Curse
Dane's body was restored in BLACK KNIGHT (1990) #1-4, and he took the hint. After his previous ordeal, Dane stopped using the Ebony Blade. Sadly, that turned out to be a mistake, because Dane's squire, Sean Dolan, took up the Ebony Blade and he was soon overcome by the curse. In AVENGERS ANNUAL (1967) #21, Sean became Bloodwraith, and he struggled to maintain his true self while fighting the Ebony Blade's bloodlust.
That was ultimately Sean's downfall. He tried to stay away from super human conflicts by doing relief work in Slorenia. Regrettably, the millions of slain Slorenian citizens awakened the bloodlust and transformed Sean into a giant version of Bloodwraith. In AVENGERS (1998) #36-37, the Scarlet Witch was forced to trap Bloodwraith in Slorenia in order to prevent his rampage from extending beyond that lifeless country.
The Monster Within
Years later, the Ebony Blade was returned to Dane. In CAPTAIN BRITAIN AND MI-13 (2008), Dane seemingly had few issues with using the sword again. That changed dramatically in ORIGINAL SINS (2014) #2, when Dane once again gave into the sword's bloodlust. In that same issue, historian Rebecca Stevens told Dane that she had researched the Ebony Blade's history. And according to her, everyone who has ever wielded the Ebony Blade either went insane or died. Regardless, Dane couldn't bring himself to ask Rebecca for help.
Heel Turn
Dane actually had a full-blown turn towards the dark side in BLACK KNIGHT (2015) #1-5. Even Dane's old friends in the Avengers were committed to bringing him to justice. To maintain his freedom, Dane retreated to Weirdworld and he seized control of a kingdom that he dubbed New Avalon.
Black Knight fought the Avengers Unity Squad when they came after him in Weirdworld. Yet Dane had enough humanity left to turn back from the proverbial abyss. The Avengers allowed Dane to stay in New Avalon, in exchange for letting them take the Ebony Blade back to Earth.
The Truth Hurts
As seen earlier this year in KING IN BLACK: BLACK KNIGHT #1, Dane is back on Earth and once again in possession of the Ebony Blade. His reputation was apparently mended as well, since the Avengers welcomed him back as a reserve member. But during the battle with Knull, the god of the symbiotes cut Dane to the quick when he destroyed the Black Knight's deeply held belief. For years, Dane thought that the Whitman bloodline was inherently pure, which allowed them to suppress the Ebony Blade's wrath.
According to Knull, the opposite is true. The Ebony Blade is drawn to Dane and his bloodline because they are predisposed to violence and murder. In fact, the sword becomes more powerful when its wielder gives into the urges.
The Death of the Black Knight
BLACK KNIGHT: CURSE OF THE EBONY BLADE #1 picked up shortly thereafter, as Dane was summoned to help the Avengers deal with a lingering threat. Soon after, a shadowy figure arrived and tried to steal the Ebony Blade from Dane's hands. This currently unnamed threat couldn't get the sword by subterfuge, so he decapitated Dane while the Avengers were helpless to prevent his murder.
Yet not even Dane's death could free the Ebony Blade from his grasp. Dane's body was then returned to his castle in preparation for burial. Unfortunately for Dane, the Ebony Blade isn't finished with him yet. Somehow, the sword reattached Dane's head to his body and resurrected him.
What price will the Ebony Blade extract for this miracle? More answers are coming in BLACK KNIGHT: CURSE OF THE EBONY BLADE #2 on Wednesday, April 21.
BLACK KNIGHT: CURSE OF THE EBONY BLADE #1, written by Simon Spurrier with art by Sergio Dávila, is on sale now online and at your local comic shop!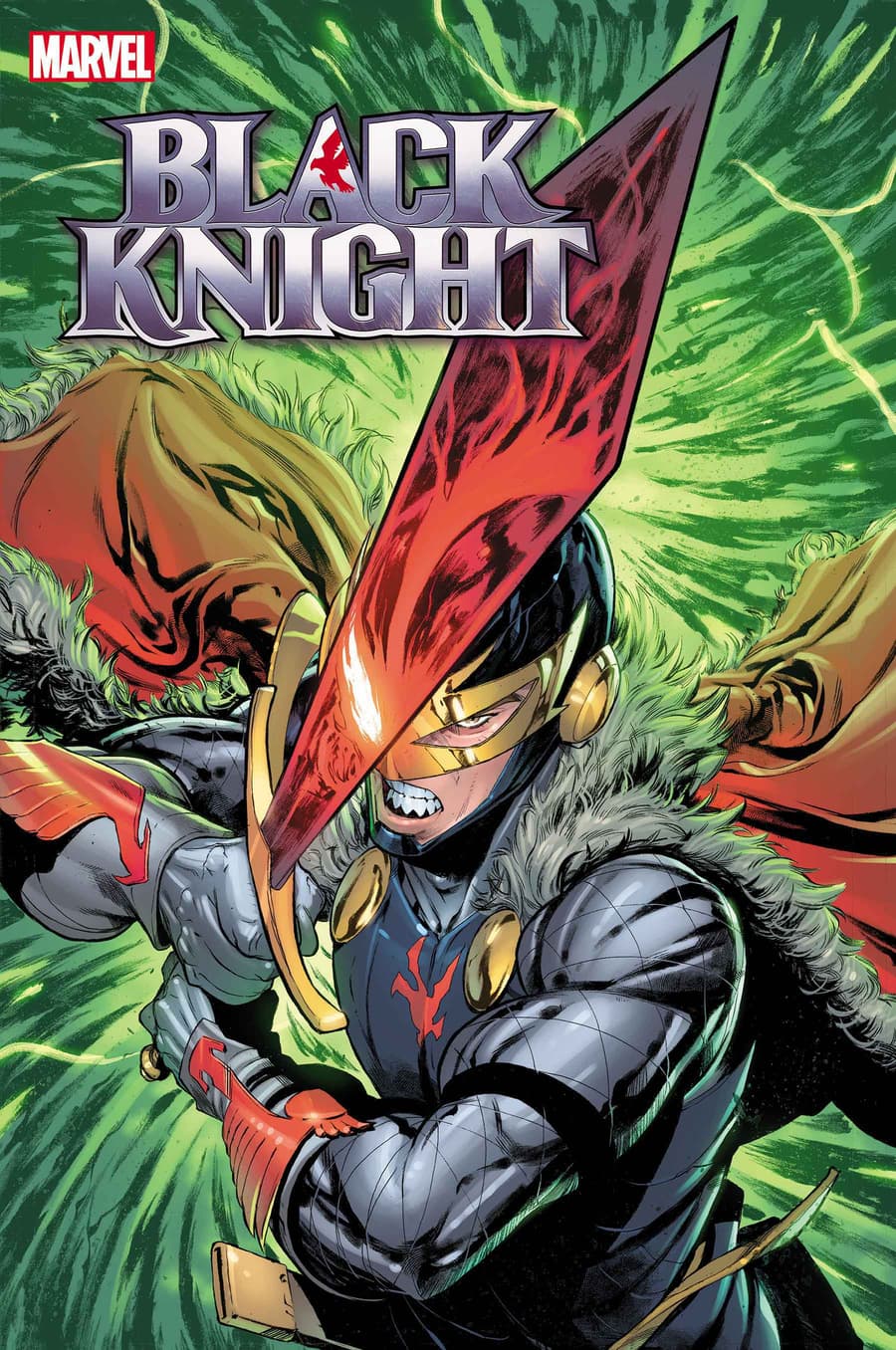 Be sure to ask your local comic book shop about their current business policies to observe social distancing or other services they may offer, including holding or creating pull lists, curbside pick-ups, special deliveries and other options to accommodate. Find and support your local comic book shop at http://comicshoplocator.com or by visiting http://marvel.com/lovecomicshops.
For digital comics, all purchases in the Marvel Comics app can be read on iPhone®, iPad® and select Android™ devices! Our smart-paneling feature provides an intuitive reader experience, ideal for all types of mobile device and tablet users!
For Marvel's most up-to-date release schedule for your favorite comics, visit http://marvel.com/newcomics.
The Hype Box
Can't-miss news and updates from across the Marvel Universe!