Comics
Published November 19, 2020
Why 'Last Rites' Is the Daredevil Story You Need to Read
Read the classic storyline in full, now on Marvel Unlimited.
Have you tried Marvel Unlimited yet? It's your all-access pass to over 28,000 Marvel comics, all available at your fingertips. Sign up now and get your first year for $60!
READ "DAREDEVIL: LAST RITES" HERE!
Marvel Unlimited has a nearly comprehensive selection of digital comics from across Marvel's 80 years of existence, and today, even more issues have dropped in its impressive back catalog. As requested by readers, you can now read DAREDEVIL (1964) #284-291, #294-300 and DAREDEVIL ANNUAL #7, a pivotal arc from Daredevil's first volume!
This selection of issues marked the end of Ann Nocenti's notable run on the title, as well as the beginning of D.G. Chichester's stint. Powerhouse artist Lee Weeks also made his DD debut in these issues, alongside memorable guest artists Mark Bagley, Greg Capullo, Kieron Dwyer, and Ron Garney.
More importantly, Chichester and Weeks' four-part "Last Rites" storyline in DAREDEVIL #297-300 delivered the long-awaited showdown between Matt Murdock and the Kingpin that had been percolating since Frank Miller's DAREDEVIL run. These issues alone propel the series into rarefied company, but the arc at large also delivers some terrific moments for the Man Without Fear.
The American Nightmare
Ann Nocenti started to wrap up her DAREDEVIL arc on issue #283, featuring a guest appearance by none other than Captain America. Both DD and Cap were drawn to a man named Victor, who dreamed that he could create a flying car out of recycled materials. Victor's vision even gave Cap renewed hope at a moment when he doubted the righteousness of his country's actions. However, Victor caught the attention of powerful men who attempted to destroy him and his miracle car. But the inventor's limitless imagination proved an equal match to the combined might of Daredevil and Captain America.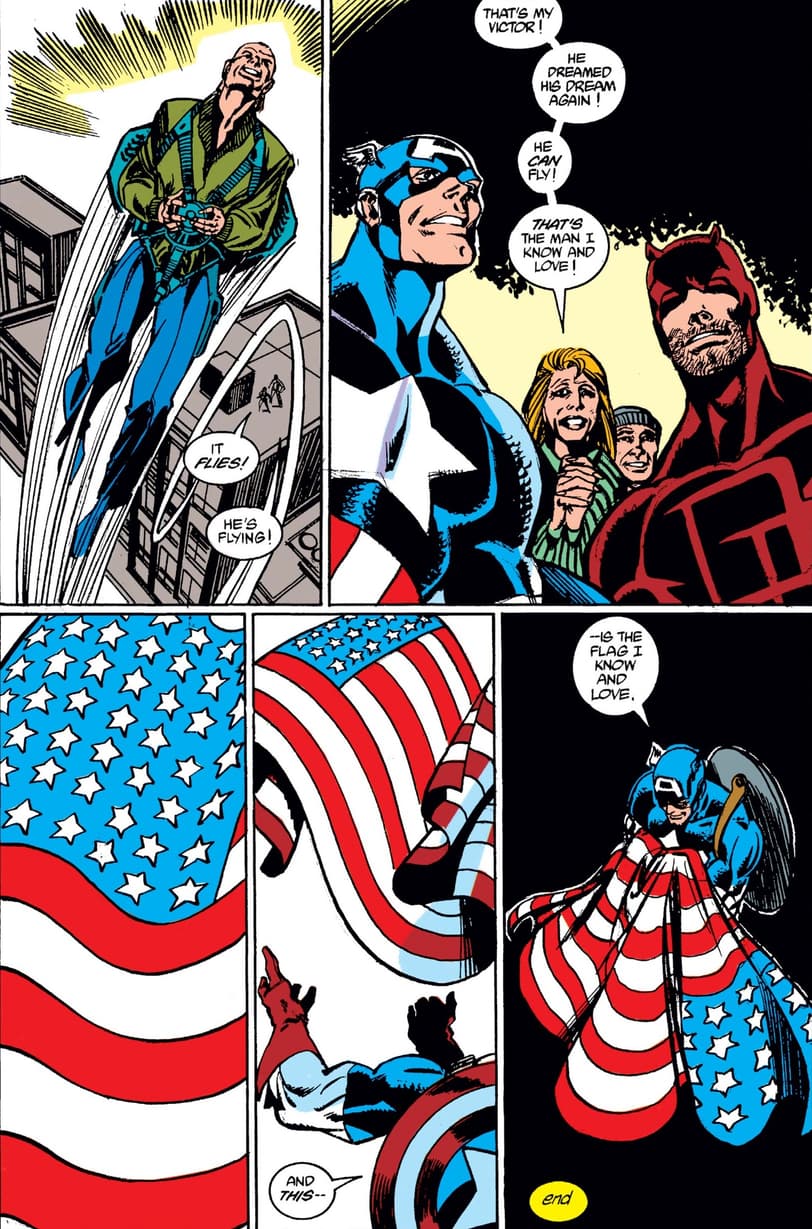 An Existential Crisis
Lee Weeks joined the series in issue #284, as Nocenti began her final longform story. Fresh from his experience in Hell alongside the Inhumans, and a recent witness to Cap's uncharacteristic despair, Daredevil feared that he was losing his grip on reality. Matt Murdock was so emotionally and physically spent that he no longer remembered that he was Daredevil! In his place, one of Matt's old enemies assumed DD's costume and identity for himself.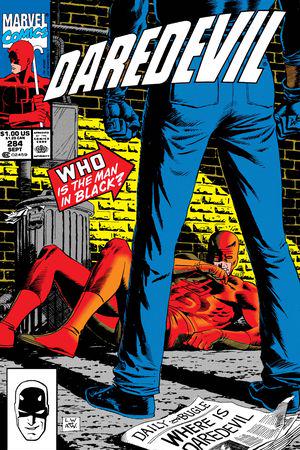 Daredevil (1964) #284
published

added to marvel unlimited

writer

inker

letterer

colorist

penciler

penciler (cover)
What is Marvel Unlimited?
Jack Murdock Fights Again
In issues #285-286, Matt created a new identity for himself as Jack Murdock. After unknowingly taking his father's name, Matt made his own name by following in Jack's footsteps in the ring. Matt's stint as a blind boxer gave him acclaim, while the love of a woman named Nyla gave him hope.
Meanwhile, the imposter Daredevil attempted to destroy the reputation of Matt's costumed persona. The faux DD stole from the rich and gave to the poor, which only boosted the vigilante's popularity. But the fall of Daredevil was imminent.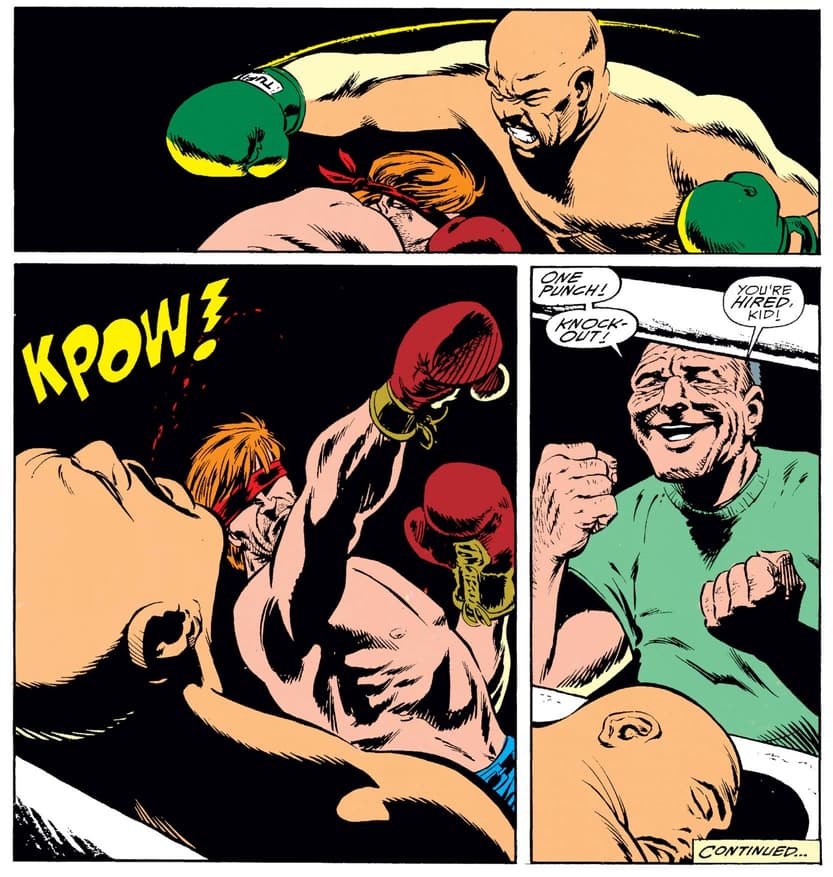 Hit the Bullseye
The fake Daredevil was revealed to be none other than Bullseye, and following a thieving spree, he ramped up his efforts to ruin Matt by brutalizing innocent people. Meanwhile, Kingpin provoked the return of Matt's memories by trying to force him to take a dive in a fight. Matt confronted Kingpin in issue #289, sending Nyla away as he prepared for the war to come.
Matt's twisted revenge against Bullseye came in issue #290, when he donned Bullseye's costume and made the real Bullseye lose track of whether he was himself or Daredevil. Consider this one of the most mind-bending and inventive battles that the two rivals have ever shared.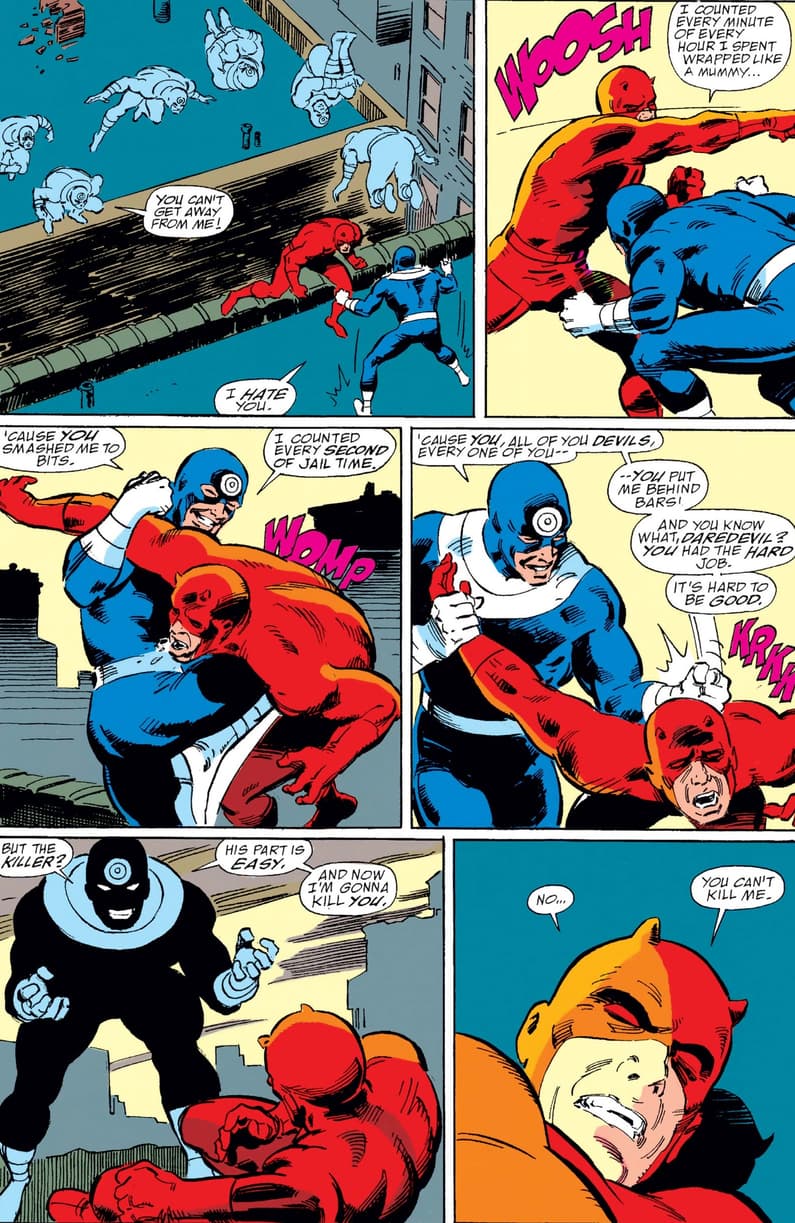 A Fresh Start
Wilson Fisk decided to distance himself from his Kingpin persona in issue #290, as he expressed an urge to "go legitimate" and commit only white-collar crimes. Meanwhile, Matt reunited with his ex-legal partner and best friend, Foggy Nelson. Foggy had already laid the foundation for Matt to reclaim his life after Kingpin destroyed it in "Born Again." But Matt didn't embrace or appreciate Foggy's efforts until issue #291.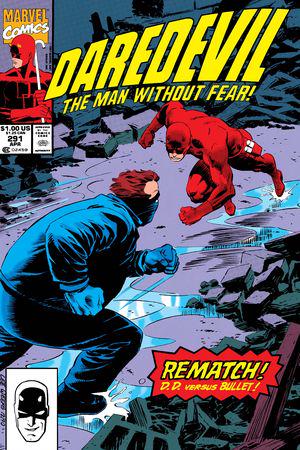 Daredevil (1964) #291
published

added to marvel unlimited

writer

letterer

inker

colorist

penciler

penciler (cover)
What is Marvel Unlimited?
The Contest
DAREDEVIL #292-293 were already available on MU, but they remain key issues that started Chichester's run as the writer. It's also a memorable two-parter that featured Tombstone and Taskmaster engaged in a deadly assassination contest. When Daredevil moved in to take them down, he found himself in the crosshairs of his old adversary, the Punisher.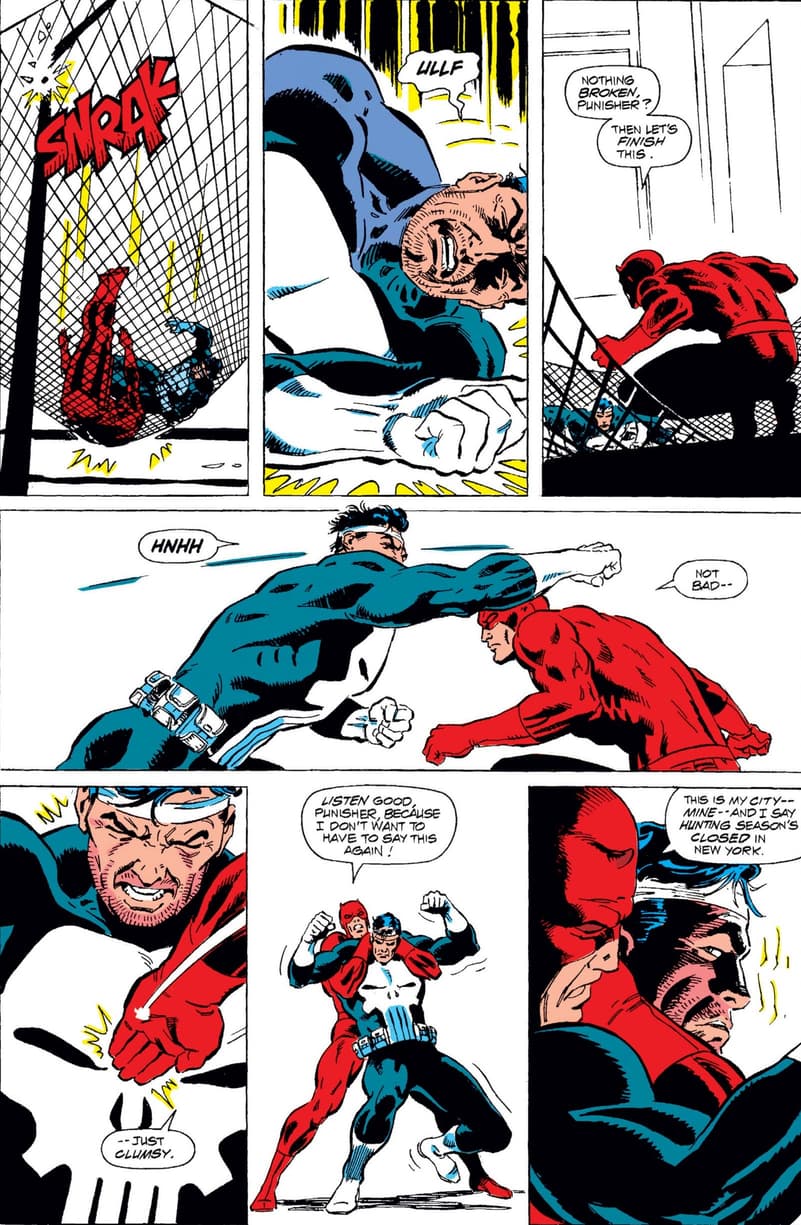 The Hand of the Beast
Turns out, occultist ninja enclave The Hand were the powers behind Taskmaster and Tombstone's contest, and they made their presence known in issues #294-296. Fortunately, DD had backup in the form of Ghost Rider and The Chaste, the warriors formerly led by Matt's mentor, Stick.
Ex-girlfriend Karen Page also returned in these issues, as she and Matt slowly found themselves back in their respective orbits.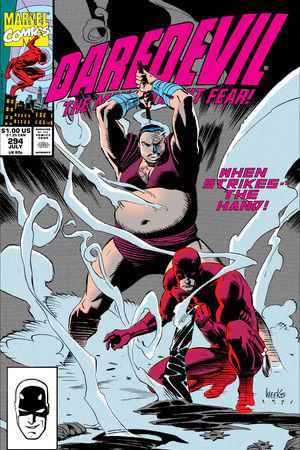 Daredevil (1964) #294
published

added to marvel unlimited

inker

letterer

colorist

penciler

penciler (cover)

writer
What is Marvel Unlimited?
Last Rites
Finally, the "Last Rites" storyline brought Matt and Kingpin's conflict to a head in issues #297-300. But first, Daredevil had to get Typhoid Mary out of the way by cruelly declaring his love for her... and then abandoning her in a mental health facility.
At the same time, Kingpin's conflict with Hydra left his media organization in shambles and his standing in the criminal underworld on shaky ground. That gave Matt the opening he needed to finally make real progress in his quest to bring down the Kingpin. But Wilson Fisk wasn't about to give up without a fight, and he had one last card to play against both Matt Murdock and Daredevil...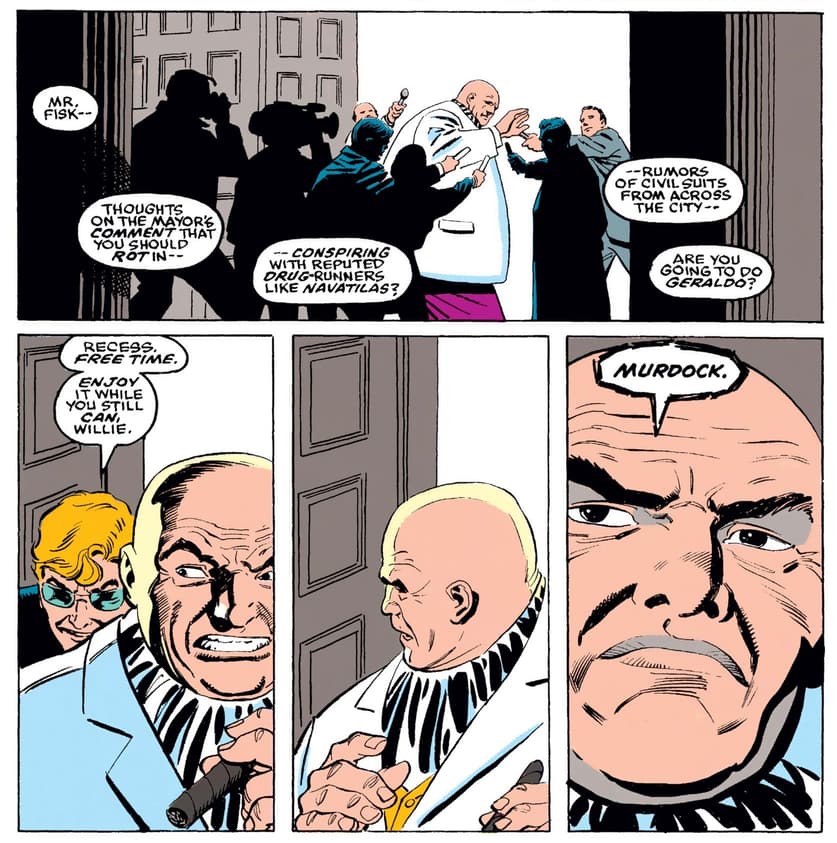 Binge all of these issues now on Marvel Unlimited, or buy the "Daredevil: Last Rites" epic collection in print or digital at a comic shop near you!
Marvel Unlimited, Marvel's digital comics subscription service, offers members unlimited access to over 28,000 issues of Marvel's classic and newer titles, delivered digitally through your desktop web browser and the award-winning Marvel Unlimited mobile app.
Follow Marvel Unlimited on Twitter and Facebook to stay tuned in to weekly announcements, articles, and more, all at @MarvelUnlimited. Follow us today to join the conversation with thousands of fellow fans, and let us know what you're reading!
The Hype Box
Can't-miss news and updates from across the Marvel Universe!