Comics
Published September 8, 2023
Legendary Writer Chris Claremont Celebrates Wolverine's 50th Anniversary in 'Wolverine: Madripoor Knights'
This February, Chris Claremont teams up with artist Edgar Salazar for a sequel to one of Claremont's most iconic Wolverine adventures in 'Wolverine: Madripoor Knights.'
For 50 years, he's been the best there is at what he does, and starting in January 2024, Marvel Comics proudly celebrates the milestone anniversary of Wolverine with a berserker's rage worth of excitement, including Chris Claremont's return to the character this February in WOLVERINE: MADRIPOOR KNIGHTS! 
Having defined the character for decades in his legendary work on UNCANNY X-MEN and helming the character's first solo adventures, there's no better creator to kick things off. Claremont will mark the occasion by following up on the events of one of the his most beloved Wolverine tales: UNCANNY X-MEN #268.
Featuring iconic artwork by Jim Lee, this blockbuster issue is a hallmark of 90s X-Men. The saga includes Wolverine's earliest meeting with Captain America during World War II as they team up to rescue a young Natasha Romanoff and connects it with a present-day Wolverine adventure where he fights alongside Black Widow in Madripoor. It's a one-issue masterpiece of epic storytelling, and now, fans can experience a long-awaited sequel to this undisputed classic! 
The five-issue limited series will be drawn by acclaimed artist Edgar Salazar, who got his claws bloody in the recent X-23: DEADLY REGENESIS series. Together, Claremont and Salazar will pick things up where UNCANNY X-MEN #268 left off, as Captain America joins Wolverine and Black Widow in the dangerous streets of Madripoor to hunt down a planet-threatening weapon...and the multiple enemies looking to control it!
Claremont, Cap, Widow, and Wolverine—together again! When a secret weapon brings Captain America to Madripoor, the trio team-up you've been waiting decades for will finally come to pass as the mission brings Logan and Black Widow into a race against time, against a multitude of foes, including the Hand! You've been waiting for this one…and you'll never guess where it goes!
"Hard to believe, Bub, I've known Logan for 50 years!" Claremont shared. "And Natasha was in the first Marvel story I ever wrote. This trip back to Madripoor reveals hidden truths about two of my favorite characters on the adventure that shaped their lives."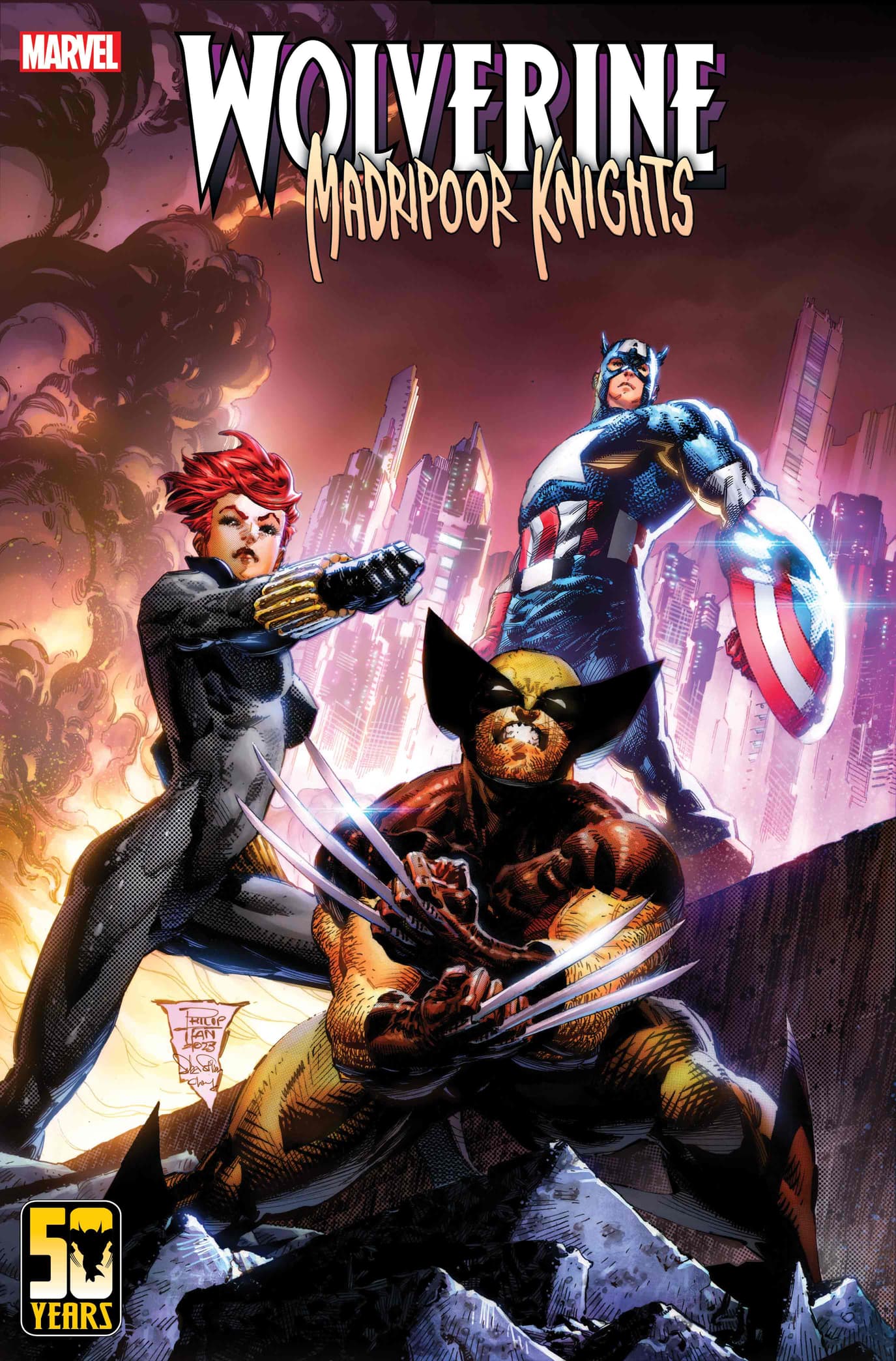 WOLVERINE: MADRIPOOR KNIGHTS #1 (OF 5)
Written by CHRIS CLAREMONT
Art by EDGAR SALAZAR
Cover by PHILIP TAN
On Sale 2/7
Check out Philip Tan's cover for issue one now and stay tuned in the coming months for more Wolverine 50th anniversary announcements, including a variant cover program, new series launches, and more!
Grab these comics and more at your local comic book shop! Or redeem then read your digital copy on the Marvel Unlimited app by using the code found in your print comic. Find and support your local comic book shop at ComicShopLocator.com.
To read your Marvel comics digitally, download the Marvel Unlimited app for iOS and Android devices. Gain an expansive catalog of 30,000+ comics spanning Marvel Comics history, plus access your entire digital library including comics redeemed from print.
The Hype Box
Can't-miss news and updates from across the Marvel Universe!